The ABCs of the HubSpot Marketing Hub
The HubSpot Marketing Hub is an integral part of Inbound Marketing with a powerful customer relations management (CRM), offering a meaningful way to assess, evaluate, and align marketing strategies that involve team members across the organization. How can it help your marketing efforts?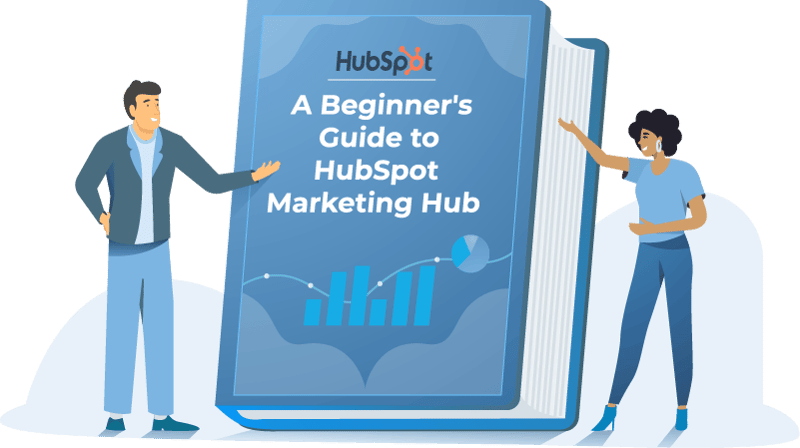 HubSpot Marketing Hub allows your firm to attract, engage, and convert customers from leads through an effectively operated marketing campaign. This occurs as the software helps target the best demographic, working to increase website visits by the targeted audience and offering ways to retain customers and build loyalty.
Essential elements of the Marketing Hub include lead generation, the automation of marketing processes, and the use of analytics. Fully integrating with other HubSpot Hubs, HubSpot Marketing Hub supports a unified suite of products on which to base business operations:
CMS Hub: A content management system providing a firm foundation for successful CRM as prospective, current, and longtime customers access your website. This hub includes easy-to-edit features, website themes, and powerful SEO recommendations.

Operations Hub: This portion of HubSpot creates awareness, allowing your firm to attract customers within the chosen demographic and build brand loyalty. These tasks are accomplished by syncing apps, curating and cleaning customer data, and automating processes.

Sales Hub: Allows teams to align and get a detailed revenue picture throughout the sales campaign. This hub is essential for improved communication between marketing and sales teams through advanced CRM, meeting scheduling opportunities, payment processing, and aligned marketing and sales.

Service Hub: Creating a customer service experience that builds brand loyalty and creates an environment where long-lasting relationships thrive are essential components of this hub. The goal is to maintain two-way connections with customers, track service tickets and feedback, and develop a knowledge base that benefits many areas of operations, including marketing.
Functions, Options, and Uses
The HubSpot Marketing Hub places all the marketing tools a firm needs on a single platform. By integrating customer data, social media outreach, advertisements, blogging, and other resources, the Marketing Hub creates a powerful, personalized experience that allows customers to feel involved, engaged, and enlightened about the products or services offered by a business.
Hubspot features in the Marketing Hub include focusing on inbound marketing or building relationships with customers through helpful and relevant interactions and content, not outward campaigns that may seem aggressive, interruptive, or annoying.
HubSpot was a pioneer in using and perfecting inbound marketing that relies on targeted offers that allow customers to make decisions rather than spend time wading through mountains of digital promotions and emails of little interest. The goal is to provide easier ways for current and future customers to locate your business through search engines, relevant advertisements, social media, and other content.
The suite of Marketing Hub resources allows your business to attract attention, convert more leads, create reports, and customize features for potential leads and customers.


Attracting Attention
New customers can notice you and bring attention to added products or services to your existing client base. Essential functions in this part of the Marketing Hub include:
Other ways to attract attention through engagement include live chat and video hosting software available through the platform.


Converting More Leads
After getting their attention, the Hub Spot Marketing Hub allows your business to convert more leads to improve marketing performance through these functions:
Other tools to help attract more leads include Lead Management and Tracking Software and Account-Based Marketing Software.


Reporting and Customizing
As you collect, analyze, and translate data, your firm can develop thorough marketing reports that you can analyze data to create successful marketing strategies:
Marketing Analytics and Dashboard Software: Analytics allows you to assess how your marketing campaigns perform by evaluating the data you have generated through HubSpot and working through the customer lifecycle. The analytics and dashboard software tools allow you to create reports based on properties included in the CRM or database, permitting you to assess which campaigns are the most impactful and which initiatives have generated the most valuable web traffic.

Custom Objects: This tool helps you organize your marketing data within your CRM, define their properties, and build associations with other things. Using the custom object builder, you can perform sophisticated levels of analysis without the need to understand coding.

Integration with Salesforce: For firms that also use Salesforce, HubSpot's Marketing Hub can integrate with your instance of Salesforce without needing detailed technical knowledge. The setup process is straightforward, with synchronization available in both directions between Salesforce and HubSpot.
Marketing Can Thrive with the

HubSpot Marketing Hub
Our team of professionals has experience in leveraging the HubSpot suite of platforms to increase the visibility of your website, convert anonymous website traffic into leads, and nurture prospects into satisfied customers. There are a variety of subscription levels available up to the Enterprise level, starting with Free.