LinkedIn Advertising: 5 Steps for a Successful PPC Campaign
With more than 774 million members in more than 200 countries, LinkedIn is the largest professional network on the planet. This makes it an ideal place to connect with businesspeople and companies.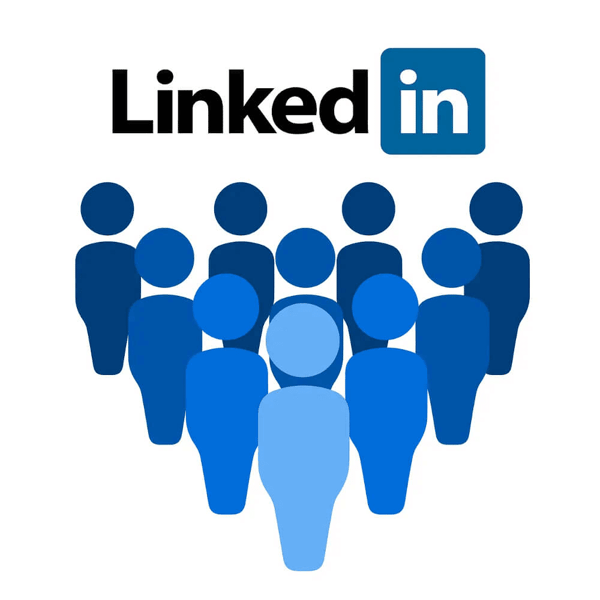 According to Hootsuite, over 95% of business-to-business (B2B) content marketers use LinkedIn for organic (unpaid) social media marketing. By comparison, 82% use Facebook, and 82% use Twitter.
LinkedIn is also a proven lead-generation engine. Currently, 80% of B2B content marketers advertise on the platform, while Facebook is used by 67% and Twitter by 27%
So if your business is not already advertising on LinkedIn, now is the time to start. Following these five steps, you'll create a successful LinkedIn PPC campaign that gets your message in front of the right people at the right time.
#1. Choose an Objective
Before you begin, you must decide what you want your ad to achieve. Otherwise, it won't be successful.
LinkedIn ads are grouped by objectives. This is especially helpful for those new to advertising on the platform. The three objective categories are:
Awareness – get people talking about your company, its products, and its services; increase the number of followers you have and engage with them
Consideration – reach those who are already familiar with your company; spur website visits, engagement, and video views
Conversion – designed to generate leads or prompt sales; drive leads with LinkedIn's pre-filled forms, boost website conversions/downloads, promote company job openings
We are going to assume your company has a LinkedIn corporate page. Once you've identified the purpose of the ad, it's time to select a format in Campaign Manager.
If you don't have Campaign Manager set up yet on your page, here's how to do it.
#2. Design and Select Your Ad
Regarding types of LinkedIn ads, there are a few choices to select from. We will examine them here.
The first is Sponsored Content, which shows up in audience news feeds. The word "promoted" indicates it's an advertisement rather than organic content. Within this category, you can further choose carousel ads, single-image ads, or videos.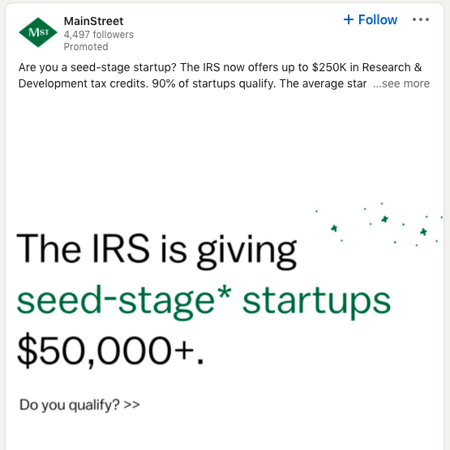 Next is Sponsored Messaging. This ad format is delivered to your audiences' LinkedIn mailboxes. They are visible on mobile devices and desktops. But LinkedIn regulates how often Sponsored Messaging ads can be sent during a given period of time.
The third is Text Ads, which are visible on the top right-hand side of the LinkedIn desktop feed. LinkedIn recommends them for lead-building.
Finally, there are Dynamic Ads. These are found on the right-hand side of LinkedIn and are personalized. This ad may display the individual's photo and name and even their job title. Or, depending on their account settings, it may refer to them as "LinkedIn Members."
It should go without saying, but we'll say it anyway: successful LinkedIn ads feature brief but impactful copy and images. It's critical to convey why the member should care about what you're telling and showing them. Also, review the platform's guidelines, so you don't waste your time creating something that is rejected. The image must reflect what you're offering.
#3. Define Your Audience
Now that you know what you want your ad to accomplish and you've chosen a format, it's time to define your target audience. Keep in mind that others besides C-level executives make buying decisions within organizations. Review the LinkedIn profiles of members who meet your audience criteria. Note their titles and positions, levels of experience, and skillsets.
It's usually best to start by choosing a general job function, such as lawyer or attorney (or both), then adding in more specifics, such as a civil trial lawyer, intellectual property lawyer, product liability attorney, and so on. LinkedIn also lets you target ad recipients by seniority, age, gender (but be careful there), and education.
Audience Size
LinkedIn requires at least 300 members to be targeted in an ad campaign. However, it recommends a target audience of 50,000 members or greater.
But you don't have to rely solely on LinkedIn to create an audience. You can upload a list of accounts or contacts into Campaign Manager, as well. In addition, there are retargeting options that can help you further develop audiences, including people who have visited your website.
Finally, you can select the lookalike audience feature, which LinkedIn says is proven to extend your ad's reach by up to 45%. And it can help you reach that 50,000-audience member number if you're struggling to get there.
This helpful infographic breaks down the complete selection of targeting criteria.
#4. Set Your Budget
The first thing to know is that LinkedIn ads are more expensive than Facebook ads – the minimum bid for LinkedIn is $2 per click, and the minimum daily spend is $10. This is about six times higher than the same ads for Facebook. However, the returns can be greater, too.
With LinkedIn, there are two types of budgeting: daily and lifetime. What you want to spend in a day, versus what you want to spend for the entire campaign. It's possible to choose them separately or combine them.
You can also choose for your campaign to start running on a particular day with or without an end date.
Through pacing, LinkedIn predicts activity on the platform over a seven-day period and optimizes spending to match it. They recommend that you use a lifetime budget and lifetime pacing for maximum results.
We've already mentioned that LinkedIn requires a minimum of $10 daily ad spend. It also requires a minimum lifetime budget of $100 for new and inactive campaigns. That lifetime budget adjusts to $10 x the number of days the campaign is scheduled to run once the campaign is launched.
Some ads will have default budgets. LinkedIn recommends $25 for new advertisers and $50 to $100 for existing advertisers.
If you create campaign groups, it will help you manage your budget more easily, along with scheduling and reporting across campaigns. You also can set a budget for a campaign group with a limit for all of the campaign budgets within it.
#5. Conduct A/B Testing
You should create at least three ads per campaign and mix up the headlines, copy (including the call to action), and images. This is called A/B testing. The key to A/B testing is to change one variable at a time, so you can isolate what's driving performance differences. For example, if you want to test two different headlines, all other elements of the ads should be exactly the same.
This way, you'll discover if one iteration of your ad draws a larger audience, generates more leads and downloads, or creates more conversions. Plus, you'll be able to keep track of all of the analytics in Campaign Manager and download reports.
Once you have some solid data, you can pause (but not delete) any ads that are underperforming and concentrate on those that perform well.
As the world's largest social media platform for professionals, LinkedIn marketing should be incorporated into your B2B marketing efforts.

If you don't use it, you're ignoring a valuable source of contacts, leads, and possibly sales.
By following these five steps, you'll create one successful LinkedIn advertising campaign after another because you'll reach the right audiences at the right time with the right message.
Could you use some help getting started with PPC advertising or taking your LinkedIn campaign to the next level? We're happy to help! Contact us for an audit of your PPC campaigns.