7 Tips to Quickly Create Content for Inbound Marketing Campaigns
It used to be that a company drummed up business by pushing out messages to the public. The goal was to appeal to consumers in the market for that particular product or service, and the focus was all on selling.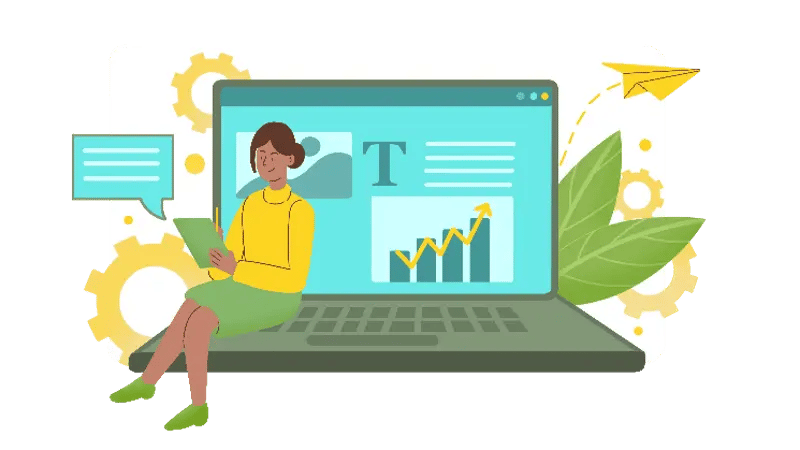 Why Does Content Creation Matter?
While many companies employ traditional outbound marketing tactics, they also answer questions and provide other helpful content – with no strings attached. The purpose is to attract new prospects and nurture relationships with members of your target audience until they are ready to become customers. This is known as inbound marketing.
Inbound marketing heavily relies on content, from blog articles and social media posts to emails and downloadable materials like white papers or case studies. Creating high-quality content takes time--something that's often in short supply.
Content creation is seen as a time-consuming and challenging task for marketers:
70% of marketers say content creation is their top marketing challenge. (Source: HubSpot)

The average marketer spends 13 hours per week creating content. (Source: Content Marketing Institute)

The average marketer spends 25% of their time on administrative tasks related to content creation. (Source: Content Marketing Institute)

The average marketer spends 12% of their time on research related to content creation. (Source: Content Marketing Institute)

The average marketer spends 15% of their time on writing related to content creation. (Source: Content Marketing Institute)


With that in mind, here are seven ways to make the content creation process easier and faster without sacrificing quality.


Build out a Content Creation Strategy
To streamline content creation, start by developing a content plan. You don't want to delve into the content creation process--or even start adapting existing content for new uses--without a strategy that addresses what will best support your business objectives.
Yet the Content Marketing Institute notes that many B2B businesses don't do this. Depending on the size of your organization, you may need to collaborate with multiple parties to determine the direction you should go. CMI's experts recommend you ask yourselves these key questions:
Who should the content we create be relevant to?
What will the audience get out of our content?
What unique and desirable experience can we deliver to them?
With this information, you can construct a plan to attract, engage, and convert prospects and existing customers.
Use Efficiency Tools - Artificial Intelligence
While Artificial Intelligence tools such as ChatGPT, Jasper et al. are nowhere near close to being used as a substitute for humanoid experience (Google E-E-A-T is a key ranking criterion), AI can be a tremendous efficiency aid relative to ideation, structuring content, and getting basic copy-writing contributions done in fractions of the time previously used to complain about writer's block.
Working without tools like Grammarly, spellcheck, and similar has become "impossible."
Can any of those tools give you a high-quality, ready-to-go piece of text, voice, or video content? No. Can they save you 80% of the copywriting time? They can. And they should:
Choose the right tool for the job. Not all AI tools are created equal. Some tools are better suited for specific tasks than others. Do some research to find the tools that will be most helpful for your specific needs.

Use the tools as a starting point. AI tools can help you generate ideas and content, but they should not be used as a replacement for human creativity. Use the tools to get started, then refine and edit your content to ensure it is high-quality and meets your needs.

Be aware of the limitations of AI tools. AI tools are still in their early stages of development, and they are not perfect. They can sometimes make mistakes and may not always understand your specific needs. Be aware of the limitations of AI tools, and be prepared to edit and refine your content as needed.


Create an Editorial Calendar
Now that you have a plan, it's time to program your ideas into a calendar that follows your content strategy. (Yes, the calendar also has to be strategic.)
Does that sound like a daunting task? Then, imagine executing a content strategy without a framework identifying which content will be used and when.
If you're like most content creators, you're expected to produce various elements. These may include case studies, product or service brochures, email blasts, white papers, e-books, blogs, digital ads, videos, and social media posts. All of these should be scheduled on your editorial calendar.
The folks at Business 2 Community, a top marketing industry blog, suggest taking big pieces of content and working them into smaller pieces. For instance, you can take a lengthy brochure or guide and use the various sections as blogs. B2C notes that this is an ideal starting point if you don't have abundant subject matter experts within your organization.
Here are some steps to create an editorial calendar:
Define your goals. What do you want to achieve with your content marketing? Do you want to generate leads, increase brand awareness, or drive sales? Once you know your goals, you can create content to help you achieve them.

Identify your audience. Who are you trying to reach with your content? What are their needs and interests? Once you know your audience, you can start to create content that is relevant and valuable to them.

Plan your content. What type of content will you create? How often will you publish content? Where will you publish your content? Planning your content will help you stay organized and on track.

Create your editorial calendar. Once you have defined your goals, identified your audience, and planned your content, you can create your editorial calendar. Your editorial calendar should include the following information:

The type of content you will create

The topic of each piece of content

The author of each piece of content

The publication date for each piece of content

Promote your content. Once you have created your editorial calendar, you need to promote your content so that people will see it. You can promote your content through social media, email marketing, and other channels.


Repurpose Existing Content
Now you have a direction to go and a calendar in place. Here's some good news: You don't have to write every piece of content from scratch.
Repurposing information will help you produce a steady stream of valuable content for your channels and audiences. It will also save you time, which is essential if you're a one-person marketing department or part of a startup where you wear many hats.
Here are examples of how to repurpose content:
Take a blog article and develop a series of social media posts.

Rework a white paper into several emails to prospects.

Break up a brochure into multiple informational blog articles.

Use an e-book to create emails to existing customers.

Convert a blog article into a video (or vice versa).

Develop website Q&As into social media posts.

Convert a sales presentation slide deck into a blog article.

Update/Upgrade Existing Blog Posts
Don't forget to take advantage of this quick content writing tip: reuse existing blog articles.
All it usually takes to do this is to update statistics or data points and quickly refresh any quotes or sources. When you save the blog to the current date, you're not just giving new life to older material. You're also providing a new audience with the opportunity to benefit from the information.
Just be sure the content in the blog is genuinely evergreen – meaning it is still relevant to the audience you're trying to attract.
How-to tip: Update/upgrade existing blog posts to keep them fresh and relevant.
This is a great way to save time and effort and can help you improve your search engine ranking.
Example: Let's say you have a blog post about the benefits of using social media for business. You could update this post by adding new statistics about the use of social media, as well as new quotes from experts. You could also add a new section to the post about using social media to improve your business results.
Updating your blog posts ensures they are up-to-date and relevant to your audience. This helps attract new readers and improve your search engine ranking. Here are some specific items to update/upgrade existing blog posts:
Check for outdated information. Make sure the information in your post is still accurate and up-to-date.
Add new content. Consider adding new sections to your post or expanding on existing sections. Statistics and how-to tips make for great additions.
Review/Update/Add links. Your overall website changes on an ongoing basis. Check for broken links and update links to be the most relevant ones.
Improve the formatting. Make sure your post is well-organized and easy to read.
Promote your updated post. Share your updated post on social media and other channels to inform your audience about the changes.



Run with Q&As
Not every blog article has to be a literary masterpiece. Consider using shorter Q&As with industry thought leaders from your company and beyond. The simplest way to do this is to email a list of five to seven thoughtful questions and let the interviewee answer via their preferred method (either email or via interview). You can publish the resulting article in a Q&A format, which usually requires minimal editing.
In addition to working as standalone blog posts, Q&As can give you fodder for social media posts. Pull interesting quotes highlighting an interviewee's unique perspective, and ask your audience what they think about the issue.
How-to tip: Choose the right questions.
Your questions should be thoughtful and insightful. They should be designed to elicit interesting and informative answers from your interviewee.
Example: Let's say you are running a Q&A with a marketing expert. Here are some questions you could ask:
What are the biggest trends in marketing right now?
What are the most important skills for marketers to have in the future?
What advice would you give someone just starting in marketing?
By asking thoughtful and insightful questions, you can get valuable insights from your interviewee that will interest your audience.


Schedule, Schedule, Schedule
It seems like it's always easier to find things to post on social media when we're not under pressure! If your industry isn't reliant on breaking news, you can often overcome this hurdle by scheduling your posts in advance. Take a few minutes at the end of the week and schedule your posts for the following week.
Tools like HootSuite and TweetDeck make this process very easy. And our favorite marketing software, HubSpot, will even suggest the best times to post for maximum engagement. It also offers robust marketing automation, which comes in handy if you're running lead nurturing campaigns that include, for instance, lots of email sequences.
Content production is an ongoing process. Develop a content creation strategy and calendar to make it easier for yourself and your organization. This way, you have a roadmap and a blueprint for what content to use and when.
Once you have that, repurpose existing content into different formats for the various channels you use to share information. It will help you keep a steady flow of content coming and remove the stress of producing original material for every channel, every time.
How-to tip: Schedule your social media posts in advance.
This will save you time and effort and ensure you continually post fresh content.
Example: Let's say you are running a social media campaign for a new product launch. You could use a tool like HootSuite to schedule your posts in advance. Here are some things to keep in mind when scheduling your posts:
Choose the right times to post. Not all times are created equal when it comes to social media engagement. Research when your target audience is most active on social media.

Vary your content. Don't just post links to your website or blog. Mix things up by sharing images, videos, and infographics.

Use hashtags. Hashtags are a great way to get your content seen by more people. Use relevant hashtags that your target audience is likely to use.