What is the HubSpot Marketing Hub, and How Can I Use It?
In the fast-paced digital era, marketing managers face many challenges that require effective solutions.
From generating leads to tracking performance, the demand for a centralized platform to streamline marketing activities has never been more vital. That's where HubSpot Marketing Hub comes in, a comprehensive solution designed to tackle these pain points head-on and empower marketing managers.
Whether you're a marketing manager searching for a unified platform or looking to enhance lead generation and analytics capabilities, this guide will equip you with the knowledge to make informed decisions.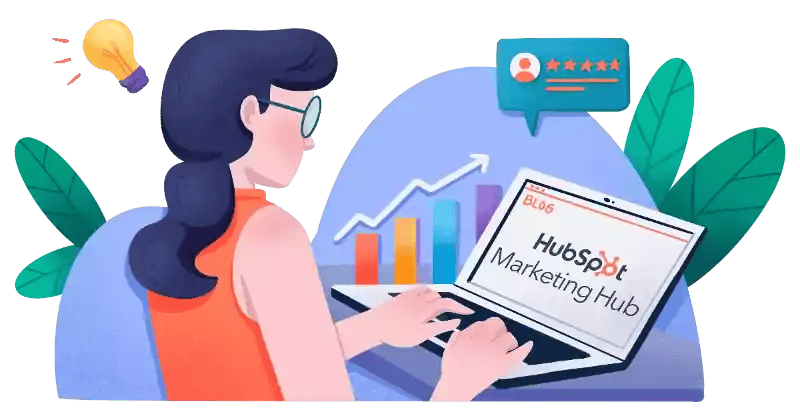 Common Marketing Challenges
Marketing professionals face various challenges in their daily work, impacting their efficiency and success. By recognizing these pain points, we can gain insight into the solutions that can help address them effectively.


Lack of Centralized Infrastructure
Marketing managers often struggle with fragmented systems and tools, making it difficult to streamline their marketing activities. From content creation to campaign management, having a centralized platform becomes essential. Without it, marketers waste valuable time navigating through disparate tools and platforms, hindering their productivity and efficiency.


Difficulty Managing and Nurturing Leads Effectively
Lead management is a critical aspect of marketing, and marketers face challenges in capturing, tracking, and nurturing leads effectively. Leads can fall through the cracks without a systematic approach, resulting in missed opportunities. Marketing managers need a solution that simplifies lead management, enabling them to capture, segment, and nurture leads in a personalized and timely manner.


Limited Visibility into Marketing Performance and ROI
Marketing managers need accurate and comprehensive insights into the performance of their campaigns and initiatives. However, without proper analytics and reporting tools, they may struggle to measure the success of their marketing efforts. This lack of visibility can hinder decision-making, preventing them from effectively optimizing their strategies and allocating resources.


Inefficient Communication and Collaboration
Marketing teams thrive when collaboration and communication are seamless. However, traditional methods such as email chains and scattered documents often lead to miscommunication and hinder productivity. Marketing managers require a solution that facilitates efficient collaboration, allowing team members to collaborate, share ideas, and stay organized in one centralized hub.
These challenges are no small feat, but fortunately, there are tools and platforms to help marketers overcome these obstacles. One platform that stands out among the rest is the HubSpot Marketing Hub. Let's dive in.
Introducing the HubSpot Marketing Hub
The HubSpot Marketing Hub is a product bundle on the robust HubSpot platform designed to support marketing processes. With its powerful features and functionalities, Marketing Hub caters to marketing teams' diverse needs and requirements.
One of the standout aspects of HubSpot Marketing Hub is its tiered structure, offering options such as Free, Starter, Pro, and Enterprise. From essential marketing tools to advanced automation and in-depth reporting, Marketing Hub equips marketing managers with the resources to streamline their marketing efforts, generate leads, and achieve their marketing goals.
Free Tier: The Free tier of HubSpot Marketing Hub is an excellent entry point for businesses looking to get started with marketing automation. It provides essential tools and features to help you kickstart your marketing efforts. With the Free tier, you can create and manage forms on HubSpot and external websites, capture leads, and engage with your audience through email marketing campaigns. Although it has limitations compared to the higher tiers, the Free tier still offers valuable resources for small businesses or those looking to explore the capabilities of HubSpot Marketing Hub.

Marketing Hub Starter: This tier is perfect for small teams and businesses seeking to take their marketing strategies to the next level. It provides additional features to enhance lead generation and management. With the Starter tier, you can access advanced features such as lead scoring, contact segmentation, and personalized content creation. It also allows integration with popular CRM systems, enabling you to track and manage your leads more effectively.

Marketing Hub Pro: The Pro tier of HubSpot Marketing Hub is suitable for growing businesses that require more advanced marketing automation capabilities. It offers comprehensive tools to streamline your marketing activities and drive better results. With the Pro tier, you can automate your marketing workflows, personalize customer experiences, and conduct A/B testing to optimize your campaigns. You also gain access to advanced analytics and reporting features, allowing you to measure the effectiveness of your marketing efforts and make data-driven decisions.

Marketing Hub Enterprise: The Enterprise tier is designed for larger organizations with complex marketing needs. It provides highly customizable solutions tailored to enterprise-level businesses' unique requirements. In addition to all the features offered in the lower tiers, the Enterprise tier provides advanced reporting and attribution capabilities, multi-touch revenue attribution, and enhanced security features. It allows for advanced team collaboration and provides dedicated support to ensure you can execute your marketing strategies seamlessly. As with all enterprise-level hubs, it opens the door to access HubSpot Custom Objects.
Essential marketing tools to engage and convert leads.
Includes Free tools with increased limits, plus remove HubSpot branding from:
Email marketing
Landing pages
Live chat
Forms
And:
Email and in-app chat support
Payments (U.S. only)
Comprehensive marketing software for automation, reporting, and campaigns.
Includes Starter functionality plus:
Omni-channel marketing automation
HubSpot's most powerful marketing software for advanced control and flexibility
Includes Professional functionality plus:
Multi-touch revenue attribution

Limit access to content and data
Each tier of HubSpot Marketing Hub provides a step up in functionality and capabilities, allowing marketing managers to scale their marketing efforts as their business grows. The flexibility of the tiered structure ensures that you can choose the level of features that best aligns with your business goals and budget while providing room for expansion as your marketing needs evolve.


Marketing Hub Onboarding
HubSpot offers a comprehensive suite of tools and features to support your marketing efforts. However, navigating these interconnected hubs and maximizing their functionalities can be challenging without proper familiarization and onboarding.
HubSpot onboarding is mandatory for certain subscriptions to ensure businesses receive the guidance and support necessary to successfully implement and adopt the platform. While onboarding is not mandatory for all subscriptions, we highly recommend it for businesses of all sizes and industries. HubSpot waives the mandatory onboarding requirement when working with a certified Solutions Partner. By going through the onboarding process, companies can avoid common pitfalls, accelerate their learning curve, and achieve faster ROI on their HubSpot investment.
Marketing Hub Pro and Enterprise Subscriptions require onboarding.
HubSpot offers additional, non-mandatory onboarding for Marketing Hub Starter starter subscriptions.
You can contract onboarding directly with HubSpot. HubSpot increasingly uses onboarding-accredited Solutions Partner resources to deliver the onboarding to its customers.
Aspiration Marketing provides customized onboarding solutions for these and additional hubs.
Key Features and Functions of HubSpot Marketing Hub
HubSpot Marketing Hub offers a comprehensive suite of functions and features to empower marketing managers to achieve their goals. Let's explore the key HubSpot features that make the Marketing Hub an essential tool for marketers:


1. Centralized Marketing Platform
At the core of HubSpot Marketing Hub is a centralized platform that combines all your marketing activities. It provides a unified dashboard to manage your campaigns, track performance metrics, and access various tools and features. This centralized approach eliminates the need to navigate multiple platforms, streamlining your marketing operations, saving you valuable time, and fostering a strong alignment between marketing and sales.
HubSpot Marketing Hub users save an average of 10 hours per week on marketing tasks.
2. Lead Generation and Management
HubSpot Marketing Hub provides robust lead generation and management capabilities. You can create custom forms and landing pages to capture leads directly from your website. The platform also offers lead scoring, allowing you to prioritize and segment leads based on their engagement level and conversion likelihood. With comprehensive lead management tools, you can effectively nurture leads through targeted email campaigns and personalized content.


HubSpot Marketing Hub users see an average of 10% increase in lead generation.

3. Email Marketing Automation
Efficient email marketing is crucial for nurturing leads and engaging with your audience. HubSpot Marketing Hub offers powerful automation features that enable you to create personalized email workflows. You can automate email sequences based on triggers such as lead behavior, specific actions, or time intervals. This automation streamlines your email marketing efforts, ensuring timely and relevant communication with your contacts.
1: Many Messaging
Easily communicate with your current and potential customers by sending broadcast messages. Utilize the power of HubSpot's integrated data with SMS to deliver personalized reminders, exclusive offers, and important updates that inspire engagement and prompt action.
Effortlessly integrate landing pages and meeting links into your SMS messages, creating a seamless and convenient experience for your audience.
Consent Management
Manual Consent Management: Seamlessly add, update, or delete verifiable consent from your contact list, guaranteeing adherence to regulations and maintaining the integrity of your data.
Automated Consent Management: Streamline your administrative workload while efficiently and effectively managing consent. Seamlessly handle opt-out requests to ensure that your communication is respectful of your audience's preferences.
Intuitive Editor
Create compelling and impactful messages effortlessly using the user-friendly HubSpot editing experience that you already know and love.
Edit Tab: Customize your messages with personalization tokens, links (including landing pages and meeting links), body text, preview screen, character count, location preview, and opt-out toggle.
Settings Tab: Set internal name, subscription type, language, preview opt-out message, and link your campaign.
Send & Schedule Tab: Choose who to send your message to, select sending options (including scheduling), and see an estimate of recipients.
Personalized Tokens Support
Utilize personalization tokens to dynamically incorporate personalized contact information, including the recipient's name, company, and other specific details, into your messages.
AI Content Assistant: Slash and Highlight Commands for SMS
The Content Assistant feature will also be accessible for SMS messages. This means that content creators will have the ability to generate messages directly within the SMS editor. Additionally, they can easily highlight and modify existing text, whether it's to rewrite, condense, expand, or adjust the tone.
SMS Automation (Beta)
Craft personalized workflows that adapt to customer behavior, guaranteeing your messages are delivered to the right individuals at the perfect moment. Whether it's following up with a prospect who engages with your website or offering a special promotion when a lead reaches a specific sales stage, our automation feature simplifies your communication and maximizes your time.
SMS Reporting
Unlock valuable insights through comprehensive analytics, allowing you to monitor opt-out rates, total clicks, click rates, replies, and reply rates. Discover the true effectiveness of your SMS campaigns, gain a deeper understanding of customer interactions, and refine your messaging strategy to maximize engagement and make a lasting impact.
SMS Usage Tracking
Stay informed about your message usage as you strategize and send your campaigns with helpful reminders on remaining message counts.
4. Content Creation and Management
Creating compelling and relevant content is a cornerstone of successful marketing. HubSpot Marketing Hub provides tools to facilitate content creation and management. From a user-friendly content editor to built-in SEO recommendations, you can optimize your content for search engines and ensure it resonates with your target audience. The platform also enables you to organize and manage your content assets, making publishing and distributing your marketing materials easier.
AI Subject Line Generator
The new Subject Line Generator feature in HubSpot Marketing Hub empowers content creators to effortlessly generate captivating email subject lines for their campaigns. With the ability to generate and edit email copy within the Email Editor, this powerful tool utilizes email insights and best practices from HubSpot to analyze the content of your marketing email and generate three compelling subject lines. No need for manual prompts, simply click a button and let the Subject Line Generator do the work for you.
AI-Powered Content Ideas for Blog with Semrush Data
Introducing a cutting-edge tool for overcoming writer's block and kickstarting your blogging journey. Powered by the revolutionary ChatGPT and fueled by Semrush's keyword data, this tool effortlessly generates a plethora of captivating blog post topics, enticing post titles, compelling descriptions, and detailed outlines. With just a brief description of your desired broad topic, HubSpot unleashes a wave of specific and resonant ideas tailored to your audience. These ideas are even scored based on their ranking potential and popularity on Google search, ensuring maximum impact and unrivaled results.
AI Content Assistant: One Click Title and Meta Description Generation for Pages and Blog
Introducing an exciting addition to our suite of content assistant functionalities: the new feature allows you to effortlessly generate SEO-friendly titles and meta descriptions with just a click of a button. By analyzing your page's content and leveraging AI technology, this tool generates compelling titles and meta descriptions that accurately reflect the essence of your page. Say goodbye to manual prompts and let our content assistant do the work for you, ensuring your content stands out and drives maximum engagement.
AI Content Assistant: Image Generation
Generate images based on a prompt or context from the task, helping marketers create custom imagery for their content.
AI Content Assistant: Slash and Highlight Commands for Text Editors Across HubSpot Platform
Content creators now have the power to effortlessly generate blog outlines, paragraphs, ideas, or conclusions within the blog editor. Additionally, they can edit existing text to rewrite, shorten, expand, or change the tone of the selected content. This innovative feature empowers content creators to streamline their workflow and enhance the quality of their blog posts.
5. Social Media Management
Social media plays a significant role in modern marketing strategies, and HubSpot Marketing Hub offers robust social media management features. You can schedule and publish posts across multiple social media platforms directly from the platform. HubSpot Marketing Hub also provides social media monitoring tools, allowing you to track and engage with your audience's conversations and mentions of your brand.


You Might Also Like: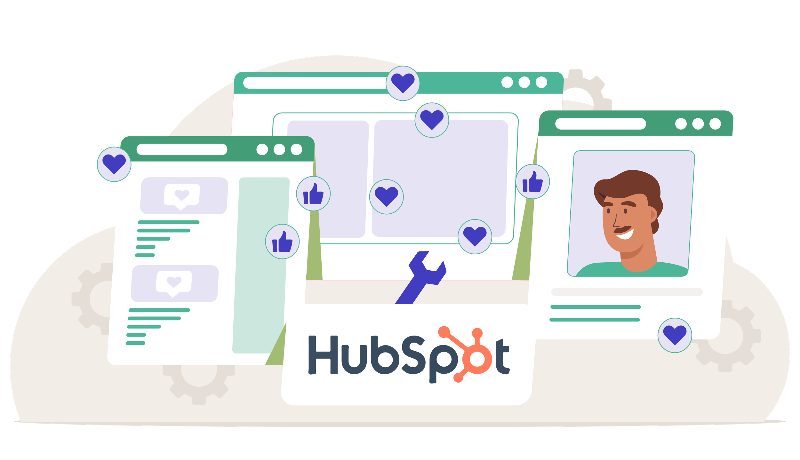 6. Analytics and Reporting
Measuring the effectiveness of your marketing efforts is essential for making informed decisions and optimizing your strategies. HubSpot Marketing Hub offers advanced analytics and reporting capabilities. You can track key performance metrics, monitor the success of your campaigns, and gain insights into lead generation, conversion rates, and revenue attribution. This data-driven approach helps you identify areas for improvement and make data-backed decisions to drive better results.
HubSpot Marketing Hub users see an average of 20% increase in website conversions.
7. Marketing Automation
Automation is a game-changer for marketing efficiency, and HubSpot Marketing Hub excels in this area. You can automate repetitive marketing tasks like email sequences, lead nurturing, and social media posting. With workflow automation, you can set up conditional actions based on lead behavior, segmentation, or other triggers, ensuring personalized and timely interactions with your audience. Marketing automation saves time and helps deliver a more tailored and seamless experience to your leads and customers.


8. Integration and CRM
HubSpot Marketing Hub seamlessly integrates with HubSpot's CRM, providing a holistic view of your marketing and sales activities. The integration lets you align your marketing and sales efforts, track the customer journey, and ensure smooth handoffs between marketing and sales teams. This integration enhances lead management, enables better communication, and improves overall collaboration between marketing and sales.


9. Personalization and Behavioral Tracking
Delivering personalized experiences is a crucial driver of marketing success. HubSpot Marketing Hub allows you to track and analyze lead behavior, providing insights into their interactions with your website, emails, and content. With this data, you can create targeted and personalized marketing campaigns that resonate with your audience, ultimately driving higher engagement and conversion rates.


10. Mobile Optimization
Mobile optimization is crucial for people accessing content and engaging with brands through mobile devices. HubSpot Marketing Hub ensures that your marketing assets, including emails and landing pages, are mobile-friendly and optimized for a seamless mobile user experience. This focus on mobile optimization helps you reach and engage with your audience effectively across various devices.
HubSpot Marketing Hub offers various functions and features that empower your team to streamline their marketing efforts, generate and nurture leads, track performance, and deliver personalized experiences.
From lead generation to content creation, automation to analytics, HubSpot Marketing Hub provides a comprehensive solution to drive marketing success. By leveraging these critical capabilities, marketing managers can take their marketing strategies to new heights and achieve their business objectives.
HubSpot Resources
As a marketing manager using HubSpot Marketing Hub, several valuable resources are available to support your marketing efforts and enhance your knowledge. Here are some recommended resources:
HubSpot Academy: HubSpot Academy offers many educational resources, including online courses, certifications, and practical guides. Marketing-specific courses cover lead management, email automation, reporting, and sales enablement. By investing time in HubSpot Academy resources, marketing team members and managers can effectively deepen their knowledge and skills in leveraging the core functionalities of the HubSpot Marketing Hub. HubSpot Academy is available to all HubSpot users, even on free plans.

HubSpot Community: The HubSpot Community is a vibrant online community where marketing professionals come together to share knowledge, exchange ideas, and seek advice. Engaging in the community allows you to connect with like-minded marketers, learn from their experiences, and get answers to your questions. It's an excellent platform for networking, gaining insights, and finding solutions to common marketing challenges.

HubSpot Partner: Looking for more customized support? As certified and accredited partners, our consultants provide HubSpot Services and customized services configured to your business needs, maximizing the potential of your HubSpot Marketing Hub. Whether you need assistance with implementation, onboarding, customization, integration, or strategic marketing enablement, we're here to help you accelerate your marketing growth and achieve your objectives.

HubSpot Suite of Products: The HubSpot Suite consists of HubSpot CMS Hub, HubSpot Marketing Hub, HubSpot Operations Hub, HubSpot Sales Hub, HubSpot Commerce Hub, and HubSpot Service Hub. HubSpot CRM is a shared resource and is part of all hubs.
Unleashing Marketing Success: Empower Your Team with HubSpot Marketing Hub
HubSpot Marketing Hub is a game-changer for marketing managers, providing a comprehensive suite of features and functions that streamline marketing operations, optimize performance, and drive exceptional results. From lead generation and email automation to content creation and analytics, Marketing Hub equips marketing managers with the tools they need to thrive in the digital landscape. With the support of HubSpot Academy, the HubSpot Community, and a HubSpot partner, marketers can access knowledge and peer support.
Hubspot has begun to make AI capabilities available throughout the platform with Content Assistant and ChatSpot. Contact us to leverage AI in your platform.
HubSpot Marketing Hub FAQs:
Why choose HubSpot?
HubSpot is a popular choice for businesses because it offers a comprehensive suite of marketing, sales, and customer service tools to help you grow your business. Here are some of the reasons why you might choose HubSpot:
All-in-one platform:

HubSpot offers a wide range of tools to help you with everything from lead generation to customer support. This means that you don't have to use multiple different platforms, which can save you time and money.
Easy to use:

HubSpot is designed to be easy to use, even for people with no prior experience with marketing or sales software. The user interface is intuitive, and the tools are well-organized.
Excellent customer support:

HubSpot has a reputation for providing excellent customer support. If you have any questions or problems, you can get help from a team of experts.
Here are some specific examples of how HubSpot can help businesses:
Create a website, manage their social media presence, and track their leads.
Automate marketing campaigns, track sales pipeline and provide better customer service.
Manage the entire marketing and sales process, from lead generation to customer retention.
Contact one of our marketing consultants if you'd like to learn more about HubSpot.
What are the core features of HubSpot Marketing Hub?
HubSpot Marketing Hub includes a variety of features, including:
A/B testing
Ads
Blog
CTAs
Email marketing
Forms
Landing pages
Lead management
Marketing automation
SEO
Social media marketing
Website analytics
What are the benefits of HubSpot Marketing Hub?
Benefits include increased website rankings and traffic, higher productivity, stronger customer engagement, better lead generation and conversion, data-driven decision-making, and consistent branding.
What are marketing contacts?
When purchasing a Marketing Hub subscription, you select a contact tier with contacts you'll engage with through HubSpot's marketing tools (e.g., marketing emails, ads). The contacts included in this tier are called marketing contacts, the only contacts that affect the cost of your subscription. Any contacts you don't plan on marketing to are non-marketing contacts. Non-marketing contacts don't count toward your contact tier, and there are no charges for these contacts.
What are the pricing plans for HubSpot Marketing Hub?
HubSpot Marketing Hub has four pricing plans: Free, Starter, Professional, and Enterprise. The Starter plan starts at USD 50/month, the Professional plan starts at USD 890/month, and the Enterprise plan starts at USD 3,600/month.
HubSpot has a variety of programs with additional pricing options, such as the HubSpot For Startups program. Depending on the configuration, HubSpot requires mandatory onboarding.
Please contact us for help finding the right configuration of you.