What Is SEO? (And How To Be Good At It!)
SEO. Three little letters strike fear in the hearts of marketers everywhere. And yet it seems everybody from the CIO to the head of operations is claiming to "do SEO," so we wanted to take a moment to clarify some things.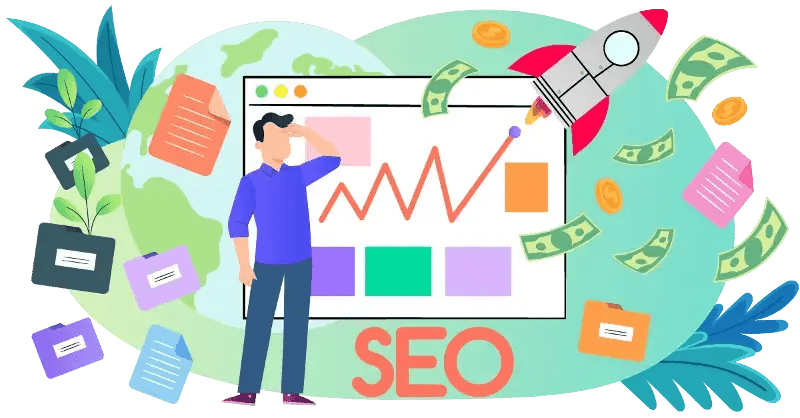 SEO may have a bad reputation, but there's a lot of power in its proper use. At the same time, there are plenty of ways to do it poorly. To avoid scaring you off and, at the same time, make sure you're doing it right, here are a few important things to know to succeed at SEO.
First, what is SEO?
According to Moz,
SEO stands for Search Engine Optimization, which is the practice of increasing the quantity and quality of traffic to your website through organic search engine results.

We like this definition because it focuses on the fact that SEO works toward increasing not only the number of people getting to your site but also--and most importantly--the quality of those people. We don't mean they're quality people regarding their charitable giving, their core values, or anything like that (though we're sure they're upstanding citizens!). Rather, we mean if you're doing SEO right, you attract visitors who want or need to read your company blog or have a question you and your widget can answer.
When they arrive at your site, these people are quality visitors because they are more likely to engage with your brand and remember you as the company they can come to (and rely on) when they need to buy a product or service.
Getting these quality visitors to your site happens because you've done SEO well. Namely, visitors find your blog or website through organic or natural search results: the unpaid search results that appear on sites like Google.


Why does it matter?
75% of people will never scroll past the first page of search results. To ensure your website is easily discoverable, securing a high ranking on the first page of search results is crucial.

SEO can increase website traffic by more than 100%. By implementing SEO strategies on your website, you have the potential to draw in a substantial increase in visitors to your site. In more than one example, we've seen doubling and tripling visitor numbers of existing content upon diligently focussing on its optimization.

The average cost of a paid search click is $2.32. You may overspend on traffic if your website is not optimized for search engines. By implementing SEO strategies, you can increase your website's discoverability and draw in more visitors without breaking the bank.

SEO is a long-term investment, but it pays off in the end. SEO requires patience and consistent effort. Although it may take time to see the results, the benefits of a well-executed SEO strategy can be significant and long-lasting. You will likely see little to no tangible impact in the first 3-6 months; depending on your site and (the competitiveness of your) industry, organic search traffic will begin to pick up within 6 to 12 months.
In addition to these statistics, it's important to remember that SEO is constantly evolving. What works today may not work tomorrow, so staying current on the latest trends is important. By doing so, you can ensure that your website remains visible.
How does this SEO magic happen? Read on.
Content, content, content
We will ruin the surprise and start with the #1 thing you need to know about SEO—Content matters.
Yep, content. The easiest way to boost your company website's SEO is to publish great, useful content regularly. Unique content, going up on its URL with attention paid to keyword usage and with a well-crafted, attention-grabbing headline, is one of the key SEO tools in your arsenal.
There's more about keywords coming up. First, we want to make sure you understand the power of headlines. The headline of your article is the first, and often only, part of your content that visitors to your site will read. So they need to be well thought out and planned, use keywords, and be no longer than ~ 60 characters.
If that last one seems oddly specific, it is. 60 is the approximate number of characters displayed on a SERP (search engine results page). Keeping the headline under this limit ensures that the entire thing remains visible.


Use your keywords, don't stuff them.
Yes, keywords are still important to your SEO pull. Many folks still stuff their pieces full of them (a practice somewhat plainly termed "keyword stuffing"). This will now get your site down-ranked by Google due to the ever-evolving algorithms that power their search engine.
First of all, there are two categories of keywords you'll need to pay attention to:
Short tail keywords: What most people think of as keywords are one or two words used when searching Google (or the search engine of your choice). Examples include "inbound marketing," "inbound," or "keyword." You want to use these in your headlines and titles.

Long tail keywords: Less common yet wildly useful; these are more like keyword phrases. For example, "How to use SEO keywords" or "When is daylight savings time over?" These get used throughout your content, sparingly. You only need each long tail keyword to appear once per page to be effective.
Google's current algorithms parse the intent of the searcher. They do this with AI that can understand the words the searcher types in and related terms and phrases. That means they can return more valid results, even if the searcher is unclear.
This means a searcher can type the question "How do I do SEO better?" and Google will return results that include other keywords, like "keyword" itself, "SEO mistakes to avoid," or "content marketing for beginners."
That means that while you DO need to use your keywords—you do NOT want to stuff your article full of them. Google has you covered.

Use your links correctly, too.
Like keyword stuffing, link stuffing no longer does what you want it to. Too often, links are the prime focus of a corporate blog. Little to no attention is paid to whether the link is reciprocated or if it's an internal link to another blog post that the post is current.
Content marketing and SEO are long games. Use outside links sparingly (unless you know the other side will reciprocate with a link to your content), like providing a source for statistics quoted. Otherwise, you should only be linking to your content.
This forms what's called a "topic cluster." This is precisely what it sounds like, a cluster of linked pages (landing, pillar, post, or otherwise) about the same topic. Google is a big fan of topic clusters, they help your site appear authoritative for that topic, which boosts your ranking.


Speaking of ranking
Yes, it is true that at one time in history, SERP rank was the be-all-and-end-all of SEO. We are no longer in that era.
Today, your site needs to prove that it's authoritative, useful, well-read, and gets many incoming links and clicks to increase the rankings. Think of it like this, if your site is coming up on page 1 for a search that doesn't relate to your product, you're still ranking.
Focus on your content, creating articles that answer the questions people are asking about your industry or that solve their problems; use keywords correctly and scatter in some appropriate links—and your site will move up the rankings in an organic way that will encourage yet more click-throughs.
Oh, and make sure your meta descriptions are on point. This is often the only thing searchers see on your page when they scan the SERPs, so using the right language here can be the difference between a click-through and a bypass.


SEO is not something you do once, then move on
SEO isn't a one-and-done sort of thing. Sure, you may have optimized your website landing pages. Or maybe you remembered using long-tail keywords in your article while leaving the short ones for the title and headings. None of that means you're done with SEO.
You must frequently revisit your evergreen pages (those posts you link to often or use in email marketing, etc.) to check for needed updates. You can always tweak something (meta description, alt-text on images, etc.) to see if you can boost the numbers for these pages.
You also need to scan your entire site every once in a while to be sure it's still optimized. Your HR team adds job descriptions monthly, your content team posts blog posts, and your marketing team creates landing pages for upcoming events. All this is to say that your site is not a static thing, it's constantly evolving, so your SEO needs to be ever-changing to keep up.
SEO is a complex world, with aspects that reach into marketing, sales, HR, IT, and beyond. If you deal with your company website in any capacity regularly, becoming a pro isn't necessary, but being aware of the basic ins and outs is a great idea.