How to Implement a HubSpot Conversion Campaign
Conversion campaigns are a set of marketing efforts aimed at converting website visitors.
While conversions can be many things (subscribers, downloads, and more), we'll look at conversions into paying customers as an essential part of many digital marketing strategies, aiming to increase revenue, grow their customer base, and achieve their overarching business goals.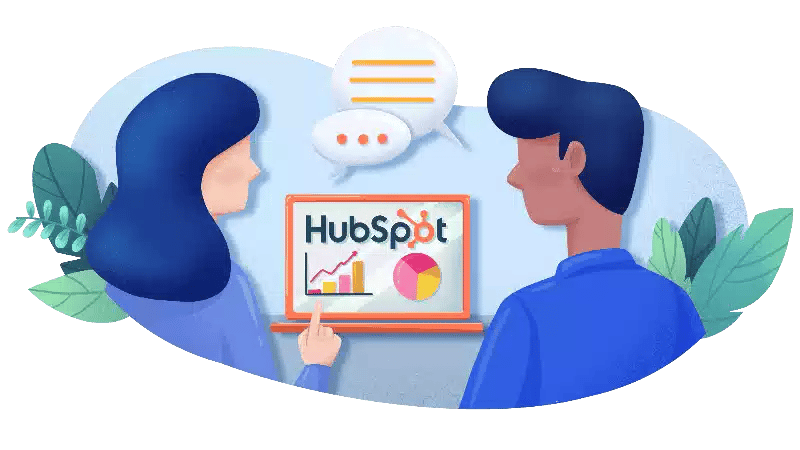 HubSpot is a powerful tool for creating and managing conversion campaigns. HubSpot is a leader in the marketing, sales, and service software industry with a powerful suite that offers a wide range of tools and features to grow revenues and customer satisfaction. One of the benefits of a Hubspot Marketing Hub Implementation is the ability to create and manage conversion campaigns.


Why Use Conversion Campaigns?
While conversion campaigns are highly beneficial in boosting conversion rates and automating the marketing process, it's essential to understand why one is implemented. Overall, conversion campaigns can help you:
Increase revenue: By converting more website visitors into paying customers, a conversion campaign can help you increase revenue and grow your customer base.

Improve targeting: Conversion campaigns allow businesses to segment and target specific audience groups, helping increase conversions and improve the performance of their marketing efforts.

Improve ROI: With a conversion campaign, you can optimize your marketing efforts and improve your ROI. Focusing on the most effective tactics and strategies will help you get more value from your marketing budget.

Understand your customer: By tracking and analyzing a conversion campaign's performance, you can better understand your customers and their behaviors, helping inform future marketing strategies.
Increase engagement: You can increase engagement with recipients by providing relevant, personalized content and messages that resonate with your audience.

Continuously improve: A conversion campaign isn't a one-time effort; it's an ongoing process. By monitoring and optimizing your campaign over time, you can make ongoing improvements and achieve better results.
Many companies have forgotten they sell to actual people. Humans care about the entire experience, not just the marketing, or sales, or service. To really win in the modern age, you must solve for humans.

Dharmesh Shah
Setting Up a New Conversion Campaign
The process of setting up a new conversion campaign in the HubSpot Marketing Suite is reasonably straightforward and can be done in a few simple steps:
Log into your HubSpot account and navigate to the "Conversions" section of the platform.

Click on the "Create Campaign" button to start the process.

Choose the type of campaign you want to create. For example, you can choose from submissions, phone calls, or chatbot conversations.

Select the appropriate conversion goal for your campaign.

Choose the right form or landing page for your campaign. This should be a page or form closely aligned with your conversion goal.

Set up tracking and analysis for your campaign. This will allow you to measure the success of your campaign and make any necessary adjustments.

Test and optimize your campaign. A/B testing can help you test different campaign elements, such as headlines, images, and form fields.

Use the analytics and reporting tools in HubSpot to track the performance of your campaign.

Use the data you collected to identify which pages or forms aren't converting well and make the necessary adjustments to improve them.

Continuously monitor and optimize your campaign over time.
It's important to note that each type of campaign is designed to help businesses achieve different conversion goals, so choosing the right one is essential.



Optimize Your Conversion Campaign
Once you've set up your new conversion campaign, it's time to begin testing and optimizing the campaign to improve its performance. After all, it's rare that the first draft of your campaign will have no areas for improvement. Remember that conversion optimization is a continuous process; you should always look for ways to improve your campaigns.
An excellent method of testing and optimizing your campaign is through A/B testing. A/B testing is a powerful tool for improving your campaigns as it allows you to test different elements of your campaign, such as headlines, images, and form fields, to see which version performs the best.
When conducting A/B testing, set clear goals, run tests for a significant amount of time, and test only one element simultaneously. Unclear goals, too little time, or testing too many elements at one time can overcomplicate the test and leave you with inconclusive results.
Depending on your subscription level, you can access A/B testing for various assets, e.g., page elements and CTAs, and choose between split testing and adaptive testing.
HubSpot's built-in analytics and reporting tools help track key metrics and measure the success of your campaign. Metrics can include conversion rates, bounce rates, and form submissions, helping you to determine what's working and what isn't so that you can make the necessary changes for improvement.
Strategies for Boosting Conversions
You can leverage HubSpot to boost conversions in your campaign in a few ways, including personalization, segmentation, and retargeting.


Personalization
Personalization is tailoring content and messages to specific segments of your audience. Personalizing your campaigns can increase engagement and conversions by delivering relevant content to each visitor. Common personalization strategies include using a recipient's first name, including agile images, or tailoring CTAs to the recipient.


Segmentation
HubSpot's segmentation and targeting features help users deliver personalized content and ads to different audience segments. For example, you can use HubSpot's lead scoring and workflows to create targeted campaigns for different segments of your audience. Maintaining your CRM Database is key for successful segmentations.


Remarketing/email nurturing
Remarketing is the email-based follow-up with suitable prospects, looking to provide the most relevant (to the individual) materials and insights to nurture the prospect along the buyer's journey and, eventually, foster a conversion for the right reasons at the right time.


Retargeting
Retargeting is targeting ads to people who have previously interacted with your business. This can help increase conversions by reminding potential customers of your business and encouraging them to take action. Within HubSpot, you can easily set up retargeting campaigns and use the platform's analytics tools to track the performance of these campaigns.


More Conversion Opportunities
While each conversion channel needs to be monitored and optimized, adding more variety to the portfolio of conversion opportunities can be beneficial. Additional white papers to download, additional calls to action for existing landing pages, or a series of educational webinars.
Let HubSpot Lead the Way
Overall, conversion campaigns are highly effective in helping businesses increase conversion rates. By providing relevant, targeted messages, measuring and analyzing the campaign's performance, and continuously improving upon it, you can significantly increase the effectiveness of your conversion campaign.
With the help of HubSpot, converting leads has never been easier, bringing you one step closer to business growth and success. Businesses can quickly build a conversion campaign in the platform, monitor its progress, perform testing, and adjust for improved results.
If you're looking for an effective method of converting leads and optimizing your marketing efforts, look no further!