5 Underused Hubspot Features
You're not making the most of what Hubspot has to offer. Don't get me wrong — even a barebones Hubspot is a fantastic tool for any business. But Hubspot has so many tools in its arsenal that most companies aren't taking advantage of. If Hubspot is so useful at its most basic, imagine how helpful it could be when all its tools get leveraged properly.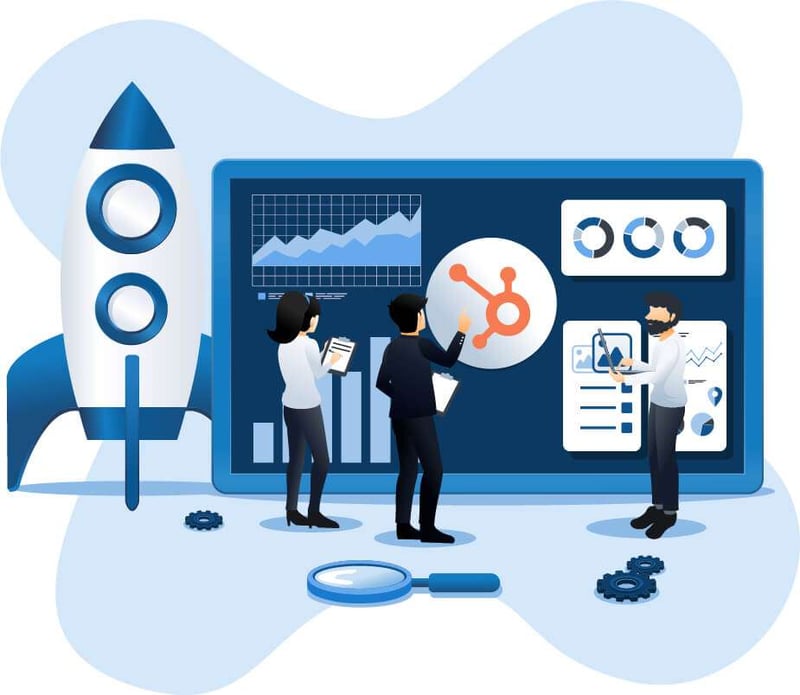 We will go over five commonly underused Hubspot features we find when starting to work with customers. With many of them available in the starter level subscriptions, there's really no excuse not to use them, especially given how powerful they are.
So let's get started!
1. Hubspot Conversations (all plans)
Hubspot Conversations is a messaging management tool designed to help you navigate large numbers of incoming messages with ease. It can channel messages into specific inboxes. It can also manage tickets from conversations with visitors that can be revisited later on. You can also use it to set up live chatbots to automate conversations with customers and visitors.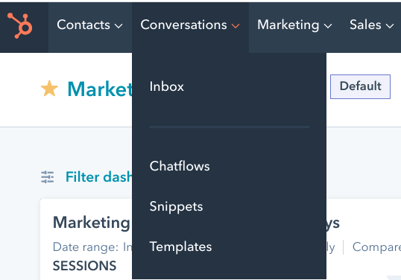 And, of course, being a Hubspot feature, it allows you to gather data for your analytics on each part of the tool you're using. This way, you can quantifiably monitor the tool's performance and be confident when you make adjustments along the way.
Conversations can directly interact with visitors (especially with chatbots), make sure that you're using it wisely. Streamlining and automating your own processes is valuable, but make sure that it never comes at the expense of your user experience. Don't use Conversations as an excuse to give less human interaction to your users.
2. Hubspot Workflows (Marketing Pro and Enterprise)
As Hubspot itself describes them,Workflows are all about "automating your marketing, sales, and service processes and making your team more efficient." Workflows is a tool that can do different things depending on your goals.

On one hand, it can be used to automate streams of content. Depending on the user, you may want to tailor the kind of content you are inviting them to consume. Hubspot Workflows can be used to automate this task. Depending on the type of visitor you are targeting, Workflows will send out a tailored stream of content to them. This is extremely valuable because it allows you to automate the personalization process of your content marketing without needing huge amounts of human labor to back it up.
On the other hand, you can use Workflows to automate certain individualized emails, which are emails that you send to individual people at specific times, rather than to your whole mailing list en masse.
The best example of this is with dead shopping carts (online carts that were abandoned right before finalizing a purchase). Upon noticing a dead shopping cart, you can send an email to the user with a reminder that they didn't complete their purchase. You can even give them a little offer, like a discount code, to nudge them into completing their order.
Of course, given that each customer has their own shopping cart, you'd need to be able to track each individual shopping cart and time each email accordingly. Workflows automate this entire process and will send out dead shopping cart reminders without you having to lift a finger after setting things up.
3. Hubspot App (all plans)
The Hubspot CRM App is basically your Hubspot swiss army knife. It won't necessarily add many features, but the practicality of having so many Hubspot features at your fingertips is too good to pass up.
The app lets you check and manage all of your Hubspot tasks directly from the app. Deadlines, meetings, updates, reminders, it's all right there. The best thing about the Hubspot app is that you can use it to communicate with your team. Regardless of whether your team is on mobile or desktop, they'll see what you're doing, and you'll be able to reach them even if you're not at the office.
The app can also help sync up whatever information you have on your phone with Hubspot. This is especially useful when trying to contact people you have on your phone through Hubspot. Met someone at a networking event and want to add them to your mailing list? You can do it in a few seconds through the app now.
The app itself is very user-friendly. You won't need more than half a day to adjust to using it, so don't feel intimidated to give it a try, especially since it's completely free.
Try using the dictation feature when you first download it. You'll never feel like typing out a note ever again!
4. CRM (all plans)
Hubspot has one of the best Customer Relationship Management tools on the market. The number of features Hubspot's CRM has is out of this world. We can't go over all of them, but here are just a few. The Virtual Dashboard is an amazing resource for optimizing your sales funnel. It lets you manage your scheduled appointments. From setting reminders to cancelling and rescheduling, to stopping you from double-booking appointments. Additionally, you can monitor contracts and performance, all this within a single piece of software.
Hubspot CRM also lets you manage ongoing deals you have. One of its basic features is to sort things by name, size, client, or status. You can even expand your sorting filters by making custom ones yourself.
Of course, customer activity is tracked very closely. Analytics on browsing, purchases, conversations, and feedback from your users can all be accessed through Hubspot CRM. From this, you can use CRM to store whatever information it gathers for you: phone calls, emails, messages, etc.
And this is just what Hubspot CRM can do on its own. When combined with other Hubspot software, especially their Sales and Marketing software, you can get even more out of its CRM software. These different pieces of Hubspot software are all designed to sync with each other. CRM acts as a bridge between Hubspot's Sales software and their Marketing software.
Of course, to have access to these combinations, you'll need to pay a premium. But given how useful it is, we think it's worth the extra cost.
5. Page (SEO) Optimization (Marketing Pro and Enterprise)
Hubspot's on-page SEO optimizer is one of its most overlooked tools. It does exactly what it sounds like: helps you optimize various Hubspot website pages. It does this by analyzing global trends and reviewing your keywords, page titles, meta descriptions, headings, CTAs, media, links, and text content on the page.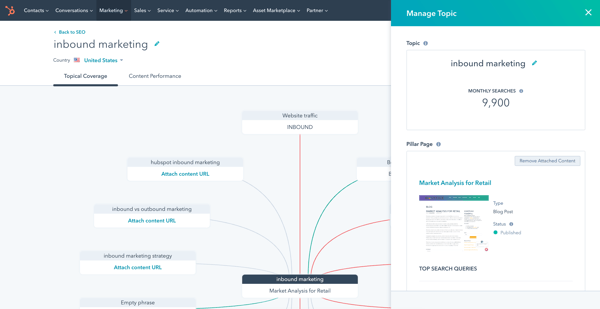 The tool will give you suggestions based on each of these variables. The best part about how Hubspot organizes this is that these suggestions are presented as a checklist. This helps avoid feeling overwhelmed by suggestions, or feeling discouraged because your page is poorly optimized. Since it's just a quick checklist, you won't notice how many things you've tweaked by the time you've checked all the boxes.
Given how important SEO is, and how easy it is to set up this tool, you should set it up as soon as possible. If your SEO is in need of optimization, you'll know it right away. If not, then you won't even notice the tool. There's no downside.
Curious to see how much ROI your business could benefit from purchasing HubSpot? Use the calculator to get your free personalized report.