How Do I Choose the Best CRM? The Ultimate Buyer's Guide
Are you looking to find the best CRM? Have you finally had enough of your old system, or are you just getting started?
A CRM goes beyond just a contact database or system of record; it serves as the lifeblood of your customer's interaction with your brand. Its purpose is to guarantee smooth and seamless interactions at every touchpoint and drive maximum effectiveness and efficiency of your prospecting and selling efforts.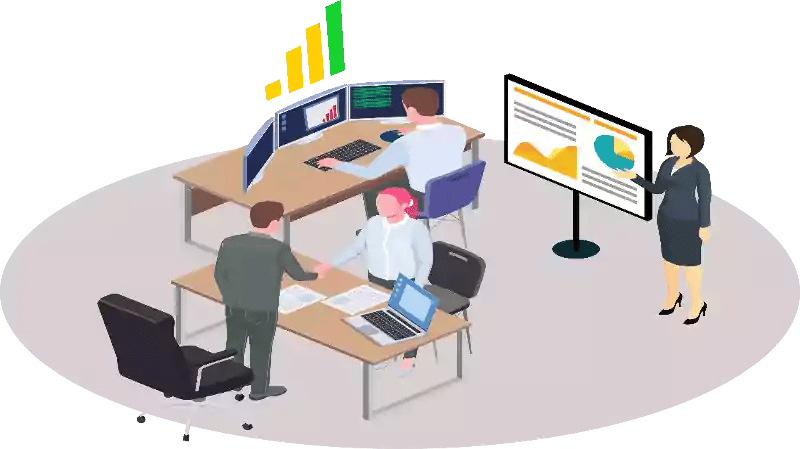 Whether you're looking to invest in CRM software for the first time or move your organization away from a legacy solution, your new CRM should effectively balance your business goals, and customer needs while accounting for long-term growth and profitability.


Why a Good CRM Matters?
On average, companies said they had wasted more than $300,000 on sales tools that weren't fully adopted by sales representatives over the past two years.

95% of sales representatives agree that reducing time spent on non-revenue activities would help them meet quota.

86% of sales representatives get confused about which tool to use for which task. Nearly 80% of sales representatives waste time keeping track of different login credentials for different tools.

76% of companies say poor adoption of sales tools is a top reason teams miss their sales quotas.

New sales productivity research shows sales representatives use just 62% of their tech stack.

Sales representatives spend 41% of their average workday not selling, costing companies approximately 38% in revenue per quarter.

25% of sales representatives said updating Salesforce or another CRM frequently takes time away from selling.

Sales representatives navigate an average of 13-point solutions as part of their company's tech stack.

Admins say they waste four hours weekly helping sales representatives access and use tools.


In this comprehensive buyer's guide, you'll discover valuable insights, expert tips, and practical recommendations to empower your purchasing decisions and position your teams for success. Delve into the world of CRM as we help you define your perfect solution, navigate the competitive software market, and equip your organization for the next era of operations, no matter if you start selling online or are a seasoned B2B Sales Executive.
Understanding the customer relationship landscape
Regardless of your company's size or industry, the relationships you build with your customers directly influence the success of your brand. Positive relationships can enhance profitability and strengthen your reputation, while negative ones can undermine even the most compelling value propositions.
Customer relationship management should lie at the core of your growth strategy beyond simply offering a stellar customer support line or shiny new products.
To meet your customers' ever-changing needs, goals, and challenges, it is essential to research and understand their requirements constantly. You can respond quickly and effectively by gaining insights into their experiences and addressing any friction they may have with your product or service.
However, achieving this without needing many new employees or depleting your entire budget on manual data management can be challenging.
A robust CRM system enables you to effortlessly handle every aspect of customer relationships, from initial marketing interactions to dedicated brand enthusiasts, all within a unified platform.


Investing in a right-fit CRM system
Your CRM software should help you maintain high customer centricity and make daily operations easier for your teams. But finding the right fit means more than browsing through the most popular picks on the market or going with the CRM you used at a previous organization.
As you begin discussing new solutions internally or exploring top solution providers, consider the following:
Business Goals
What main goals have you set for your business, and what Key Performance Indicators (KPIs) are you using to measure your progress?

Are you able to generate comprehensive reports on them currently? Are there any areas in the reporting process that could be improved or streamlined?

How could upgrading to a new CRM enhance your reporting capabilities?


Employee Needs
How do your sales, marketing, and services teams engage with customers, products, and other elements?

Are they currently able to tap into valuable customer data?

What obstacles or difficulties do they encounter when trying to access that information?


Customer Expectations
What are the key frustrations your customers often experience when interacting with your brand?

Are there any unfulfilled requirements or a lack of alignment between different contact points?

Have you already discovered ways to enhance your brand's customer experience?
Use your responses to these inquiries to kickstart creating your shopping list for a brand-new CRM. Tailor your list of essential features to address the challenges and opportunities most pertinent to your business and its customers. However, don't forget to consider the future state of your business.
Consider your current business needs and long-term goals, then choose a CRM that can effectively grow with your business rather than one that will max out quickly.


Exploring common triggers for change
As each business has its distinct characteristics, there could be various reasons why you need new CRM software. Take a moment to reflect on whether the current circumstances truly warrant the adoption of a new system by consulting with your teams. Ask them if any of these situations resonate with their experiences:
#1 Your teams operate from multiple sources of truth
Your customer data is scattered across multiple systems or records, resulting in fragmented information that each team tries to piece together. This leads to frustration within departments and a lack of consistency in customer experiences.


#2 Your sales, marketing, and service teams work in siloes
Lack of cross-team alignment is a common consequence of using separate systems for each department. For example, your sales, marketing, and services teams may each have a unique and isolated management system, which limits their visibility into each other's goals and operations and hinders efficient handoffs between different stages of the customer lifecycle.


#3 Your teams rely on manual reporting processes
Operating without a CRM leaves your teams no choice but to rely on manual processes, such as spreadsheets or outdated systems, to manage customer information and create internal reports. This not only consumes hours of laborious work but also heightens the chances of human error, causing you to overlook vital insights.


#4 You've identified gaps or inconsistencies in your reports
Accurate and comprehensive reports provide valuable insights into the performance of your sales and marketing teams. They are a foundation for developing impactful campaigns, optimizing sales processes, and fostering more robust customer relationships. However, if your reports lack completeness or fail to align with your goals and key performance indicators (KPIs), they fail to serve your business and customers effectively.


Buyer's Guide
Each business has unique operations, and your chosen CRM software must align with your specific processes as closely as possible.
Luckily, there are numerous proven strategies that you can utilize to ensure that you are thoroughly equipped to navigate the buying process and discover a solution that satisfies the requirements of both your team members and customers.


Step 1: Consult with Stakeholders and Key Users
A CRM must truly deliver results and align with your team's unique needs and current processes. Before delving into the specifics of features and expected outcomes, it is crucial to understand what each team requires from a new CRM software.
Engaging with the individuals who interact with your current CRM or similar systems daily is essential to truly grasp your teams' needs. While stakeholder input is valuable, connecting with the users who rely on the system's functionalities is equally important:
Teams responsible for managing the backend systems that handle revenue and business operations.

Sales, marketing, and service teams heavily depending on the user interface and features of the CRM.


Gain insight into how each team engages with contacts, objects, and data within your CRM. Take this opportunity to evaluate the obstacles your teams encounter in their current systems and inquire about the enhancements that would be most beneficial to each specific team or department.
After gathering insights from critical users, bring their feedback to your leadership team to uncover overarching trends and consider their priorities. Then, leverage the insights from all levels of your organization to establish the "ideal state" for your new CRM. This will help you create a comprehensive checklist to guide your search and ensure you find the perfect solution for your business.
Tip: Put together a focus group that includes members from your core teams to ensure you get everyone's perspective on the best path forward.
Step 2: Identify Your Goals
Now that you have considered everyone's input, it is time to clearly define the objectives and results you want your new CRM to achieve. Create a comprehensive list of qualitative and quantitative key performance indicators (KPIs) that consider the needs of individual users and the overall business goals.
To start identifying these goals, ask questions like:
Are we considering implementing a CRM for the first time or transitioning from a current system?

What objectives are we striving to achieve, and how can we effectively track our progress?

Could our performance management or reporting processes be improved in any areas?

Are there any challenges or problems we want to address that currently lack the necessary features or capabilities?

How much time do you allocate to maintaining your CRM Database?

Consider what types of reports or valuable insights are essential to bring into a new system.


Utilize the valuable insights from your team, align them with your business objectives, and consider the answers to the aforementioned questions to establish your utmost priorities. It's important to remember that while a CRM can bring immense value to your business, it may not be the cure-all for every challenge you face.
Develop a comprehensive checklist of essential features and desirable attributes for each team or department, and utilize this list to determine the prioritization of features you will seek in a new CRM solution.
When considering your CRM options, it's crucial to prioritize the compatibility of your tech stack. While unlimited administrative support may be a nice bonus, the operations team would likely consider tech stack compatibility a must-have requirement. So, if you had to choose, software compatibility should be your top priority.


Step 3: Assess Your Tech Stack
Assessing your existing tech stack is crucial to guaranteeing long-term ease of use and compatibility with new software. Your technology teams will appreciate your foresight in considering the bigger picture.
While conducting your CRM research, it's essential to consider how well potential options align with your existing toolset. This is also an excellent opportunity to determine whether a new CRM can streamline your tech stack. Many CRMs offer features that can replace or eliminate the need for specific tools, resulting in smoother operations and potential cost savings.
Tip: Proactively assess and address any potential integration or compatibility issues by devising a comprehensive mitigation strategy. By doing so, you can avoid any unforeseen surprises or unforeseen costs that may arise once you commit to your new CRM solution.
While it is beneficial to have a unified organization using a single software for improved processes and cross-team alignment, there are instances where managing two CRMs becomes necessary. Take, for example, the scenario where marketing activities are hosted in HubSpot, and leads are seamlessly passed over to Salesforce once they become SQLs. This approach allows for a smooth flow of information between CRMs, ensuring efficient operations and maximizing results.
If you intend to use multiple CRM systems, even temporarily, it is crucial to guarantee seamless data synchronization between them. Brands such as HubSpot offer integrations that enable this approach and ensure a smooth flow of information across different CRMs.
The seamless integration between HubSpot and Salesforce allows for effortless data transfer between the two CRMs. By setting it up and utilizing the data sync feature, you can easily migrate your Salesforce field data into the corresponding properties within HubSpot, ensuring a smooth and efficient flow of information.
Step 4: Compare Critical Features and Capabilities
It's time to delve into the specific features and capabilities a powerful and growth-oriented CRM should provide. While your prioritization will be based on the goals you identified in step two, there are a few crucial features to remember as you explore your options.


Reports + Dashboards
Your CRM is a treasure trove of valuable data your teams rely on to access, organize, and analyze to achieve their goals and KPIs. It's crucial to select a CRM with robust reporting features that empower your teams with intuitive tools and seamless access to data. Ideally, you should be able to create custom fields and dashboards across different departments, fostering collaboration and driving impactful decision-making.


Data Quality Management Tools
As your database continues to grow, it is essential to prioritize data quality by ensuring accuracy, completeness, and consistency. One way to achieve this is by considering CRM automation features for data cleansing. Additionally, evaluating each CRM's multi-source data aggregation capabilities will allow you to create a comprehensive view of your operations. This holistic approach to data management will empower your teams and drive impactful decision-making.


Integrations
While your CRM will include many high-value features, it won't be the only software you need to manage your operations. Determine each potential CRM's features, then evaluate integration capabilities to ensure you can connect external systems to your CRM quickly and effectively.
Tip: Enhance your CRM with add-on solutions to boost your external integrations. Take HubSpot's "Hubs," which empower businesses to seamlessly integrate CMS, Operations, and other solutions directly into their CRM.
Custom Object Associations
If you collect data that doesn't fall into your CRM's standard properties, be sure your new software will allow you to store and report on it. Think about payment status for financial institutions or subscription information for SaaS brands. Your new CRM should allow you to record and report on these custom objects without relying on an external system or manual process.


Administrative Support
Adopting new software can be a daunting task that requires a significant investment of time and effort. Choosing a provider that offers readily available support is crucial to assist you and your teams as you transition to a new CRM. Take the time to evaluate the support hours provided by the CRM provider and consider the availability of resources that can help you resolve any technical issues or gaps in user training that may arise during the implementation process. Ensuring that you have the necessary support will help streamline the transition and maximize the benefits of your new CRM system.


Step 5: Consider Costs and ROI
Moving forward, it's time to delve into the financial aspect of adopting a new CRM software. While cost is undeniably an essential factor, it's crucial to look beyond the initial price tag of each potential solution.
Take a moment to reflect on the long-term benefits of addressing your employees' most pressing challenges. How will overcoming these obstacles ultimately impact your business's overall value and success?
Streamlining your employees' tasks enables them to be more productive daily and enhances their motivation and loyalty to your organization in the long run. Conversely, providing a positive customer experience opens up endless possibilities for exponential growth and success for your brand.
In addition, thinking long-term and considering the bigger picture is crucial when choosing a CRM. While a cheaper option may meet your needs initially, what happens when your business grows and you realize there are no opportunities for scalability or customization? Investing in a CRM that can adapt and evolve with your business is essential to ensure long-term success.
Choosing a low-cost solution lacking scalability can result in higher expenses than investing in scalable software from the beginning. It is much easier and cost-effective to scale up an existing CRM rather than starting from scratch every few years. The importance of making the right choice initially cannot be emphasized enough.
Tip: When searching for a CRM, seeking out ones that provide add-ons or comprehensive product ecosystems is beneficial. These features will not only assist in supporting the growth of your brand but also aid in managing various aspects of your internal operations.
Step 6: Outline Your Implementation Plan
As you approach the critical moment of making your final decision to purchase a CRM, it becomes essential to develop an internal plan that will serve as a roadmap for setting up, launching, and adopting your new system. To assist you in this process, here are a few steps to get you started:
Identify resources to support implementation. Before investing in new software, it is crucial to designate teams to oversee the system's technical aspects. This entails identifying internal resources, such as technology teams, and potential external partners, like implementation experts, who will lead the migration process.

Create a realistic timeline. Create a comprehensive timeline that includes your new CRM's purchase, implementation, configuration, and go-live stages. Consider the possibility of delays and allow for a buffer period for quality assurance and testing before you onboard your sales, marketing, and service teams onto the CRM system.

Develop an adoption strategy. Now is the moment to delve into the crucial details of your CRM implementation. Take some time to consider how you will effectively manage essential tasks like data migration, team training, and more. Additionally, it's essential to develop a comprehensive maintenance plan for your new CRM to ensure that best practices are established right from the start.


Competitive Players
HubSpot is a CRM platform with all the software, integrations, and resources you need to connect marketing, sales, content management, and customer service. Each product in the platform is powerful on its own, but the real magic happens when you use them together.

HubSpot Sales Hub is HubSpot's easy and powerful sales automation software that connects without complexity, drives productivity with easy-to-adopt tools, and helps growing sales organizations prospect smarter, accelerate revenue growth, and scale insightfully. Sales Hub core features include powerful support for prospecting, lead nurturing and management, and deal and pipeline management.
Microsoft Dynamics 365 is a suite of software applications that integrate a range of business processes such as sales, marketing, customer service, finance, operations, and human resources.

Microsoft Dynamics Sales is a customer relationship management system that helps businesses manage sales processes and customer data. It provides tools to track leads, automate workflows, and measure the impact of sales activities.


Salesforce is a cloud-based customer relationship management (CRM) platform with applications for sales, service, marketing, and more that help bring customers and companies together.

Sales Cloud is Salesforce's sales CRM that includes automation tools, reporting, deal management, and more.


SmartDeskCRM is the integrated CRM your whole business will use... and enjoy! Make things easier for your business by having one central CRM for all your customers. This allows for Marketing, Sales, and Service to work as a cohesive unit.

Allow your marketing team to communicate with all your prospects and nurture them to a sales-ready state.

Your sales team can take up the warm and hot prospects from all marketing campaigns and activities.

Your customer service team has a complete history logged in the customer profile. It is just a better way to work.


What's Next?
When searching for the perfect CRM, balancing internal challenges, customer needs, and business-level constraints is crucial. Regardless of your specific circumstances or software requirements, the true value of your new CRM lies in its ability to serve your organization for years to come effectively.
Above all else, your CRM should act as the cornerstone of your customer's journey, adapting and growing with you as you exceed the expectations of today's clientele and refine your offerings to meet the demands of the future market.