7 Strategies to Better Inbound Lead Generation
Are your website traffic and leads growing by at least 6% monthly? If not, it may be time to consider your inbound marketing strategy by better gating your content to reach the right viewers. This goal is for established pages with thousands of views. If you're just starting, you'll want a much more aggressive goal to jump from 0 to 1,000+ views in a few months.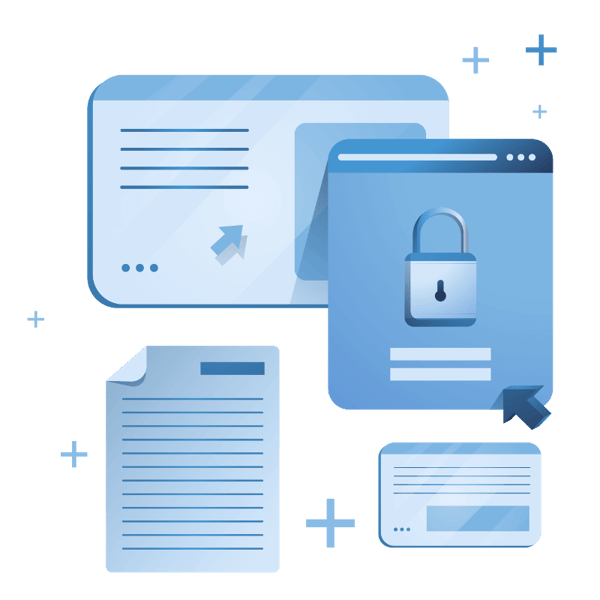 So, how can you make that happen?
By personalizing the user experience, you can look beyond increasing inbound lead generation. Gated content targeting your intended audience can herald a radical increase in your website conversions and, ultimately, the number of generated leads.
We'll look at seven approaches to add to your content marketing and improve lead generation.


What Is Inbound Marketing?
Inbound marketing uses content to attract paying customers. You want this to happen organically by providing helpful and relevant information. For example, cold emails and calls don't naturally pull prospects toward your brand or product.
Customers usually find these tactics disruptive, which may negatively impact your brand. Consider a more delicate approach if customers want to respond to your call to action.
Effective inbound marketing facilitates the decision-making process for customers. It makes it easier for your target audience to find you on social media and search engines. After all, you're already providing the information they want.

How Does Inbound Marketing Generate Leads?
Inbound marketing filters leads from traffic. In the past, the primary goal of Internet marketing was to generate as much traffic as possible. However, this approach resulted in many people visiting a website who were not interested in the products or services offered. Inbound marketing attracts visitors who are already interested in what a business offers. This means that the leads generated are more likely to be high-quality and more likely to convert into paying customers.
Businesses can attract potential customers interested in their industry or niche by creating valuable, engaging content such as blog posts, ebooks, and webinars. Through this content, businesses can position themselves as experts in their field and establish trust with their audience. This can lead to increased engagement and more opportunities for lead generation.
Inbound marketing establishes a business as a go-to resource. When a business consistently produces great content, it becomes a trusted source of information for its target audience. This leads to increased visibility and more opportunities to generate leads. Additionally, inbound marketing is not a quick-fix solution to generate leads; it's a long-term strategy that requires continuous efforts to be effective.
ATTRACT, CONVERT, CLOSE, and DELIGHT
First, you need to attract the right users to your website. SEO, social media marketing, and blogging are three great ways to do this.

Second, it's important to convert visitors into leads. To do this, consider offering exclusive white papers and ebooks to download via e-mail.

Third, use e-mail marketing effectively by building a customer relationship that will transform leads into customers.

Fourth, now that you have their attention and, hopefully, their business, it's essential not to drop the ball. You can build a community that will become brand champions through continuous engagement, organically generating leads for additional conversions. You do this through delighting your customers and checking in with them using tools such as purposeful call-to-actions and surveys.
Seven Strategies to Ignite Your Inbound Marketing
Personalizing your landing pages and web content can greatly improve your inbound lead generation. Content marketing is a great way to ensure that you're consistently publishing and distributing quality information to your targeted customers. Follow these best practices to improve your brand's inbound marketing results.


1. Personalize Your Web Pages
From landing pages to blogs, it's important to personalize your web pages to maximize your content for inbound marketing. This will also help boost your conversion rates.
How can you do this?
You personalize your website by assuring users have the desired experience when they reach a landing page, blog, or other content. With the right marketing partner, you can use images, CTA's, videos, and other attention-grabbing tools that help you tailor the user experience.


2. Optimize Content Marketing (Make Your Site Inviting)
In a retail store, customers are greeted with a smile and offers of assistance. Similarly, you wouldn't invite someone to your home or workplace without offering them a seat or coffee. Preparing for potential leads that come to your website is equally important. Otherwise, your inbound marketing efforts won't result in sales.
Content marketing focuses on fresh, relative content for inbound marketing. Distributing quality content consistently often results in increased web traffic. You must approach your content from multiple angles to appeal to various personas. However, your inbound marketing efforts should all focus on helping your customers move through the sales funnel.
Use targeted content marketing to make your products and services essential and provide thought leadership beyond what the competition does.


3. Include Search Engine Optimization (SEO)
You first need to get customers to the page to improve landing page conversion rates. However, using Facebook Ads or Google Adwords to get eyes on your page is not simple.
SEO delivers free leads to your web content.
This powerful methodology requires optimizing the structure and content of every page on your website. Once you've optimized the website, search engines will notice and move you higher on search engine ranking pages (SERPs).
Familiarize yourself with the new Google SEO guide and ensure you have the technical capability to pull it off.


4. Use Video Content and Lots of It
If a picture is worth 1,000 words, how much more impactful is a video? YouTube is just behind Google as the most used search engine. Cisco also predicts that video content will account for 82% of consumer traffic in the coming years.
Is your brand using video on social media and other channels? Nine out of 10 marketers confirm the ROI of video content marketing.


5. Use Email Marketing Best Practices
So, you've built an email marketing list from your gated content. What's the best way to run a successful email campaign? Follow these best practices to turn your leads into customers:
Segment your distribution lists into leads with similar interests to improve personalization.

Write compelling subject lines to improve the open and read rates. You must strike a balance, conveying urgency without putting off your recipients.

Get rid of hard bounces and unresponsive recipients to maintain a dynamic distribution list.

Run A/B tests to track options that work. What strategies result in higher conversion rates? Punchy subject lines, specific CTAs, and valuable content play a role.


6. Increase Organic Traffic
Organic searches generate 59% of all blog traffic. Compare that to the fact that organic searches are less than 11% of all traffic. Use direct channels like WhatsApp and Slack to backlink to your website.


7. Amplify through Social Media Marketing
Social media marketing attracts and keeps customers loyal to your brand. Research which social media channels your prospective buyers hang out on most frequently. This may include LinkedIn and Reddit, for example. Drive followers to your website by engaging them on all forms of social media that matter to them. You can start by targeting one or two platforms to perfect your delivery and measure your success rate.
You can engage and keep your customers by catering to their interests and content needs. These ideas boost your inbound lead generation and landing page conversion rates.
Contact us today to set up a consultation on more ways to improve your inbound marketing results.