Inbound Lead Generation Techniques for B2B Companies
"Inbound" and "Lead generating" may not be two terms you expect to go together. Well, it is about time you should.
While Inbound Marketing is "the long game," that doesn't mean it can't also work for you in the near term as well, like bringing in quality leads. There are, in fact, many ways inbound marketing tactics can help improve your lead-generation marketing strategy.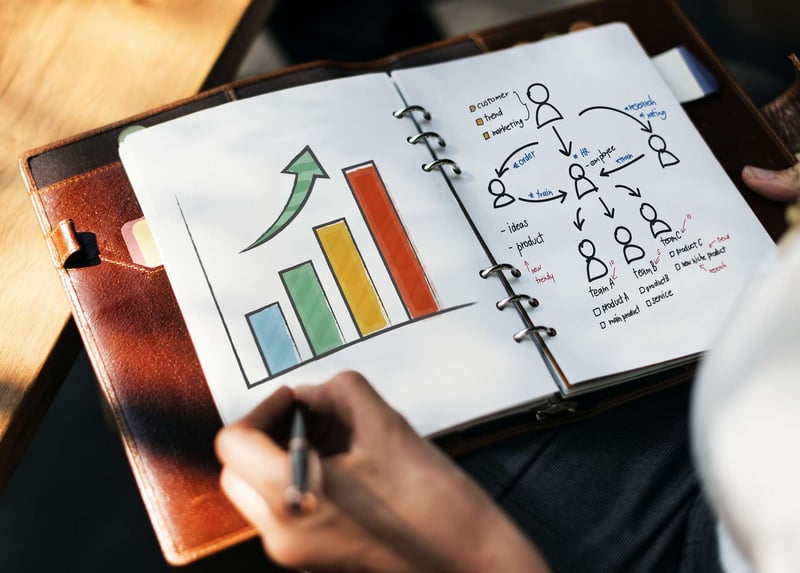 Why Does it Matter?
70% of B2B buyers start their buying process with a Google search. To attract potential customers, optimizing your website and online content for search engines is crucial. This can be done by strategically using relevant keywords and phrases throughout your website and content. Building backlinks from reputable websites also helps improve your visibility and attract quality leads.

Content marketing generates 67% of leads for B2B companies. Creating valuable content in various formats, such as blog posts, infographics, e-books, and webinars, is an effective way to attract and engage potential customers, helping them make informed buying decisions.

Inbound leads are 50% more likely to close than outbound leads. Inbound leads are a goldmine for businesses as they are intrigued by what you offer and eager to buy. Their self-motivation makes them a highly qualified and valuable addition to your customer base.

The average cost per lead for inbound marketing is $35. Compared to the average cost per lead for outbound marketing, which comes in at $125, the cost per lead for inbound marketing is a mere $35. This makes inbound marketing a highly cost-effective strategy for generating leads.

Inbound marketing can generate a return on investment of up to 300%. With a return on investment potential of up to 300%, inbound marketing is a highly profitable marketing strategy, generating $3 in revenue for every $1 you invest.

We'll focus on three primary aspects of your inbound strategy that have a particular impact on lead-generation techniques: content, social media presence, and website optimization/SEO.
How Your Content Can Generate Leads
Content forms the basis for any solid inbound marketing campaign. Your blog posts, gated premium content like eBooks, webinars, and so on form the bulk of your marketing efforts, each supporting the other in your quest to attract new site visitors and followers. We want to discuss these three items today, as they can also form the basis of a strong lead-generating machine.


Blog posts
The best way to boost your ranking is to post fresh content regularly. By following the SEO guidelines below and posting to your company blog frequently and on a schedule, you will add new, indexable pages for the search engines to parse and add to their databases. Your posts should include one long-tail keyword or semantic search phrase (the wording people use when conducting a voice search via Google, Alexa, etc.). They can include one or two closely related short-tail keywords worked into the text as appropriate.
Talk about industry happenings, current events, how-to guides, or anything your research has told your audience is interested in. Mix in some tutorials and other content that targets their pain points, and you'll have dedicated readers. Then, and this is the key to pulling in quality leads—include a CTA that directs readers to an appropriate offer. You will quickly fill your CRM with leads by attracting visitors with your content and offering them a deeper look at the same or a related topic.





Gated content
Make at least some CTAs direct people to downloadable, premium content. eBooks, whitepapers, and pre-recorded webinars are all fantastic ways to deliver a deeper dive into the topics your audience has already shown an interest in. And in doing this, you get to collect their contact information and permission to reach out to them in exchange for that deeper dive.
Whatever you offer readers for becoming leads, make sure it fits in with your broader SEO goals, offers them more value than what you give away for free on the blog or pillar pages, and that your capture form gets you the information you need to qualify them as a lead.


Webinars
Live webinars are fantastic for connecting with your audience and, at the same time, providing them with more info on your product, service, industry, or a particular subject that you feel they would benefit from learning about. Invite industry influencers to participate, current customers who are willing to share their stories, or even the employees behind recent company success.
As a bonus, the recording of these webinars can be used as an offer for anyone unable to attend the live event. Have them fill out the capture form you used for the main event, then provide a download link. These recordings also make great gated content, as mentioned above.


Lead Generation Via Social Media
Social media can serve multiple roles when it comes to generating leads. It supports your content efforts by providing a way to get links to that content in front of more eyes. And it gives you a platform for generating general interest in your company and product through promoted posts, backlinks to your pillar pages, etc. In addition, social media gives you access to millions of captive audience members who would love to see your links, share other interesting content you found, and potentially benefit from more of the same by becoming followers.
Social media allows you to be yourself, share your company brand voice far and wide, and put a human face on that company's presence. They interact with followers, like posts, and share interesting stuff with your audience, increasing trust in your company. People like interacting with people they trust; people generally trust others more than anonymous companies.
Don't abuse that trust. Share great content with your followers that you truly believe they want to see. While you're at it, share a snippet of one of those webinars with a link to download the entire recording. Now they can hear that great content as well. You're using your established trust to encourage people to become prospects. And as a bonus, you already know they're high-quality since they volunteered their info to learn more about your product via that webinar.
All of this makes people increasingly comfortable with your company brand voice and serves to ingrain you as the go-to source for any information related to your industry and product. Now, when they're ready, these people will come straight to you and make themselves leads without further action on your part.



Optimize Your Website for Generating Leads
SEO is a massive subject that we won't dive into today. That said, a handful of aspects of a properly optimized site have a bearing on our discussion of lead generation, so we will cover those. SEO breaks down into two main categories, on-page, and off-page.


On-page SEO
Search engines look at five things when determining a page's rank:
URL: Be sure the slug for each page contains a short-tail keyword.

Page title: This article title for blog posts should contain at least one short-tail keyword.

Subheadings: Use these to work in long-tail keywords and semantic search phrases.

Image alt text: Provides another place to insert short-tail keywords.

Body text: Don't stuff keywords, but be sure to use your short-tails and long-tails naturally in the flow of the page text.
The key is effectively placing keywords, not how many times you can repeat them on one page. Good use of keywords and semantic search phrases will go a long way toward helping your pages rank and ensuring that the trust you build with your audience continues as they read these pages.


Off-page SEO
The aspect of off-page SEO that applies here is backlinks. Remember, quality matters as much, if not more, than quantity regarding backlinks. A single link from an authoritative site with good SEO pull is worth more than many would be from a business listing site or other low SEO outlets. Start building backlinks with the low-hanging fruit using your social media profiles, business listings, and company Google profile. Each major site in these categories has excellent pull, and your links will increase your SEO juice right from the start.
Each bit of progress you make with your page's SEO, whether via a new blog post, editing the meta description of your About Us page, or getting a backlink from an industry influencer's blog, will go toward encouraging your audience to convert from casual reader to lead by giving you their contact information for your database.
Ready to learn more about generating quality inbound leads for your B2B company? Check out our free Inbound Marketing checklist!