5 Signs Inbound Marketing Might Work for You in 2023
As consumers continually change the way in which they make purchases, how do businesses know how to keep up and be seen? It's marketing's job to have their finger on the pulse and be knowledgeable about consumer behavior, which means it's good practice to check in on the strategies you have in place to see what's going well, what's not working, and where there may be some opportunities to improve. Whether your business has been around for a couple of years or it's just starting up, inbound marketing can serve as a significant piece of your puzzle as you attract, engage, and delight your consumers. It lays a significant and solid foundation for how you do business and interact with potential consumers.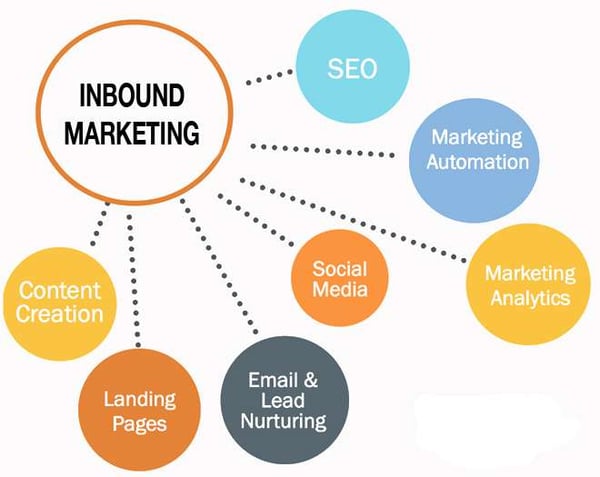 Without inbound marketing, you're probably using outdated strategies to attract leads and make conversions. Building awareness and trust is fundamental to inbound. Just think, if you're a B2C company that's using billboard advertising and direct mail to get the word out about your business, you're really missing out on building a relationship with your consumer. Chances are that people who get the mailing or see your advertisement don't give a second thought to doing business with you because they're missing the why. Being able to demonstrate value and educate the consumer is what inbound marketing relies on to create success and keep consumers engaged.
If you've never used inbound marketing and aren't happy with the results your current marketing strategy is providing, here are 5 signs that inbound might work for you.


1. Your current SEO status is poor
Not appearing on the first page of a search engine can be detrimental to your business' success. According to research, 75% of consumers who are looking to solve a problem or who pose an inquiry on Google will not click on the 2nd page of results. Having low SEO means fewer visitors, and, therefore, fewer conversions. So, what's the quick fix to poor SEO? There are plenty of techniques to give SEO a healthy boost, some of which are more straightforward than others. For example, ensuring your page has a fast loading speed can positively impact visitor engagement. The longer a visitor stays on your page, the more likely you are to generate a lead. With 40% of visitors leaving a website after 3 seconds of it not loading, it's clear that page loading speed is a small but impactful way to boost your SEO. Another surefire strategy is content creation. Having high-quality content on your website will boost your SEO for a couple of reasons. Links, consistency, and keywords are just a couple of the things that can improve your SEO, therefore raising your ranks. Since inbound marketing goes hand in hand with creating quality content, incorporating it into your marketing strategy will also improve your SEO.


2. You are relying too much on Outbound
If you're still relying on direct mail, cold calling, and print ads, this alone is a sign you should take a more serious look into inbound marketing. How many times have you answered your personal phone when the caller isn't already a contact in your phone? Probably never. Or how about all that mail you get; credit card offers, grocery store circulars, special in-store discounts? Most likely, you call this "junk" mail that ends up in the recycling bin without a second glance. These are examples of outbound marketing, tactics that are one mode of communication that is typically irrelevant to the person on the receiving end. Not only are these outbound methods proving more and more ineffective in lead generation, but they're also an ongoing investment that doesn't garner much return. In fact, leads generated through inbound marketing cost 61% less than outbound leads and are far more successful. It's about potential consumers finding you, not the other way around.

3. You have low-quality leads or low conversion rates
Are you getting leads but finding they're not your ideal customer? Are your leads losing traction somewhere in the conversion funnel? Attracting the right consumer and keeping them engaged is where inbound marketing can make a significant impact. Inbound is consumer-centered; it's answering questions your consumer has and giving them more knowledge to be empowered to make an informed decision. Attracting the wrong visitors can be wasted time for both you and the customer. With inbound marketing, you can and should create a buyer persona that closely represents what an "ideal" buyer is for you. But this is just one of many strategies that can be incorporated with the help of inbound. Perhaps you have created a buyer persona, but are you involving more than just your sales and marketing team's input? Gaining input from nearly all departments of your business will yield a much more well-rounded buyer persona that better aligns your product or service with what the consumer wants.


4.
Your Marketing ROI is Poor
As mentioned previously, leads generated through inbound marketing cost 61% less than outbound leads and are far more successful in doing so. Much of this can be attributed to what HubSpot calls the "flywheel." Most often sales and marketing look at their sales cycle as a funnel. As your lead remains engaged with you, they're going through the awareness phase, the consideration phase, and, lastly, the decision phase. With a funnel in mind, there's a definite end to the cycle. However, with inbound marketing's concept of the flywheel, those delighted customers are supplementing your sales funnel by spreading the good word to acquaintances and friends. Referrals are huge to any business because they not only fuel growth but are one of the least expensive means of gaining new leads.


5. You are Under-Utilizing Social Media
Businesses have to go where their ideal consumers are, and today that's often social media. Social media, like Twitter and Facebook, went from being platforms meant for creating and building personal relationships, to a place for businesses to increase engagement, brand awareness, and trust with potential consumers. Social media allows for connection in a very natural way, and on the consumer's terms. It's also a platform that lets you diversify your communication, whether it be a photo, an informational video, or an infographic. Not to mention the added benefit of having a strong social presence that is capable of boosting your SEO.
It's easy to become complacent with your current marketing strategies, but it's also frustrating not to see a return on your investment. Especially if you're a startup, you're anxious to hit the ground running and expect to see results. Inbound marketing can fill major voids where traditional outbound marketing just can't compete. Why? Because it cultivates awareness and builds trust in a very organic way. Today's consumers are extremely knowledgeable and savvy about their options and what's available to them, so you've got to be able to show why they should do businesses with you and, more importantly, why they should trust you.
Ready to implement Inbound Marketing for your business? Download our free checklist to ensure you have everything you need to get started!