How to Improve Your LinkedIn Profile for 2024
LinkedIn continues to be the number one platform for Social Media for B2B networking, offering profile numerous configuration elements that are often criminally underutilized. We are sharing some core areas to focus on when establishing a great profile to help you boost your brand on LinkedIn.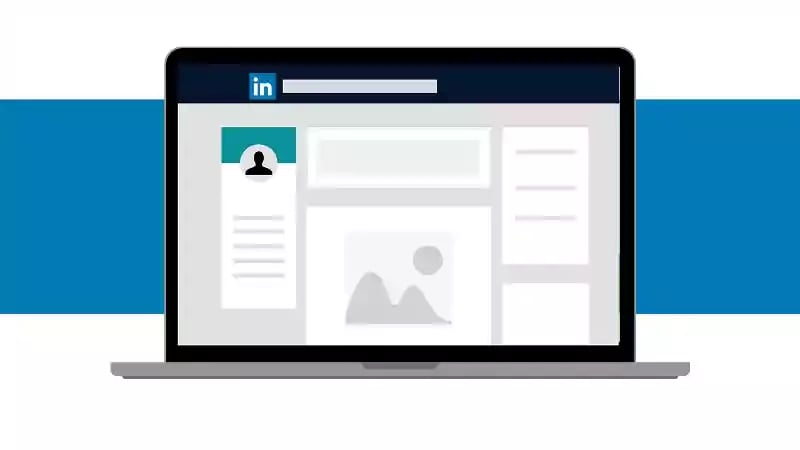 LinkedIn Profile Picture
Your profile picture is the first thing people will see when it comes to your profile. It's your introduction to your professional brand, so many first impressions will be based on it. You want to ensure that your picture is clear and faithful, meaning it should be recent, and it should show how you currently look. Wear professional attire (whatever "professional" means in your field of work), and make sure your face takes up at least 60% of the picture. The pixel size for your LinkedIn profile photo is between 400 (w) x 400 (h) pixels and 7680 (w) x 4320 (h) pixels. The recommendation is to add a photo that won't require much cropping. LinkedIn specifies the file type to be PNG or JPG.
Background Photo
Your background photo is one of the most critical parts of the first impression you leave on whoever visits your profile after your profile picture. As with your profile picture, you want your background picture to be clear and stand out. However, you want to avoid redundancy between your profile picture and your background picture - each image serves its function, and you would be wasting potential by having both of them cover the same thing. Avoid having just another neutral picture of yourself as your background. If you want to feature in your background picture, choose an image that displays you doing something relevant to your work or brand (attending an event, receiving an award, or just working hard in the office are good examples).
You can also have your background photo add flavor to your profile. Say, for example, you are the creator of a meditation app for mobile. On your personal LinkedIn profile, you could have a peaceful, calming landscape photo, matching your LinkedIn profile's tone with that of the service you are providing. Background photos are the perfect opportunity to complement neutral elements of your LinkedIn profile (profile picture, CV, description, etc.) with more personal and colorful details.
Follow the LinkedIn background image requirements, formatted as JPG, PNG, or GIF with an ideal size of 1584 x 386 pixels.
"Both your LinkedIn Profile Picture and your Background Photo should paint the picture of how you look in your work environment, working with or for your viewers."



LinkedIn Profile Headline
The LinkedIn headline is that section under your name in your LinkedIn profile; it shows, together with your profile picture, everywhere you show up, in the "People You May Know" section, LinkedIn searches, LinkedIn job applications, posts, messages, recommendations, and even invitations to connect.
The headline is an often neglected opportunity in LinkedIn profiles. You have 120 characters available in that field, make use of all of them. You want to include relevant keywords and attract professionalism and powerful words to encourage an emotional connection.
It's common to see a headline just be a job title - you want to avoid this. Headlines are a great way to address visitors directly. You don't want to describe yourself and your occupation in a neutral tone. Address the viewer directly and attract their attention. In many ways, headlines on LinkedIn follow the same rules as meta descriptions used in SEO. Avoid unnecessary symbols or the use of only uppercase letters.


You Might Also Like This Post: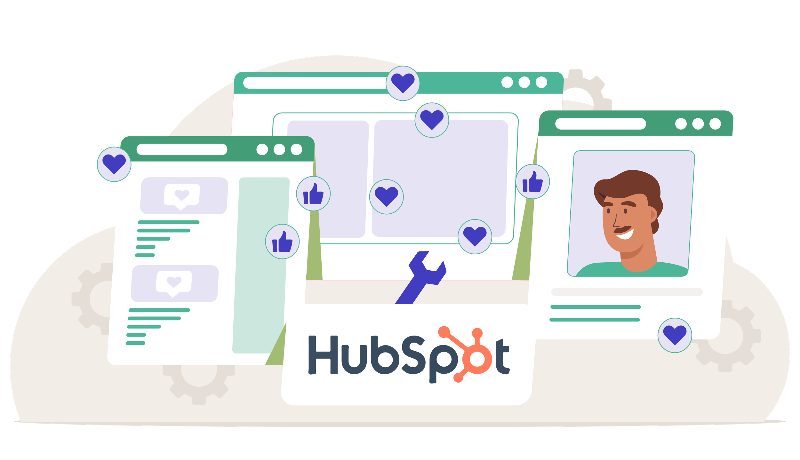 LinkedIn Profile Summary
Your LinkedIn Profile summary is the text that appears at the top of your LinkedIn profile, the "About" section. It's a place, limited to 2,000 characters, where you can tell people about yourself in your own words without the aim of making this your CV.
Whether you use it to put career choices in context, highlight your most significant achievements, or show off your personality, the summary is your chance to put your best self out there and maintain authenticity in social media marketing. It strengthens your first impression in a way no other Profile section can. There are several ways you can tell a story in your summary; consider the following elements in your summary:
Connect with the reader on a personal and professional level

Convey your passion for the work you do

Tell your story, the journey you followed to get to where you are - through struggles, accomplishments, and maybe even mistakes you made

Keep things down to earth and simple - it's your story, not a fairy tale

Showcase your skills, competencies, motivations, and work ethic

Put your career path and aspirations in context: your past, present, and future
A powerful Linkedin profile summary should be curated and show your dedication, so don't hesitate to take extra time writing one (or multiple), showing them to colleagues for feedback, and testing iterations on your profile.



Buzzwords, don't use them.

LinkedIn published the following ten words as being the most common in marketers' LinkedIn profiles:
Specialized
Experienced
Leadership
Skilled
Passionate
Expert
Motivated
Creative
Strategic
Successful
These words are considered buzzwords, overused, and starting to lose their meaning. If you see the word "strategic" on every single LinkedIn profile somewhere, that either means that it has little value since everyone is apparently "strategic" (or dishonest?). Ultimately, these buzzwords lose their gravity.


Powerwords are typically used to emphasize, but since they have become so basic and ubiquitous, they achieve the exact opposite.

They're not words you should never use and delete from your vocabulary, but you should be careful not to utilize them as punch lines or points of emphasis. Instead of using "Passionate" and "Focused," you could use "driven" or "ferociously determined."
Just using the right words isn't enough, however. If you use buzzwords (or synonyms for them), the best way to convince your reader that you're using those words to describe yourself legitimately is by demonstrating those qualities. If you call yourself an "Expert," include all the qualifications that make you use that word.


Skills List
Listing skills list on LinkedIn seems pretty straightforward, right? Just scroll through the skills; if you have one, add it. After taking a nice profile picture, having carefully picked your background photo, written an excellent summary and headline, and eliminating all buzzwords, how hard could filling in a skills list be?
That's where people miss an opportunity to stand out. People have many skills, and it can be tempting to list all of them on your LinkedIn profile. The problem is you only have so much space on your profile before it gets too long, and so much time your visitors will spend on your page to waste with a long list of skills.
Keep your skills list focused and relevant to the network you are looking to interact with.
Maybe you have a lot of interior design experience from past work. However, if your job and current career are within content marketing, your interior design skills are likely less relevant unless you are exploring content marketing for interior design firms.
In addition to your subject matter expertise, consider adding some "soft skills" as well. According to LinkedIn, here are some of the top-demanded soft skills:
Creativity
Persuasion
Collaboration
Adaptability
Emotional Intelligence
Among analytical and data-centered hard skills, here are LinkedIn's most in-demand skills:
Blockchain
Cloud Computing
Analytical Reasoning
Artificial Intelligence
UX Design
Business Analysis
Affiliate Marketing
Sales
Scientific Computing
Video Production
Condense your skills into the few most relevant and attractive ones for people in your field visiting your profile.


Growing your network
Your LinkedIn profile alone is the foundation to stand out; it is only the foundation. Now it is time to put it to use and begin growing and interacting with your network.
Have you added your email address book to your contacts and contacted relevant individuals to connect with you on LinkedIn? It's quick, and it's so useful. Here's a guide by LinkedIn on how to do it.

Consider promoting your LinkedIn profile on social media platforms like Twitter or Facebook.

Include a Call to Action to connect on LinkedIn in your email signature or online business card.

Make it a habit and bring your LinkedIn profile into everyday networking conversations. Whether it's at the end of a meeting or a conference, or an event, imagine your LinkedIn profile as the online version of your business card. If you're handing a business card to someone, you should also try to connect with them on LinkedIn.
Endorsing others
Endorsements are a great way to boost someone's credibility and reputation on LinkedIn. You should be aiming to obtain endorsements from your peers and connections. Not only does it give legitimacy to your CV and skills, it also affects LinkedIn's search algorithm. More endorsements rank higher in LinkedIn's algorithm than fewer endorsements.
As you cannot endorse your profile, you can "pay it forward" and treat others the way you want to be treated. Give people in your network the endorsements they deserve. This is not "helping your competition"; it is being helpful and supporting your network and will eventually pay its rewards in the future. You should treat endorsements as genuine compliments, which can help you down the line.
Endorsing others may encourage them to endorse a few individuals, and you may be one of those people. You want to engage in endorsement culture because it's a win-win.
Positivity breeds positivity.
If you have nothing positive to say about the individuals in your network, are you in the right network?


Managing Endorsements
Over time, you should see endorsements grow when doing things right.
Endorsements can become overwhelming, however. If you have too many of them, they can clutter your page and dilute the areas you want to focus on in favor of others. Endorsements are also very uncurated, unfortunately. Endorsers aren't required to have verified skills in whatever they are endorsing, and they aren't limited to endorsing skills that you list yourself.
To avoid or at least control this, you can manage your endorsements by manually choosing which ones appear on your profile and which don't. You should be as relevant as possible with your endorsement management; see the above topics on buzzwords and skills.
Taking Skills Assessments
Skills assessments are tests you can take online that let you display your skills' range and quality, coupled with a valuable verified badge on LinkedIn.
A verified badge is an excellent addition to your profile. It boosts your desirability for employers by about 30% when compared to people without verified skills.
You can assess various skills: Microsoft Office, Photoshop, Premier, programming languages, etc. Once you get assessed in a skill, LinkedIn also offers courses to help you progress even further, adding even more upsides to taking the assessment!
If you fail any tests since you can retake tests whenever you want, and you can choose to display the results of your tests when passed; there's no downside to this. More important than the badge on your profile, you learn something along the way.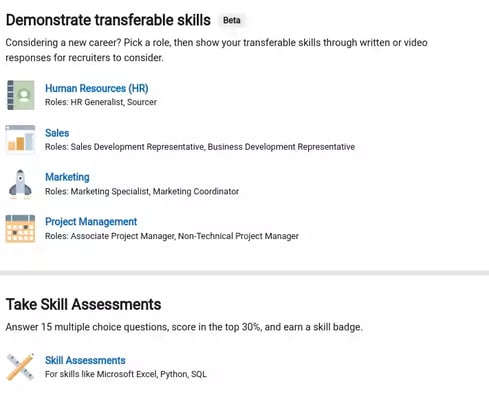 Requesting Recommendations
Recommendations are a more in-depth version of endorsements. Endorsements are quick, easy, and show brief signs of support. Recommendations are long-form pieces written by individuals in your network to describe interactions working with or for you.
They can be extremely valuable, especially from respected people in your network. Suppose a high-profile client, past employer, or leader in your space writes a recommendation for you and your business. In that case, you have a surefire way to positively impact prospective customers or employers torn between choosing you or someone else.

Be proactive about reaching out. LinkedIn offers a convenient menu in the Recommendations tab where you can contact your contacts and ask them for recommendations. When sending requests, personalize your message so the person receiving it doesn't feel like you're just here to get a recommendation and disappear. Make sure the request is honest and is deserved.


Displaying Your Willingness to Learn
LinkedIn is a great place to display your accomplishments and experience through your CV, endorsements, and recommendations. It's also a great place to show how you're still a work-in-progress, a student of life who is going through a process of never-ending improvement and hasn't grown complacent and stagnant after years of gathering experience. Displaying this quality will make sure your potential clients and employers know that you're trying to keep up to date with the skills your industry is developing and demanding.
LinkedIn Learning is a great place to start. It offers courses taught by industry professionals in several areas - business, marketing, creativity, software development, etc. Completing a course also gives you a certificate that you can choose to display on your profile.
It's especially valuable to display the most recently added certificates to show that you are just as passionate about learning as you are about working.


Sharing Valuable Content
Quality content, text, audio, and video are additional means to legitimize your work. If you have a flyer showing your business's progress over the last twelve months, why not display it (assuming you are not disclosing confidential information)? It'll boost your legitimacy as a great team member and serve as a badge of success.
If you're producing quality collateral you can leverage and use to market your or your firm's capabilities, you should think about sharing it on your LinkedIn profile.
Your marketing collateral also helps people understand what your business is about, in addition to a simple CV or job description. It's there for people wanting to know more after you've nailed your first impression.
If you're confident that you're offering a service or product of high value, your marketing content will help you highlight that and make it look even better.


Comment More
Posting and sharing things on LinkedIn is a great place to start, but don't stop there. Comments are a great way to add more character to your posts and shares on LinkedIn. When sharing a piece of content, add a comment explaining why you think something is worth sharing, as it increases your value as a poster on people's feeds.
Sometimes it's hard to tell why content is being shared. Is this your work? Is this something you look up to? Do you think it's worth talking about? What purpose does your share serve?
Adding a simple one-to-two-sentence comment or a question can quickly respond to some of these questions or encourage sharing additional perspectives.
With less ambiguity, you increase the likelihood of people enjoying what you share and seeing you on their feeds. Instead of just silently sharing, you're giving more direction to your profile activity and increasing the chance of others commenting on your posts. Just like any other social media platform, engagement is good. It shows that people value your activity enough to interact with it, take time out of their busy schedule and add a quick response or question to you.


Following Influencers
LinkedIn has influencers with a huge following and significant impact on the content and people their followers are exposed to.
Identify relevant influencers in your industry and connect with them or follow them. They are, in many ways, trendsetters of your industry. New and vital things will catch their attention, and discussions they jump on will gain a lot of traction almost immediately, given your influencers' reach.
Figuring out the patterns of what influencers are interested in may help you get on their radar. It's not likely that you'll get a share from them initially, but that's not what you should be aiming for, anyway. If you mold your content around what industry trendsetters are interested in (influencers being one of them), your content will perform better on LinkedIn.
Following critical influencers also lets your profile visitors know what you're interested in and adds another layer of depth to your profile, demonstrating your interest in your industry and trends.


Becoming an Employee Advocate
Employee advocacy is when employees of a business promote the business and its contributions. This can take the form of sharing details about the business's products or services or discussing its culture. Boosting a company's branding, employee endorsements are seen as much more credible than often self-aggrandizing statements from a senior executive or owner.
Interestingly, being an employee advocate is also beneficial to the employees themselves. Saying good things about a company you are currently working with or have worked for is great on your LinkedIn profile. It lets potential employers know that you're a credible and critical employee - you're not just having a job but care about your work environment. It also allows you to position yourself as an expert in your current field and industry, setting yourself and your employer apart from other companies and showcasing your knowledge and ability to assess work environments critically.
If you're an employee, it's in your interest to start promoting employers you believe deserve it. If you're an employer, you should encourage your employees to look into employee advocacy, showing the benefit to all involved.
The "My Company" tab, a successor of the retired LinkedIn Elevate function, offers organizations on LinkedIn a trusted, employee-only space to help them join the conversations that matter most.


Write an Article - Publishing Long-Form Content
Look at how people engage with your Marketing on LinkedIn - what areas attract the most interest? What topics are the most conducive to discussion and engagement in general? Getting traction and reactions, going beyond publishing links and short posts, you can and should start contributing articles and posting long-form content about those key topics based on shares and comments. Engagement from your connections reflects a desire to see more out of whatever content you post, and long-form content is the next big step. Long-form content is where you want to start conversations.

All members and admins (super admins or content admins) of a LinkedIn Page can publish articles about their expertise and interests. Articles are displayed in the Activity section of your profile. It's shared with your connections and followers in their news feeds and sometimes through notifications. Articles can be shared on LinkedIn, Facebook, or Twitter.
Articles should be educational, informative, and not salesy, aiming for engagement, comments, and shares. Don't forget to respond to comments and keep the conversation going now that you've started it!