Content Marketing FAQ: What Types of Content Can You Use?
The terms "content," "content marketing," "content marketing strategy," "content marketing plan," and other phrases are everywhere. They appear in pieces talking about how to establish your brand's presence, build a following, have a successful startup, and just get your brand name known in your market. However, there's a problem.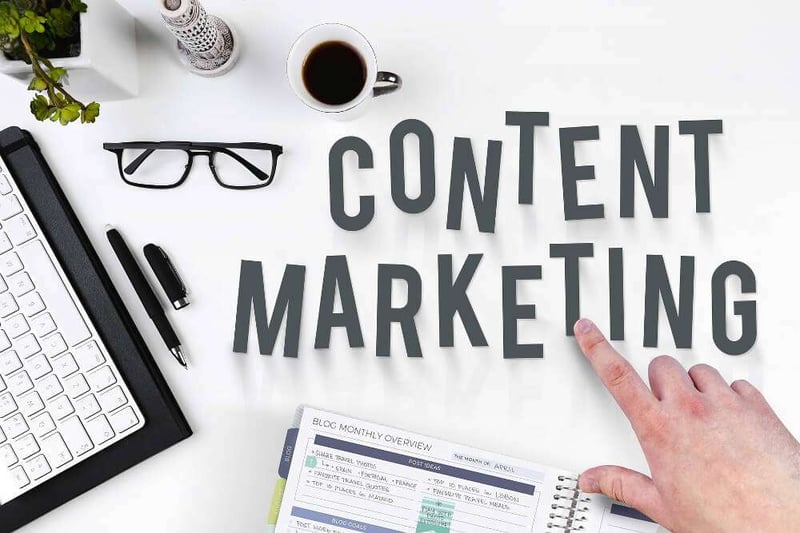 Well, probably several problems, but one overarching one we'll discuss here. These words are often confused and incorrectly used.
Here some simple definitions:

Content marketing is a strategy. It's a plan for how you're going to use the great content you create to market your company's product or service.
Marketing is not a thing, it's an activity.
Content is the thing you are using to enable the action of marketing; examples include text, audio, or video.
A Content Marketing Strategy or plan includes platform selection and content type selection. You put the things—the pieces of content—in a channel or on a platform. The content marketing efforts you take involve the placement of the pieces of content on the platforms. All of these things and actions together equal your content marketing strategy.
You can discuss, assess, and decide between short-form content like Twitter or Instagram and long-form content like case studies and ebooks. You can discuss, assess, and decide between video, still images, infographics, and blog posts. You can consider various downloadables, a category that includes ebooks, white papers, and case studies, all of which are typically longer and useful when you want the content to be portable.
In deciding what content you want to create, you have to consider what the content is, who is it for, and where you will put it.
You can create an infographic for an audience that likes information in small chunks. You can post it to Facebook, adding a poll to up the engagement. You can put it on your blog and link to it from Twitter. You can share it on Instagram or make a PDF version available as gated content and associate that with a post on the same topic. For people who want more information, you can create longer content (bigger than an average blog post), publish it on your blog, then have your CEO publish it on their LinkedIn page.
Every content element you create can be used on various platforms and reconfigured for specific audiences; it is a part of your content marketing strategy.

You can increase engagement, conversations, and enhance your brand by providing useful, relevant content and educate your audience on how your products/services can effectively address their pain points and challenges.

When you hear about how Social Media is something you have to consider in developing your content marketing plan, you might get the impression that social media is a single thing you must conquer. In reality, it's a selection of vastly divergent platforms that appeal to different audiences. Each platform has its own set of content types that perform best. It's all about engaging individuals, and creating a trigger that sends them to your landing page, blog, or some other specific page to get more information.
When you realize over 3.7 billion people use social media around the world, it's easy to see why there's so much invested in social media content marketing:

68% of adults use Facebook; its audience represents a majority of all age ranges except those over 65.
35% of adults use Instagram; this audience skews to the younger ages, appealing to teens and young adults with its straightforward, photo-centric design and ease of use.
24% of adults use Twitter; it has become a platform for brands to use for social customer service, and it also skews to the younger age ranges.
25% of adults use LinkedIn; this is the number one platform for B2B social media marketing, it caters to professional networking, and the majority of its users are college graduates.
29% of adults use Pinterest; this visual search engine has created its own revolution in online shopping; it has a base across all ages, and is particularly popular with younger users.
27% of adults use Snapchat; however, it has recently been outshined by Instagram Stories.

Specific Content Types
When creating specific types of content, you have to know who your audience is (personas are useful here), and what they are looking for. You also need to research how each type of persona prefers to consume content. You want to present relevant, useful information to build your reputation as a knowledgeable voice in your industry niche. You are laying the foundation that will make you the place all these potential customers return to when it's time to purchase.
So what are some of these content types in your next content marketing campaign?

Blogs
Here is where you share information with customers and target audiences, whether educational, customer-related, or product-related. Depending on the goal of your blog, you can share links to your social media pages, link to partners' websites and products, link to other posts, or write about your product line.
Blogs are one of the best ways to improve SEO and drive more traffic to your site. A Forbes report found that when websites include a blog, they typically have 434% more indexed pages than those that don't. This means they have a greater chance of being on the top of SERPs when searches are done for particular keywords.
The more valuable content you provide, the more likely your target audience will consider your brand when it's time to buy. Do the research and see what's being typed into search engines to find brands like yours. Consider what topics or questions are relevant and create blog content around these subjects.



Podcasts
This popular content is convenient because it can be enjoyed while taking a break or while on the go. Use a podcast to give the audience useful, thought-provoking information. You can also improve brand awareness, build relationships with audience members, and promote products, services, and partners. Remember, it's not a sales pitch; it is offering valuable content to the audience.

Videos
Video marketing can boost conversions, improve ROI, help build relationships with audience members, and recent HubSpot research found over 50% of consumers say they want to see videos from brands they interact with. You can post video content to social media platforms, site pages, or on partners' websites. Use it to expand your reach across different media platforms.
In designing video content, be sure to consider what types of content will most appeal to your audience based on what stage in the marketing process they are at.
For example, when consumers are in the awareness stage of their marketing, they may find short, attention-grabbing informational videos most engaging. How-to videos and product demos can be useful in helping consumers in the decision stage make their purchasing decisions.
If you're intimidated by using video in your marketing efforts, fear not! We wrote an entire post about it, and you can find it here.


Case Studies
Here you are telling customer stories to illustrate how your brand helped a specific customer/client be successful. It's a good way to highlight special applications or uses for your services and products. This type of content helps your audience better understand how your brand can add value to their business. Real-life examples help build trust with people learning about your products and services.
Try to include customers who will not only give permission to tell their stories but also provide quotes and statistics to illustrate just how helpful your business has been to them.


eBooks
Remember, these are not 5-10 page ads. You want to provide useful information and insight to your target audience that addresses their needs and challenges. It's not about selling, it's about building a relationship. You're earning their trust, so they come to you when it's time to purchase.
Ebooks are typically gated content, which means folks provide contact information in exchange for the download. These leads will prove valuable and provide an attractive ROI for your efforts. Remember, some of your other types of content (e.g. blog posts) can often be repackaged as eBooks.


White Papers
White papers are an additional long-form type of content that can be effective as a lead magnet. If you compare a white paper to an ebook, the white paper is more information-dense, data-driven, and detail-focused. This is one of the best types of content for marketing in the B2B sphere. It helps you build thought leadership and gain respect within your industry. If you want to collect lead information, be sure to gate your white papers.


Checklists
Here you create a list of things to do in a step-by-step process to enable a particular desired outcome. These are valuable content for small businesses since they are relatively easy to create, and they provide significant value for the target audience.
Pick a relevant topic, and after you've created a checklist, you can share it on social media or include it in a blog post. The more you share and repurpose the checklist content, the more valuable your business becomes.


Infographics
Many people want their content in a picture with fewer words and with attractive graphics. Infographics display information and data in an easy-to-understand format. You effectively communicate your content with a mix of simple wording, short statements, and clear images. This works particularly well if you're trying to distill an educational or complex topic so any audience member will understand it.
Infographics help you educate your audience while providing useful information. This format helps viewers better visualize data like statistics so they can more readily see why something is valuable, or see how something works. It's a good way to convey a large amount of information quickly to appeal to all the visual learners in your audience.


Conclusion: Successful Content Marketing Takes Many Forms
Be sure to do your research to figure out what kind of content your target audience is most likely to consume, and where they are most likely to consume it. Then, you'll be well on your way to infusing that content in effective ways through your inbound marketing strategy!