The Core Features of the HubSpot CMS Hub
Are you looking to build or upgrade your website? The HubSpot CMS Hub is a powerful facilitator of content management built on one of the industry-leading CRM solutions. It offers a meaningful way to streamline, organize, and optimize your website's content while involving team members across the organization. How can it revolutionize your content management efforts?
The HubSpot CMS Hub is an integral part of HubSpot's comprehensive suite of tools designed to empower businesses with inbound marketing and exceptional content management capabilities. As a dynamic Content Management System (CMS), it goes beyond traditional CMS platforms by offering seamless integration with HubSpot's marketing, sales, and service tools, providing a unified approach to managing a company's online presence.
With the CMS Hub, you can access easy-to-use features, customizable website themes, and powerful SEO recommendations, all contributing to a firm foundation for your CRM efforts. This integration allows you to streamline lead generation, marketing automation, and analytics, creating a unified suite of products to support your business operations.
In addition to the CMS Hub, other components within the HubSpot platform include:
HubSpot Marketing Hub: The Marketing Hub facilitates lead generation, content publication and promotion with marketing process automation and analytics; the Marketing Hub fully integrates with the overall HubSpot Sales and Marketing Platform, supporting a unified suite of products to base your business operations.

HubSpot Operations Hub: The Operations Hub enables awareness and customer attraction within your target demographic by syncing apps, curating and cleaning customer data, and automating various processes.

HubSpot Sales Hub: The Sales Hub provides detailed revenue insights throughout the sales campaign, fostering improved communication between marketing and sales teams with advanced CRM, meeting scheduling opportunities, payment processing, and aligned marketing and sales efforts.

HubSpot Service Hub: The Service Hub focuses on customer service experiences that build brand loyalty and foster long-lasting relationships by maintaining two-way connections with customers, tracking service tickets and feedback, and developing a knowledge base benefiting various areas of operations, including marketing.

HubSpot Commerce Hub: The HubSpot Commerce Hub empowers businesses with an integrated suite of features to revolutionize commerce management. From automating tedious tasks to expanding revenue streams, these capabilities collectively equip you to optimize every facet of your commerce operations.
With the comprehensive capabilities of HubSpot's CMS Hub and its seamless integration with other HubSpot tools, businesses can enhance their content management, streamline operations, and deliver exceptional customer experiences, ultimately driving growth and success in the competitive digital landscape.
Functions, Options, and Uses
At its core, a CMS is a software application that enables users to create, manage, and organize digital content without requiring extensive technical knowledge. The HubSpot CMS Hub takes this concept to the next level by offering a user-friendly, intuitive interface that enables marketers and content creators to quickly build, modify, and optimize websites with minimal effort; whether a simple landing page or a complex website, the CMS Hub caters to diverse business needs, from small enterprises to large corporations.
The HubSpot CMS Hub comes equipped with an array of tools that empower businesses to create, manage, and optimize their digital content effectively:


Drag-and-Drop Editor
The CMS Hub's intuitive editor allows users to create and modify content effortlessly. With pre-built modules and templates, marketers can rapidly design web and landing pages, saving time and effort.


Personalization and Smart Content
The CMS Hub enables marketers to deliver personalized content to visitors based on their behavior, preferences, and lifecycle stage, leveraging customer data from HubSpot's CRM. This targeted approach increases engagement and conversions.


Search Engine Optimization Tools
The CMS Hub includes powerful SEO tools like content performance tracking, keyword research, and on-page SEO recommendations. This helps businesses improve their search engine rankings and drive organic website traffic.


Mobile Optimization
Recognizing the importance of mobile responsiveness in today's mobile-first world, the CMS Hub ensures that websites are optimized for different devices and screen sizes, providing a seamless user experience across all platforms.


Security and Performance
With built-in security features and regular updates, the CMS Hub ensures websites are safe from threats. Additionally, it offers robust hosting and CDN services, guaranteeing optimal performance and fast page loading times.


Core Features of the HubSpot CMS Hub
The CMS Hub by HubSpot is a robust platform that provides businesses with the essential tools to efficiently create, manage, and optimize their digital content. The core elements that make up all HubSpot hubs are as follows: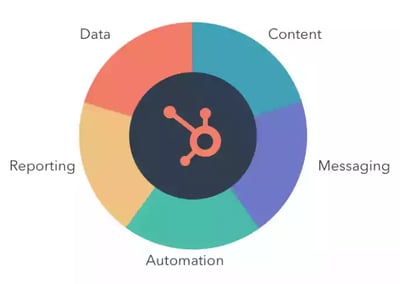 Data
Content
Messaging
Reporting
Automation
The five components work cohesively to create a seamless and effective content management ecosystem.
1. Data
The CMS Hub is a powerful data-driven platform, providing businesses with valuable insights that foster informed decision-making and a deeper understanding of their audience. By leveraging customer data, contact lists, audience segmentation, and tracking capabilities, businesses can enhance their marketing efforts and deliver targeted content that aligns with their customers' preferences and needs. These data-driven strategies empower businesses to create personalized and engaging experiences, fostering stronger relationships with their audience and driving better results.
Product Library
Build a product library, reference products within your content, and report on the performance of different products. Use the data to see which products and services are selling best.


2. Content
The CMS Hub empowers businesses with seamless content creation, organization, and management capabilities. With user-friendly tools, companies can effortlessly build visually appealing web pages and deliver consistent, engaging brand experiences to their audience. This streamlined approach optimizes content strategies, allowing marketers and content creators to manage their website content and enhance their online presence efficiently.
Blog
Create search engine-optimized content for your blog based on best practices.
Landing Pages
Create responsive landing pages built to convert using our drag-and-drop editor.
Website Pages
Create responsive website pages with built-in assets and editors, or work with developers to create custom pages that keep editing simple.
Forms
Create standalone, pop-up, embedded, and collected forms to gather the contact details that your business needs.
SEO Recommendations and Optimizations
Identify SEO issues across your entire website, and learn how to optimize your pages to get more organic traffic.
AI Website Builder
HubSpot is developing an AI-powered onboarding experience for CMS users, minimizing decision-making and providing a seamless setup process. After users sign up and answer questions about their business, our AI technology will create a stunning single-page site aligned with their vision and goals. This feature simplifies initial setup and empowers users to thrive in the digital landscape.
AI-Generated Social Copy Within Blog Editor
To streamline content promotion, we introduce a solution that allows marketers to generate social media posts directly within the blog post editor. Marketers can seamlessly create engaging and tailored social media content with the social composer side panel, saving time and reducing errors.
AI-Powered Content Ideas for Blog with Semrush Data
Introducing a cutting-edge tool designed to combat writer's block and ignite your creativity in blogging. Powered by the revolutionary ChatGPT and fueled by Semrush's extensive keyword data, this tool simplifies the process of generating captivating blog post topics, enticing post titles, compelling descriptions, and informative outlines. By providing a brief overview of a broad subject to pique your interest, HubSpot's innovative tool will deliver a curated selection of specific ideas tailored to resonate with your audience. Furthermore, each topic is carefully scored based on its ranking potential and popularity on Google search, empowering you to maximize your blogging results.
AI Content Assistant: One Click Title and Meta Description Generation for Pages and Blog
The CMS Hub now offers an exciting new feature that allows users to effortlessly generate SEO-friendly titles and meta descriptions for their website pages, landing pages, and blog posts. By simply clicking a button, the system analyzes the content on the page and uses advanced AI technology to generate compelling titles and meta descriptions that accurately reflect the page's content. This innovative functionality enhances the overall optimization of your content and ensures that it captures the attention of your target audience effectively.
AI Content Assistant: Image Generation
Generate images based on a prompt or context from the task to help marketers create custom imagery for their content.
AI Content Assistant: Slash and Highlight Commands for Text Editors Across HubSpot Platform
Content creators can now generate blog outlines, paragraphs, ideas, or conclusions directly within the blog editor. Additionally, they can edit existing text to rewrite, shorten, expand, or even change the tone of the selected content. This new feature gives content creators enhanced flexibility and efficiency in crafting their blog posts.


3. Messaging
Effective communication is at the core of the CMS Hub, enabling businesses to establish meaningful connections with their customers through personalized and targeted messaging. Companies can use these powerful tools to tailor content based on customer behavior and characteristics, facilitate direct and interactive communication through various channels, and nurture leads while enhancing overall customer satisfaction.
CTA
Create embedded and pop-up calls-to-action (CTAs) that match the look and feel of your website and guide visitors toward conversion points. Use personalization to reach different target audiences with the right message and track visitor actions across multiple web pages.
Email Marketing
Send bulk emails that are tested and optimized for different devices. Create better emails with a drag-and-drop editor and personalization tokens.


4. Reporting
Comprehensive reporting features in the CMS Hub provide businesses with valuable performance insights. Content performance tracking helps marketers gauge the impact of their content, while SEO recommendations offer guidance to improve search engine rankings. Analytics and reporting tools provide data-driven feedback, empowering businesses to optimize their marketing strategies and achieve better results.
Reporting Dashboard
Get data on your marketing, sales, and customer service performance. Use the data to know how you're doing and where to improve.
Website Traffic Analytics
See how your content performs with detailed filters like bounce rate, average time on page, and more.


5. Automation
Automation is a powerful capability of the CMS Hub that streamlines repetitive tasks, saving business time and effort. Automated workflows enable the automation of lead nurturing and customer engagement, ensuring timely and personalized interactions. With automation, companies can focus on strategic initiatives, maximize efficiency, and deliver consistent experiences to their audience.


Content Management Can Thrive with the HubSpot CMS Hub
Our team of certified and accredited professionals and certified HubSpot Trainers has experience leveraging the HubSpot platform suite to increase your website's visibility, convert anonymous website traffic into leads, and nurture prospects into satisfied customers. Various subscription levels are available up to the Enterprise level, starting with Free.