HubSpot Hacks: Tracking The Competition
What was that thing your competitor said on Facebook the other day? The comment that had everybody in your industry talking for days?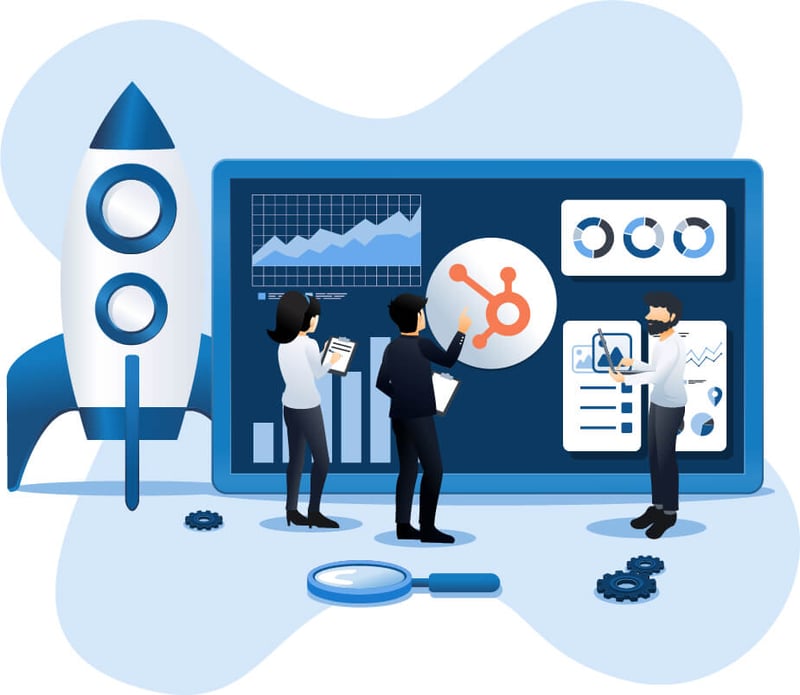 If you're not monitoring your competition, you won't know what they say or how your potential audience reacts. "Social listening," or "social monitoring," is a common marketing practice allowing you to see what your competitors do online. Tracking the competition also gives you insight into how their audience reacts, enabling you to gauge how your audience would react if you tailored your campaigns accordingly.
There are other areas you might consider monitoring about your competition; things like traffic patterns on their website; blog traffic and comments; and overall market share, to name a few. Our focus for today will be on social monitoring, as it's an easy and fast way to gain valuable insight into your main competitors' direction. We'll review a handful of the most important lessons this sort of listening can teach you and some of the ways tools like Hubspot make it even easier to glean this information right from your account dashboard.


Which Platforms are they Dominating?
Is your main competitor blowing up on Instagram, leaving your presence in the dust? It's time to dig in. What types of content are they posting there? How often? Do they use this channel for one primary type of engagement? These questions can garner you the insight you need to tweak your presence.
You can go at them head-on, posting the same content but better. Or you can make an end-run around them by posting different content types but targeting them directly to their audience. By understanding how your competition is using a particular platform, you can find your way in, your way to bring some of the eyeballs they're getting over to your high-quality content.


What Content is Resonating?
Does your competitor's presence on Facebook seem to engender a devoted following of customers, just waiting for each new post to come out? Are their Stories garnering solid engagement numbers? Once again, it's time to dig into the metrics. See what their stories are about; what are they telling their audience about? Recent successes? A day in the life of a software developer? Or are they using this media to teach their audience how to overcome a pain point they share in common?
Use what you find to tailor your presence. If they're using Stories to help people overcome a troublesome issue, go after a related issue with your own Stories posts. Be sure to script your videos and run them through dedicated post-production so the overall feel is polished and shines brighter than those other guys. Then promote your version by targeting their audience along with yours.
Are They Using Hashtags or Other Focused Content?
Industry-specific hashtags are a great way to expand your organic reach on social media. Is your competitor using any that you aren't? We're not talking about branded hashtags here, those are a bit too specific to each company. We're discussing general-use tags for your industry, sector, or audience segment. See which of their posts are being found via hashtag searches or which tags are on the posts with the highest engagement numbers, and find ways to incorporate these tags into your posts.


Where Are They Focusing Their Ad Spend?
See which posts are being boosted to get that bit of extra-organic reach. This can be used to redirect your ad spending. Maybe they're boosting their long-form posts about trends in the industry. Or their videos that document a recent customer success story.
Now you know it may be worthwhile steering your campaign in a similar direction for a bit to compete for those same views and click-throughs. Once again, you can either go head-to-head and boost similar content—or you can go the opposite direction and exploit a subject they're ignoring. Either way, you will reap the benefits of their research to help boost your content.
How Hubspot Can Help with Social Monitoring
The above-referenced competitor metrics, engagement numbers, rates, views, and even basics like follower count, are all available in tools like Hubspot's new Competitive Social Tracking module. This module lets you track your top three competing companies' social presence, and all you have to know to get started is their primary URL.
This tool gives you a cross-platform list of their social media posts that can be sorted by two primary metrics, total engagement and engagement rate. The latter is simply the former divided by follower count. Each post includes the tag "$ Likely Boosted" on any post that appears to be reaching a non-organic audience.
For example, if you're looking at what Facebook content resonates most, sort that feeds by total engagement. Now, look at the content that ranks in the top 10 posts. Is it videos? Funny stories about co-workers? Or user-generated success stories sent in by happy customers?
The amount of useful information you can pull from this is immense. Do you need to change your content focus on this platform? Is your competitor missing a segment of their audience by not talking about something you happen to know a lot about? Put in the time and effort in this module, and you'll come away with more appropriate targeting information, a better list of subject matter, and an idea of what media type to use to present each subject.
This means you have a single dashboard where you can find and research your competitor's social media presence, reach, and engagement. That will give you everything you need to come up with your response campaign, crafting the content that will not only drive up your engagement numbers but will help get your content in front of your competitor's audience as well—the more eyes on your posts, the more click-throughs, and, ultimately the more conversions.