The Essential Elements of a Successful Conversion Funnel
The concept of the marketing funnel has been around for years. And the concept has lasted because it provides a simple, straightforward framework for organizing marketing objectives and campaigns. But it's time to give the funnel a name that actually indicates its purpose : converting visitors into customers. Calling this a conversion funnel indicates the ultimate objective of the process, which helps you stay focused on achieving that goal.

Key Objectives of a Conversion Funnel
The ultimate goal of a conversion funnel is to turn visitors into customers. This goal seems pretty straightforward, right? But it can be a long road from website visitor to customer, especially for B2B businesses that offer more complex products or enterprise solutions.
In reality, a conversion funnel isn't about one monolithic, substantial conversion from visitor to customer. It's a series of more incremental conversions: visitor to contact; contact to lead; lead to prospect; and prospect to customer.
And these conversions are most likely when the content in your funnel addresses your ideal customer's business challenges. If you think in terms of this goal, you can break down the process of building the funnel more easily.
Objective #1: Identify the buyer persona you are looking to attract. A buyer persona is a fictionalized version of your ideal customer. You may have multiple buyer personas, but choose one for your conversion funnel. What is that buyer's most pressing problem or challenge as it relates to your product or service?
Objective #2: Create an offer that highlights your solution to that problem. That offer could be a white paper, a checklist, a case study, or some other downloadable asset that offers an in-depth look at solving the buyer's problem. Note that whatever you choose should seem like a "fair trade" for a website visitor's email address.
Objective #3: Create a "story" around that offer. Every other content element of your conversion funnel should directly relate to your offer. Imagine you're using a white paper on how to protect against emerging cybersecurity threats. You'll need at least one blog article on that topic (preferably several), along with a case study or customer success story to use in your funnel. In other words, the whole funnel should have a cohesive topic and message, with each element of the funnel exploring a different facet of your topic.
Objective #4: Build a seamless path to discovering that offer. How will your buyers find that brilliant cybersecurity white paper? The most common path is via your blog. Visitors might arrive at a blog post directly from their own search, or via a PPC ad (more on this later). The most important thing is that the blog article is tightly related to your offer. Next most important is a simple path to taking your offer: the blog post should have a prominent call-to-action (CTA) that leads to a clean, simple landing page where visitors can get your offer in exchange for their email address.
Objective #5: Follow up with finesse. The end goal isn't just to email people your brilliant white paper! It's to get them to convert into customers. Once they've received your offer, the next step is to follow up in an authentic, relevant way. We've found that the best way to do this is with a short series of emails (maybe three to five) that each offer additional value to the recipient. You might include a customer success story, a case study, or even an introduction video in that series. Be sure that each time you follow up, you invite the recipient to further engage--perhaps scheduling a demo or a brief consultation.
Objective #6: Make a smooth handoff to the sales team. This part sometimes gets neglected, since it's technically after the "end" of a marketing funnel. But the real last step in your conversion funnel is when a prospect becomes a customer. Coordination between marketing and sales will ensure a more consistent experience for everyone.
Essential Components of a Conversion Funnel
You might be thinking that this sounds like an awful lot of content to create and maintain. The good news is that you can build a simple funnel with content you may already have. Here's what you absolutely need, in the order that they'll appear in your conversion funnel:
At least one relevant blog post: Remember that it should tie in with your offer. If you have many related blog article, even better! Each article is basically another place for visitors to enter your funnel.

A landing page to offer your downloadable content:

Everything about the design of this page should encourage people to sign up for the offer. Following a few best practices can help ensure a great landing page design.
Downloadable content: The most common offers are longer-form content, such as case studies, white papers, or lengthy guides. But sometimes shorter items work, too; right now, for example, a social media branding checklist is our most popular offer. It helps to think of this piece of content as your "anchor" because it is essentially the center of your funnel, and it should drive the rest of your content choices.
An initial follow-up email: In this message, your new contacts should receive a link to the content they have requested, along with a brief message about the value or relevance of the content. Also include an invitation to further engage, such as a CTA to schedule a demo or have a quick chat.
A "check-in" message: Most companies skip this step, but it can be invaluable. Send a message asking whether your new contact found your downloadable content useful. If so, would they like more information or have additional questions? And if not, what might be more helpful? Again, include an invitation for further interaction.
A final message: Sometimes called the "breakup email," this is a last attempt to convert the contact into a prospect. The elements of this message are generally a brief introduction to your company and your value proposition.

For this simple conversion funnel, a website visitor would ideally follow this path:
Arrive at the website via a blog article.
Click on a CTA to get your offer.
Submit an email address on the landing page.
Open the email that includes your offer.
Agree to further engagement (e.g., schedule a consultation or demo).
"Bonus" Elements of a Conversion Funnel
At any point in the conversion funnel, a visitor might opt out of taking the next step. The first opportunity for that is at the second step of your conversion funnel, on the landing page. According to HubSpot, the average landing page conversion rate (that is, the percentage of people who visit a landing page and submit their information) is 9.7%. So the average business doesn't engage 90% of landing page visitors--that's a huge number of missed opportunities!
Social Media Advertising
This is where advertising comes into play. You can supplement your basic conversion funnel with social media advertising at a few key times to boost performance.
At the very beginning: Advertising your blog post can bring more people to the website, increasing the overall number of people who enter the conversion funnel.
When visitors don't convert on your landing page: Using ad retargeting, you can advertise to visitors who leave your site after a short time, or don't submit their information on your landing page. These ads should promote content that is similar to what initially brought them to your website.
When contacts open your second email message: Another application for ad retargeting is for contacts who are engaged with your message. For instance, people who open your second email message might see LinkedIn ads that promote a customer success story or highlight your company's unique solutions.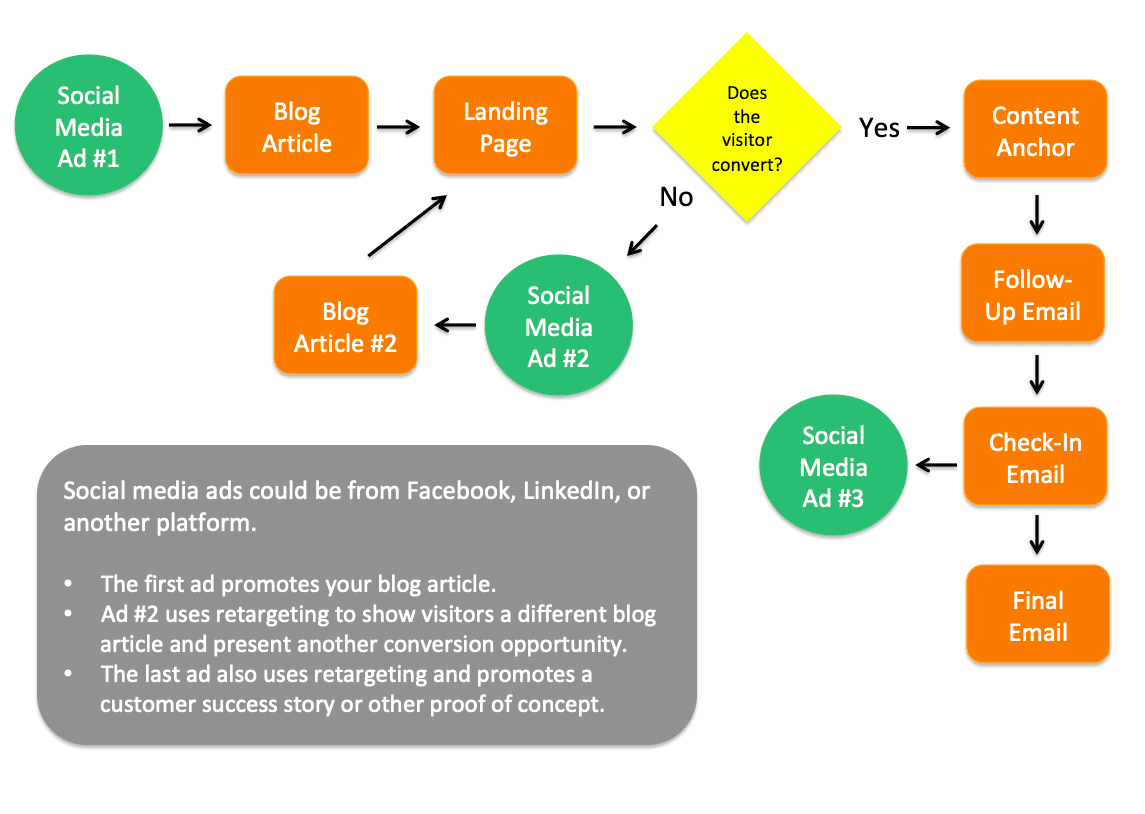 Pop-Up Forms
If they are incorporated wisely, pop-up forms and CTA's can increase the success of your conversion funnel. The key is to configure pop-ups based on website visitors' behavior.
Scrolling pop-ups appear when a visitor scrolls through a certain percentage of content on a page. For example, a scrolling pop-up might show up when a visitor has gotten through 75% of a blog article--which usually indicates high engagement. These pop-ups are best used on long-form content, such as pillar pages or lengthier blog articles.
Exit pop-ups appear when a visitor exhibits exit intent, that is, the visitor seems to be ready to leave the site. For example, moving the cursor toward the "Back" button usually indicates exit intent.The right exit-intent pop-up can help decrease bounce rate and increase conversion.
Time-based pop-ups appear once a visitor has spent a set amount of time on your website. Sometimes also called watchdog pop-ups, they can be triggered by active time on a site (the visitor is still exploring) or inactive time (the visitor has not scrolled or clicked on anything in a little while).
A well-designed conversion funnel is a superlative tool for lead generation. By keeping your objectives in mind and building content around buyer personas, you can build a conversion funnel that seamlessly leads your website visitors down the path to becoming customers.
Ready to let the experts help you build a dynamo conversion funnel?
Let's talk.