Why Customer-Centric Marketing Matters
Traditional marketing, what is starting to be called push marketing, doesn't care about the customer. It's focused on the company and the newest widget it want its customers to buy. Marketing has been all about what this new thing is and does...proving that it possesses all those features the other things can only dream about.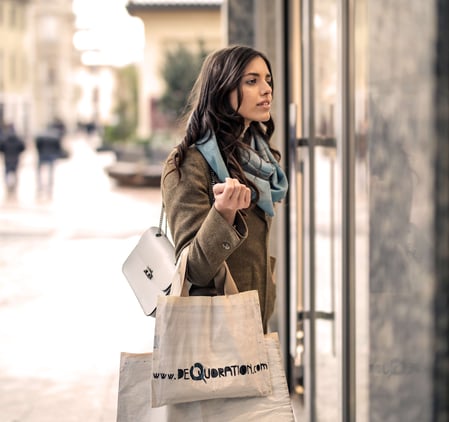 But this product focus isn't working anymore. People don't respond well to anything that's too sales-y. Potential buyers care a lot less about what a company has to say about itself, and they care more than ever about what its customers have to say about it. Add in people's expectations of instant response and 24/7 service availability, as per social media, and you've got the beginnings of customer-centric marketing, service, and support.
Really great marketers know a hard truth about their work. They know, or are coming to realize, that regardless of how much they put into developing a marketing strategy, there is something else that will have a bigger impact on buyers. This voice speaks louder than any blog post, captures more attention than any ad, and inspires people like no expertly crafted video.
We're talking about the voice of your customers.
The New Marketing Reality
The entire inbound marketing space has gotten crowded. As a result, people are filtering out more content aimed at them in the same way they filter out ads. They rely on friends or personalized search and social algorithms to surface the content that is best for them.
Similar trends are happening in email. The more you send, the less interested the customers are in looking at it. Their attention is limited and their inbox is crowded. Each message just adds to the noise. Important information gets lost in the shuffle. Your prospects and customers are overwhelmed by too many messages daily.
Maybe you've also noticed social media isn't leveraging growth like it used to. While you used to just be able to have a social media presence and share content, now the platforms have gotten more complex and favor content from friends and family over that from publishers and businesses. The use of social media has skyrocketed, but it's increasingly more difficult to break through.
Likewise, customer acquisition cost has risen by 50% over the past five years.
That all sounds pretty bleak, doesn't it? What's a marketer to do?
Navigating the New Marketing Scene
In order to successfully market in today's day and age, you have to amplify the best of what's already being said about you and your product. Nothing you ever write or create will be as trusted or as influential to potential customers as what your current customers say about you.
So, as a marketer, what you can do is encourage more customers to become promoters, and once they're active promoters, turn them into content creators.
Invest in customer service. Take the long view. Remember, it costs from 5 to 25 times more to acquire each new customer than it does to retain an existing one.
These days, a customer's default is to be skeptical and impatient. They can afford be like that because they have limitless options and unprecedented clarity into how businesses treat their customers. This has produced a power shift from business to customer and resulted in customer expectations that are higher than ever.
No marketing effort can override the negative impact of poor customer service. To achieve sustainable business growth in the new customer-centric world demands personalized and predictive customer experiences.
Customer centricity means offering a great experience from the awareness stage through purchasing and then through the post-purchase process. The strategy is based on putting your customer first, at the core of your business. It's important the entire organization understands this basic focus. It's not just a marketing stance, it's the core of the company.
During the last recession, the power shifted from brand to customer. Customers got more selective in what brand they spent money on, and the winning brands were the ones who treated them with respect, provided great service, and built a relationship with them.
At the same time as this was going on, we saw the aforementioned rise in social media use which led to marketers marketing and selling their widgets directly through these social spaces, where customers were already spending their time.
Likewise, mobile became a major player in the customer experience. Customers have—at their fingertips—the ability to cross check and compare products and services. This has presented a huge challenge for a fair number of brands.
4 Ways to Become a Customer-Centric Company
To compete effectively and survive in this customer-focused marketplace you have to fulfill the customers' needs with your product or service...maybe before they've even realized they need it. But they will fall in love when they see them.
The customer-centric brand creates products, processes, policies, and a culture that supports customers with a great experience as they work towards their goals.
Four of the best practices for establishing customer-centricity include:
Making it a universal. Across the board, your entire organization needs to know and buy in to the fact that the customer comes first.

Research has shown the biggest challenge for companies struggling with the shift in focus from brand to customer is that they do not share relevant information across departments.
Seeing the world through the customer's eyes. You know that without the customer you cannot succeed so you want to see the world through the customers' eyes. Everyone in your organization understands what the customers want and uses their data to capture insights, then shares the data across the organization.
Researching and identifying customer wants. The focus of the brand is on what the customers want and need. Products are developed around that.
Building relationships. Brands committed to being customer-centric build relationships designed to maximize the customers' product and service experience.
Focusing on customer retention. As a committed customer-centric company, you analyze, plan, and implement a carefully formulated marketing strategy focusing on creating and keeping each and every profitable and loyal customer.
Under all the advice about how to make your company customer-centric there is actually a single tenet. As a marketer, your job is to start with your customers.