Growth-Driven Design Best Practices - Driving Business Growth [Video]
Growth-Driven Design (GDD) has been sweeping the web development scene as a top-performing production strategy for companies of all sizes. The primary benefit of this web development methodology is that it gives you a platform to kickstart your web presence very quickly, allowing you to scale and improve your website over time.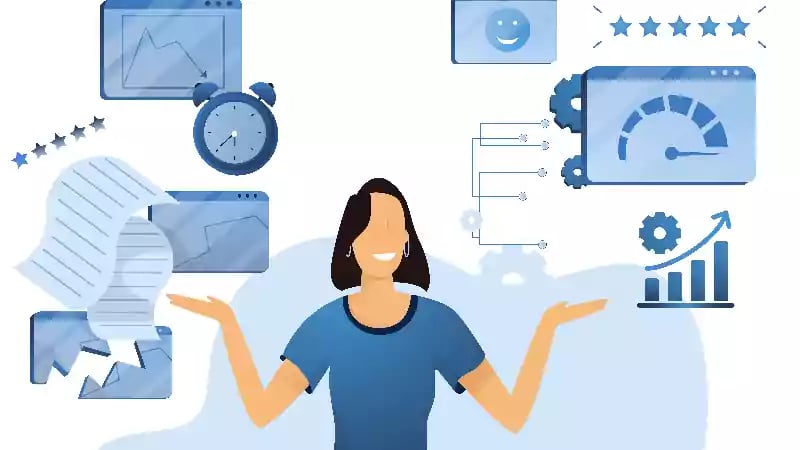 Why Does Growth-Driven Design Matter?
93% of mobile users have left a website because it didn't display correctly on their devices. With the increasing number of mobile users accessing the internet, having a mobile-friendly website is no longer an option but a necessity. Failing to optimize your website for mobile devices means missing out on a significant portion of your potential audience.

Studies have shown that bad web design can cost businesses up to 20% of their sales. A website's design can make or break a visitor's experience, ultimately affecting their likelihood of doing business with you. A poorly designed website can create barriers to finding what they need, leading to frustration and abandonment. That's why having a well-designed website is crucial.

Businesses that use growth-driven design see a 20% increase in website traffic and a 15% increase in conversions. Implementing a growth-driven design can lead to a significant increase in website traffic and conversions. By constantly testing and refining their websites, businesses can enhance the user experience and attract a larger audience, resulting in higher revenue.

The average website redesign costs $50,000 - $100,000. Traditional website redesigns come with a hefty price tag, but Growth-Driven Design offers a more cost-effective solution. This methodology allows smaller, incremental changes to be made over time, resulting in a continuously improving website.

Growth-driven design can help you achieve your business goals faster. Through constantly testing and refining your website, you can efficiently pinpoint what aspects are effective and which are not. This allows you to make alterations more likely to drive your business toward its goals.


What Is Growth-Driven Design?
The core principles of Growth-Driven Design entail a data-driven, work-in-progress web development model that avoids the issues of the traditional development process. Instead of focusing on full project completion up front as practiced in traditional Web Design approaches, GDD applies periodical 'sprint' sessions where different departments work together to implement analytics, content, customer satisfaction, and all else that a company deems essential to grow its sales and marketing metrics.
These sprints are part of a robust workflow that offers adaptability to the changing world. You used to be limited to minor changes on a one-time-produced fully functional web product. Still, GDD offers many opportunities to rework and reevaluate the design schematics as needed.
Many sources offer varying ways to outline your GDD production process, but a simple 4-step plan is often the base from which they build their unique styles:
Plan: The Planning phase is where the marketing goals and ideas of the future website design are compared with the present. During this phase, you should consider what you want the website to look like and what you want the website to do.

Develop: The Development phase is where the current website is built upon, or a new site or page is produced via a "launchpad" approach – limited to only the most impactful updates.

Learn: The Learning phase is a data analysis and reflection period to gain insights useful for future Planning phases. Check out the key metrics to track and manage for Growth-Driven Design.

Transfer: The Transfer phase is where these insights and analytics are shared with other departments so that they may also learn from the successes and failures discovered in the GDD process.
The GGD Model In Action
An enormous appeal of Growth-Driven Design is that successes and failures are both successes by the end of the process. Because of the data-driven nature of this approach, any tactics that "fail" to achieve a goal – such as reducing bounce rate – can be reliably analyzed for a future chance of success elsewhere because, as stated, now, there is actual data on the subject! Moreover, this "failure" is merely a blip in the development of the website due to the constant repetition that GDD requires.
However, those iterations can be a source of contention for companies who either lack the necessary resources to keep up production or become over-eager in their development goals and burn out too quickly. As such, it is essential to maintain a balanced and focused approach and not seek total perfection at any stage in development.
The key to maintaining a data-driven attitude and avoiding the allure of perfectionism is to utilize the empirical knowledge that comes with leaning heavily into significant changes.
A common element of the Development phase is to implement the '80/20' rule; the changes to be made are limited to 20% of the said changes, which are estimated to have 80% of the impact.
Not only does this tactic help eliminate the overwhelming effect that can be brought on by keeping tabs on countless minor changes, but it also focuses the scope of the project to the most important pieces – relieving a stressful workload and allocating more time and effort to more prominent features of the project, at once.
Numerous testing methods can be used to study these changes in-depth, though their exact methodologies are oftentimes hidden behind paywalls or as company secrets. One such test is Split-Testing, or Multivariant-Testing (MVT), if for additional variables. This process tests a prospective change in a singular aspect of a webpage (e.g., form layout, banner placement, button characteristics, etc.) by routing live viewers to one of two identical pages, pages that are the same except for the one variable that has been changed.
Because this routing process is so heavily controlled and is hinged upon blind feedback, it produces robust, valuable, empirical data on the performance of that singular variable. An objective ruling on the strength of this variable can be quickly reached, and the data can be saved and brought up again for future reference in planning sessions to come. A time saver on multiple fronts!
Additional tips to keep a solid and steady movement through the four phases follow the principle of "keep your audience close and your competition closer." The importance of catering to a target audience can never be overstated. However, articles like this often neglect the power of studying the competition (whoever that might be).
An easy way to bolster the Planning phase ideation is to take appealing aspects of rival (or similarly-themed) web pages and test them on your pages.
Not so much copy-paste - this is not advocating simple plagiarism – but repurposing a concept in a new style or setting and testing for fit and function through data-driven processes.


Growth by Trial and Error (and Eventually, Success!)
These aspects may not even be clear-cut UI/UX content graphics – perhaps the smooth transitions and loading times of another website inspire you to find ways of optimizing the hard coding within your own. There are many features from which to take notes and gather information, so there will always remain an invaluable pool of resources for exploring relevant web pages.
Remember: Perfection is not the goal! Growth-Driven design is a continuous improvement model that supports better performance and, ultimately, revenue growth for your company.
Ready to revamp your website? Check out the free Website Grader to help you head in the right direction.