Mastering Inbound Marketing: The Key to Building Your Brand [Video]
When you first launched your business, you may have focused more on the nuts and bolts of tasks such as team member onboarding, production, distribution, and other essential elements that keep the business going. But, while marketing certainly is part of your business plan, you may need to devote more time to developing a solid marketing campaign.
But you should also recognize that no matter how great your products or services are, you can't expect many people to buy what you have to sell if you fail to extend your brand in the marketplace. So now, it's time to get more serious about promoting your business.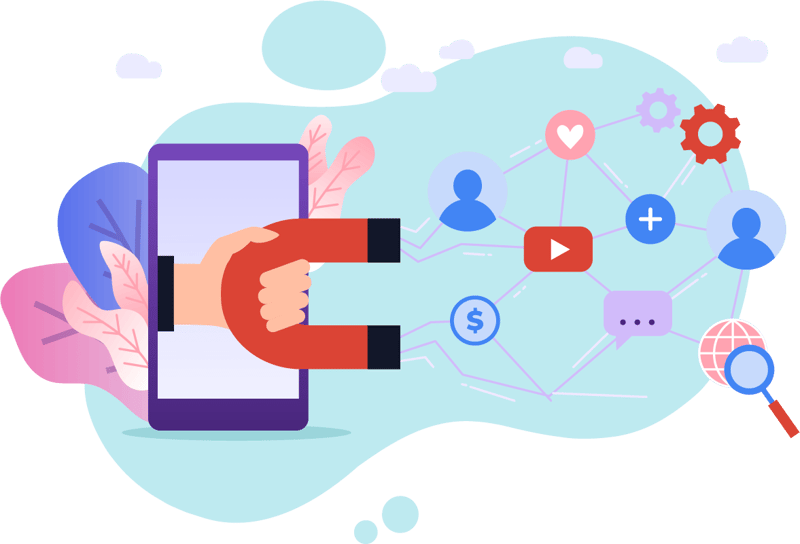 Some organizations seem satisfied to rely upon word of mouth as their primary means of publicizing what they offer–but you have greater ambitions for your business. After all the time, effort, and resources you've put into the job, the next step is to start recouping the investment by building your brand.
You likely already know that you have a variety of options when it comes to marketing your business. One of the more effective approaches at your disposal is inbound marketing. Read on to get a better appreciation for how inbound marketing can help companies like yours build their brand, develop their voice and greatly expand their reach to customers, both current and the many customers to come in the future.


About Inbound Marketing
It's helpful to consider the difference between outbound and inbound marketing as you prepare a new campaign for your company.
As noted by HubSpot, outbound marketing works by interrupting people with messages they don't always want. For example, advertisements for a general audience, such as interrupting TV, radio, or streaming music services, are familiar forms of outbound marketing. So are the billboards that intrude into your field of view when navigating an unfamiliar freeway system.
Inbound marketing, in contrast, is a way to promote your brand by offering valuable and informative content that people already want. For example, you publish blog posts showing unique ways people use your products, which leads people to check out a video to see them in action or visit your website's mission statement before they check out your product line in detail.
Understanding the States of Inbound Marketing
It's beneficial to break down the components of an inbound marketing strategy into four stages, as pointed out by a report from Spiralytics, citing methodology strategies from HubSpot.


Attract
In the first state, you're focused on attracting the right types of users to your website. How to define the "right" kind of user or customer will depend from one business to the next. Still, you're looking for people most likely to become viable sales leads and potential customers. Updates you post on social media, such as Facebook or LinkedIn, will prompt curious people who want to learn more to visit your landing page.
Search engine optimization is another essential tool during this first stage of inbound marketing. Using SEO, you're forced to think carefully about the specific terms your ideal customers are looking for when they use Google, Bing, and other search engines.


Convert
In the second state, the goal is to convert visitors into leads. You can accomplish this by asking them for their email address, such as in exchange for a money-saving coupon, or downloading an informative report that sets you up as an expert thought leader.


Close
The third state has to do with closing on these leads to convert them into full-fledged customers. You can work toward this goal using customer relationship management software tools to automate much of the process of reaching out to them and keeping track of the results. Email is another suitable approach to forging stronger connections with customers.


Delight
Finally, the fourth state of inbound marketing is to keep your customers, leads, and new visitors engaged and happy with the content you continue to provide. Tools used to delight your visits often include targeted calls to action, surveys to gauge their interest in a service or product, or offering them a customer loyalty rewards program to keep them coming back for more.
Setting Goals for Your Inbound Marketing Campaign
Setting some goals is best when you start an inbound marketing campaign. That way, you can measure the results and see how well you are doing at getting to the next milestone. And since so many companies rely on blogs to help get the word out about what they're doing, this is a beneficial inbound marketing tactic to embrace.
According to Animalz, four goals for traffic for a new blog include:


1. Aim to Surpass 6% Growth in Traffic Monthly
Animalz studies indicate that the CMGR or median compound monthly growth rate for blogs was 5.92%, with small blogs consistently boosting traffic by approximately 6%. The result at the end of one year is a boost of 88%. For context, take a blog that received 1,000 monthly views in the summer to 1,883 monthly views by the end of the year.


2. Strive for at least 45,000 Pageviews
The median number of pageviews for smaller blogs was 45,162 per year, meaning you would want to achieve about 3,764 pageviews monthly to stay on track for over a year. But since businesses sometimes tend to have a different number of visitors each month or season, you will want to anticipate fewer views during the slowest part of your sales cycle, with many more views ramping up as the gift-giving season approaches.


3. Set a Goal to Receive 11% of Traffic at Minimum Thanks to Organic Search Results
You want people to feel like they discovered your company naturally or organically due to seeing a targeted ad or social media post after they enter a search term. Blogs that attracted more traffic, according to the study made by Animalz, indicate that those that receive fewer than 10,000 views per month have a much smaller percentage of organic traffic.


4. Aim to Increase Traffic by 8% Every Month
Keep a close eye on how much traffic your blog posts get. By paying attention to analytics, you can see what types of content attract visitors. When you set a goal to boost organic traffic by an additional 8% every month, you will be on track to see a rise in more qualified leads with the potential to become long-time customers.
If you're not an expert at writing marketing materials and content such as blog posts, that's not a problem. You can always hire freelancers or work with third-party content experts to help you generate ideas and develop lead-generation material.


Is It Time to Launch an Inbound Marketing Campaign for Your Organization?
There are a lot of moving parts when it comes to setting up an inbound marketing campaign. You're developing great content, such as blog posts, videos, social media updates, emails, etc. Ensuring you generate a steady stream of material is crucial to the success of the process.
Again, depending on your strengths, you might be able to write your material and monitor traffic and analyze people's responses. Otherwise, you may want to leave this job to professionals. Outsourcing your inbound marketing efforts can ensure a strong marketing strategy without relying on guesswork or adding extra labor to your team.
If you're new to inbound marketing, consider partnering with third-party experts who spend all of their time fine-tuning, generating leads, and building up brands for businesses.
Curious to learn more about inbound marketing?