5 Content Marketing Trends to Watch
With the dawn of each new year, marketers are finding new ways to better attract and engage with current and potential consumers. Staying up to date on what's new and next helps you make sure that your strategies are current and as effective as they can be. As we look to the year ahead, we are already seeing some trends when it comes to content marketing.
In a previous blog, we took a deep dive into content marketing and how it's all about attracting and engaging with your potential consumers by educating them with high-quality content. It's an organic way to build rapport and trust because you're not selling, but rather solving a problem that will hopefully end in a delighted customer. Content marketing has evolved since its inception, and with innovative technology and new channels for communication, we don't see that evolution slowing any time soon. Although the new year has just begun, we're already seeing what's new and next, including 5 new trends for content marketing.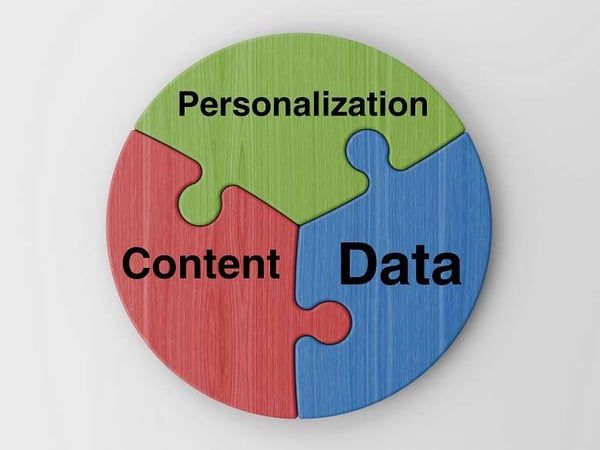 Chatbots & Artificial Intelligence
Artificial intelligence is being used more and more by nearly all businesses, whether you know it or not. It serves as an opportunity to not only meet your company's bottom line, but also allows you to allocate your time more efficiently. For instance, chatbots used to be seen in a negative light whenever they popped up on a website. Well, not anymore. Chatbots have come a long way from the first ever bot called ELIZA in 1966. Created by Joseph Weizenbaum, the chatbot laid the fundamentals for future innovations by using preprogrammed responses, phrases, and keywords (though it didn't pass the Turing Test, i.e. the test of users believing they were interacting with an actual person). Fast-forward a few decades, and AI interfaces like Siri, Alexa, and Google are becoming more mainstream. Chatbots are now widely used on websites because they allow businesses to have more conversations with website visitors and interact like never before with sophisticated conversations that sound much more real than previous efforts.
Unconventional Influencers
Having natural and consistent engagement with people who interact with your business (who aren't only customers!) can be huge for your content strategy. With social media platforms like Facebook and Instagram, it's so easy to snap a photo and post it in nearly real-time. Although showing interaction with customers is great, it shouldn't be the only way you're showing people activity related to your business. Employees, customers' family members, visitors, and others can all be influencers of your business. Sometimes, these influencers have a residual effect on your marketing. For instance, snapping a picture of the employee of the month at your company and posting on Facebook can show a lot about your company. It demonstrates that your business values its employees and that it's a great place to work. Although the employee may not be a potential customer, perhaps a family member or friend that sees the picture is.
Data-Driven Strategy
Now, more than ever, we see the value and power of data. The success of your content creation isn't just a happenstance, it's a matter of researching what has worked and what hasn't. Marketers have so many tools that allow them to evaluate analytics related to content strategy consistently. Blogging is one of the "essentials" when creating a robust strategy, and having access to analytics of how those blogs are performing shows how you can continue improving based on consumers' engagement with your content. What do we mean specifically? Seeing trends in your data regarding metrics like bounce rate, time per page view, entrances, and others gives you insight into how you can refine future content. The data behind content marketing gives you a unique view into the perspective of a potential consumer and helps you see what drives them to continue on the buyer's journey toward an eventual purchase.
Content Clusters
If you're familiar with content marketing, you may have heard about pillar pages. But, what about content clusters? Content clusters have actually become part of SEO strategies that are all about creating good content around a specific topic containing keywords that are relevant to a particular pillar page. What's driving this change is the way people are making inquiries on Google and other search engines. It used to be that people would search just one word or two in a search bar like, "Florida hotel." Nowadays, people are searching for much more detailed phrases like "what's the best hotel in Florida?" Marketers want to make sure that they're not just writing about one topic and squeezing in as many keywords as they can. It's about breaking down one topic into several subcategories to create quality content that will keep the search engine algorithms happy and either answer the question or solve the problem that the website visitor has.
Personalization and Interactivity
Those who are visiting your site or engaging with your business want to feel special. Just as we discussed earlier, they don't want a chatbot giving them a perfunctory answer that leaves a lot of gray areas and much to be desired. The way in which content is becoming interactive and personal is crucial to engage with potential consumers. For example, according to WhiskData there's a 26% increase in open rates of emails with personalized subject lines (e.g. including the recipient's first name). It goes to show that personalization can go a long way in garnering someone's attention! We're seeing marketers take interacting with consumers to new heights where it's beneficial for both parties. Polls and surveys are a great way to engage because you're not only getting a visitor's attention, but you're also getting their contact information and useful data. This can help you to further re-target your consumer to continue providing them with the content that they want.
There are countless opportunities for marketers today to build an engaging experience for those who come into contact with their business. From cutting-edge technologies like AI, to data-driven strategies and personalization, content marketing serves as a great foundation for unmatched ROI.