Is Email Marketing Dead?
We've all seen the sensationalist headlines: Email is Dead! Long Live Email!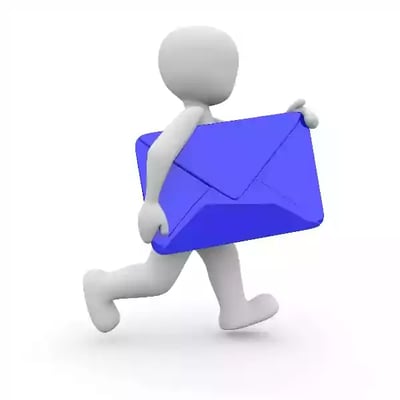 Here's the thing, they're all wrong. Email and, by extension, email marketing is in no way dead we would argue just the opposite: there's never been a better time to step up your email marketing game.*


Email's Not Going Anywhere
That little "*" is there for a reason. While we wholeheartedly support email as part and parcel of any well-rounded marketing campaign, the other truth is that the attitudes around email have changed in recent years. Open rates for many marketing campaigns are dropping; it's true. But at the same time, email as a medium is gaining popularity. 73% of Millennials say they prefer to receive marketing information via this channel over all others (social media, texts, hard copy, etc.).
On top of that, a colossal 99% of the general internet-using public uses email and says they check it at least once every day.
Pay Attention To User Experience
Here it is, the caveat you knew was coming. Email is a solid choice of medium to spread your message. Not only that, it's an incredibly good way to reach the Millennials generation, the largest to date.
But you need to do a few things differently.
And most of those things revolve around the user experience; that is, it's about how your reader interacts with and digests the information you're sharing. For example, if you only send emails when you have a sales pitch to make, you'll lose readers. Fast.
You've got to mix it up these days; send your contacts a regular newsletter full of interesting and relevant facts about your industry and your company's place. Send some exclusive deals for subscribers only. Send links to recently published think pieces on your blog.
All of this is to keep your audience engaged with your message. The exclusive deals show them that you value the fact that they opted-in, and the blog links show that you're doing more than just selling widgets.
And lastly, personalize it. From an eye-catching subject line to custom-tailored content, let your audience know that you get them and value their time and attention. Tell them you're not going to waste that trust by pitching them 24/7 or sending them links that don't matter to them or their lives.
And to show you that we value your time and attention, we present the heart of today's article—our list of the top nine email marketing best practices for 2020. Follow these, and you can be sure your emails will hit home and your audience will appreciate all you do for them.


Top 9 Email Marketing Best Practices
1) Send a welcome message
Sending a welcome email whenever someone opts in does a couple of things. Before affecting your campaign bounce rate, it lets you know if an email address is valid. And that helps your sender rating. It also reassures the customer that their opt-in worked and the good stuff is coming.


2) Send early or late
The highest open rates for email are between 9–11 am and 3-5 pm (N. America). That means you want your messages to be at the top of your recipient's inbox at that time to ensure they see it and have time to open and engage with it.


3) Use real names
The days of sending emails from a "noreply@" email address are behind us. People value authenticity and want to connect with a person, not a corporate entity. Send your newsletters and other email messages from a real person with a real email address on your domain. And be sure the signature line reflects the same person and the same contact information.


4) Use a confirmation link for opt-in
There seems to be a nearly universal hatred among marketers for this. The reasoning seems to be that insisting people go through an extra step will cut the number of opt-ins and negatively impact metrics. We counter with this: quality beats quantity. That extra step may cause some people to abandon the process. Still, those who stay with it for that one extra click are demonstrating a stronger desire to receive communications from you, and to us, that sounds like a better contact.
5) Metrics matter
The key is laying out which metrics matter to you ahead of time. Set goals for your email campaign just like you do for any other campaign, using the SMART rubric we've talked about before. Then establish your metrics based on those goals.
6) Create engagement
Make people want to engage with your email content. Include links to videos, blog posts, landing pages, infographics, etc. Include CTAs to appropriate deals in high-visibility locations throughout the email. And most of all, make it all mobile-friendly. Most of your audience will read these messages on coffee breaks, on the subway, or the couch - on a smartphone.


7) Embrace the skimmers
This may be hard to hear, but not everybody in your audience will read your email newsletter. That goes double for your pitches and special offer messages. And that's OK. It allows you to make your salient points easier to see by using subheaders and anchor text that makes it possible to digest the main point by skimming the message from top to bottom. And that will, in turn, make the message easier for everybody to digest, skimmers and thorough readers alike.


8) Be a professional
Using an email marketing solution does many things to assist in your campaigns. Chief among them is that it is far more likely that your messages will bypass the spam folder and wind up in your audience's inbox. Many of these commercially available tools also include detailed dashboards for your metrics, so that's a big bonus.


9) Segment for better engagement
Nothing turns a reader off faster than reading something that doesn't matter to them. Use your email marketing solution to segment your contact list. Whether by geography, product family, or whatever categories make sense for your list, sending content custom-tailored to each segment ensures your audience will remain engaged and that the right info gets to the right people.