How Growth-Driven Website Design Can Increase Your Conversion Rate
Increasing your company's conversion rate online often requires more than delivering high-quality products and services. Most of the time, truly understanding your target audience is key to conversion rate optimization in any market or industry. With the use of GDD, or growth-driven design, streamline your sales efforts while optimizing your conversion rate on an ongoing basis.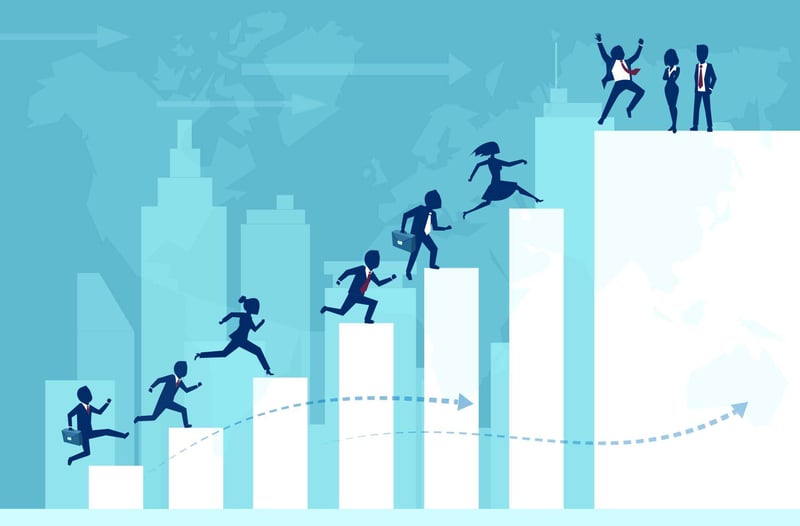 Growth-driven website design updates a website or brand's online presence based on the empathetic approach of seeing the world through a client's or customer's eyes. With growth-driven design, design is much more fluid and ongoing than set in stone at the beginning of a project's development.
A growth-driven design is ideal for those interested in applying a more innovative approach to gaining valuable insights about a particular website, business, and brand.
The three main pillars involved in the GDD methodology today include:
Strategy: Defining the strategy of a website is always crucial, even when implementing a growth drive design approach. Determining the target demographics of a website and how users find and browse a website can help cultivate an online browsing experience suitable for any particular audience.

Launchpad: One way to get started with growth-driven website design is to create a testing site, also commonly referred to as a launchpad website. This website will include semi-finished pages and content. However, this is one way to add continuous updates, tweaks, and changes to the layout as the perfect design is being developed.

Ongoing development: Unlike standard website design, growth-driven design focuses on ongoing research and development, meaning your website may receive updates and changes to its design as needed, based on analytics collected and user behavior received in real time.
Unlike traditional web design, growth-driven design does not involve building a website and calling it quits. Growth-driven design requires continuous ongoing efforts to help pinpoint the wants, needs, and desires of specific audiences. A successful website understands the consumers it is trying to reach on a personal and intimate level. Whether you are working with designers and marketing teams or on your own, a website redesign is only helpful if you choose to implement a redesign while maintaining complete focus on your user base and prospective audience.
3 Ways that GDD Can Improve Your Website Conversion Rate
Attract More Qualified Leads
By digging deeper into the overall experience of your website visitors, you can create a website layout that genuinely resonates with the wants and needs of your target audience. Using data in real-time to implement new design changes to your website, you can also continuously hone in on a specific target audience or demographics most likely to have a genuine interest in your business and brand.
Using ongoing growth-driven website design, you also significantly boost your website's overall SEO or optimization within top search engines. The more optimized a website is for search engines, the easier it is to appeal to new prospective customers within search engine results. Using growth-driven design strategies is optimal for any website strategy focused on business growth, user research, and using actual user data to implement new changes throughout a continuous improvement stage.


Optimize Your Conversion Paths
Because growth-driven design relies on continuous updates and real-time data, it is much easier to optimize the conversion path of your website itself. The more familiar you become with how your website visitors browse your website, the more likely you are to design a website that increases clicks, engagement, and, ultimately, sales.
A significant benefit of tracking your website's traffic in real-time for conversion rate optimization is that you can learn more about the most visited content and the products or services that are seemingly most in demand by your visitors. Reviewing traffic statistics regularly for your website is essential to maintain an ongoing understanding of what your online visitors are looking for from your site.


Use Real-Time Data and Analytics to Make Design Choices
Data is no longer just useful to determine how many visitors are on a website and what type of hosting or server a website may require. Today, it is easier than ever to pinpoint online users' specific wants and needs with web tracking technologies.
Growth-driven design is ideal if you want to make changes as you go and as you grow your website. Growth-driven website design best practices provide insights regarding:
Where is your traffic coming from (SEO, direct, organic leads, social, or even specific referrals)

What region is your website traffic from?

What demographics (age range, gender, and location) are your visitors?

Which landing pages bring in the most traffic based on your active campaigns?

How many visitors visit your website daily, and how many are unique or returning visitors?

How many page views is your entire website receiving daily?

Which pages are the most popular on your website, and why?

You currently run online if you generate leads from SEO tactics, top search engines, or other campaigns.

How many visitors are visiting your website simultaneously in real-time?
Compared to traditional website redesign projects, growth-driven design provides ongoing updates without expensive investments to get started. If you are interested in new web design and are curious about a launch pad website for your preferred growth-driven design methodology, going the route of GDD is often the best choice.
Are you interested in learning more about your website's design and structure? Want to find out how to get started with Growth-Driven Design? If so, learn more about conducting a website audit and our website grader. A website audit can provide the information you need to improve your site's design, your inbound marketing strategy, and your current sales funnel to increase your overall conversion rates.