How Employer Branding Fuels Business Growth
A strong employer brand is a powerful tool for attracting and retaining top talent. It helps to differentiate a business in the marketplace, facilitates trust with potential employees, and improves team member engagement, leading to increased productivity and a better work environment.
As a result, a strong employer brand significantly impacts a business's bottom line. Are you doing it well?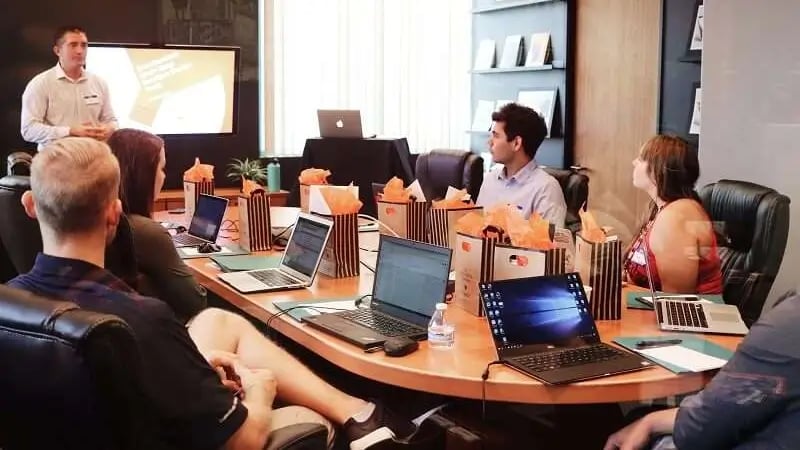 What is Employer Branding?
Employer brand is the perception and reputation your potential, current, and past employees have about your company. It should radiate the values, culture, and experience of working for your organization. A strong employer brand can attract top talent to fuel your growth, help retain current employees, and turn them into ambassadors. However, it is more than just a recruitment tool.


"Your employer brand is what people say about you when you're not in the room." - Jeff Bezos, Amazon

1. Define Your Unique Employer Value Proposition

A unique value proposition (UVP) is your statement communicating the benefits and values your company offers its employees. It is the foundation of a strong employer brand, setting your company apart from competitors and attracting the best candidates.
Defining your UVP can be a multi-step process:
Identify the type of employees you want to attract and what they value in a workplace - "We work with smart, nice people."

Research your competition. Look at what other companies in your industry offer and identify areas where you want to differentiate yourself. -"We don't hire the best for the job; we hire the best for the team."

Identify your unique selling points. These can be anything from a unique company culture to a comprehensive benefits package. - "You can add value from anywhere."

Craft your UVP. Once you have identified your unique selling points, use them to create a statement communicating the value of working for your company.

Examples of UVPs:
Your UVP needs to be authentic, reflect your company's culture and values, and be visible in the recruitment process and your daily interactions with each other.
2. Understand Your Employer Brand
Once you have identified your UVP, the next step is to assess your current employer brand. This can be done through team member surveys, focus groups, or by monitoring online team member reviews on external platforms such as Glassdoor.
Understanding your target employee audience is crucial for building a strong employer brand. This includes understanding the type of team member you are looking to attract, as well as the values and expectations they have of an employer. A small business looking to attract tech-savvy employees may need to focus on creating a modern and innovative working environment.


3. Build Your Employer Brand
Once you have assessed your current employer brand (basis) and defined your target audience, you can develop your brand strategy (target and how to get there).
Your employer brand strategy should include goals, tactics, and an action plan to communicate and promote your brand to potential and current employees. The strategy should align with your overall business strategy and be communicated to all employees to ensure consistency.
A key element of building a strong employer brand is consistency in messaging and visual identity. This includes consistently creating a consistent tone and voice for all communications and visuals that align with your company's values and culture across all touchpoints, including website, social media, and job postings.
Once defined, it is important to communicate it both internally and externally. This includes educating current employees on all levels about the brand, encouraging them to act as brand ambassadors, and promoting the brand to potential employees through job postings, social media, and other recruitment efforts.
Employee advocacy is when current employees promote their employer to their networks. Leveraging employee advocacy is a powerful way to promote your employer brand and reach a wider audience. Encourage employees to share positive information about your company on their social media accounts and to talk positively about the company where appropriate in their personal and professional networks.


4. Measure the Success of Your Employer Brand
To effectively measure the success of your employer brand, metrics need to be clear and specific. This may include metrics such as the number of job applications received, interviews conducted, job offers accepted, and employee retention rate. These metrics and associated goals must track progress and help identify areas for adjustments.
Once you have set your metrics, it is important to track progress over time. This will help you to identify if your employer's branding efforts are having the desired impact and to make adjustments as necessary.
A positive and radiating employer brand is a critical aspect of a company, especially for growing businesses. It is the image and reputation that a company has as an employer and encompasses everything from its values and culture to its benefits and opportunities for career development.
A strong employer brand is a powerful tool for businesses to attract and retain top talent and differentiate themselves from competitors; it is a continuous effort that aligns with the business strategy and the target audience. Learn more about Employer Branding and Recruitment Marketing, and follow trends in recruitment marketing.