Finding The Best: Sales Training and Sales Coaching Programs
Are you looking to upgrade your skills, significantly elevate your sales, close more deals, and grow your business? We've looked at the best sales training and coaching programs on the market and some of their key features. We'll also provide tips on choosing the right Sales Training Solutions for your needs.
So whether you're a seasoned sales executive or just starting, learn more about the best sales training and coaching programs available and put them to good use!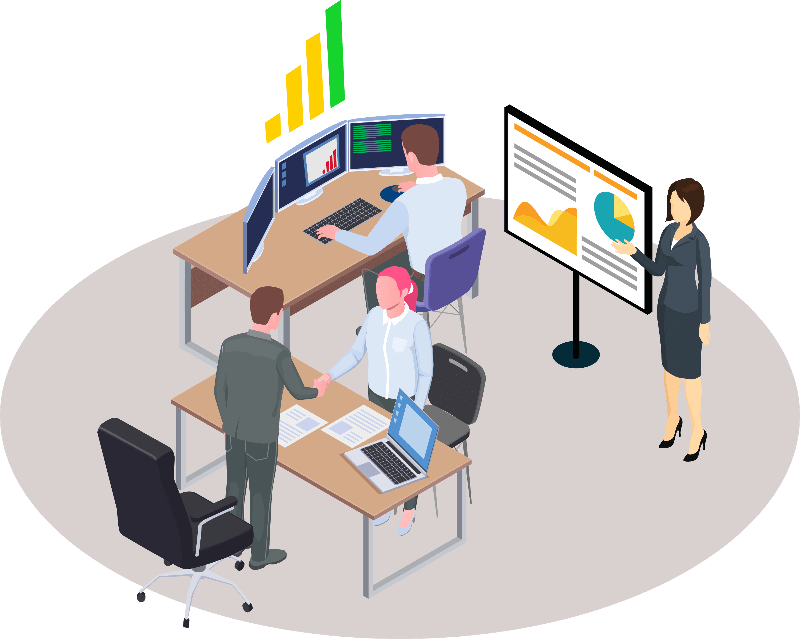 Why Does Sales Training Matter?
On average, companies with a formal sales coaching strategy reach 91% quota attainment. According to CSO Insights, companies with a formal sales coaching strategy had a significantly higher quota attainment rate than companies without a formal coaching strategy.

Sales representatives receiving at least three hours of coaching per month exceed their selling goals by 7%, increase revenue by 25%, and increase their close rate by 70%. KnowledgeTree finds that sales representatives who received at least three hours of monthly coaching had significantly higher sales performance than those who received less coaching.

51% of companies with a strong coaching culture report higher revenue than their industry peer group. As per BrainShark, companies with a strong coaching culture were more likely to report higher revenue than their industry peers.

77% of companies report improved sales performance as a result of coaching. This statistic is from a study by Sales Hacker, which found that 77% of companies reported improved sales performance due to coaching.

The average ROI for sales training is more than 300%. A Training Industry study found that the average ROI for sales training is 353%.


Leading Sales Training and Coaching Programs
1. Easton University
Easton University is a renowned institution that offers comprehensive and dynamic sales coaching programs designed to elevate sales professionals to new heights of success. Founded by Matt Easton, a visionary in the field of sales training and coaching, the university has gained a reputation for its innovative and results-driven approach to sales education.
Matt Easton, the driving force behind Easton University, brings a wealth of experience and expertise to the table. With a background deeply rooted in sales strategy, he has developed a curriculum that empowers individuals and organizations to master the art of selling. As a thought leader in the industry, Matt Easton has crafted a program that blends proven methodologies with cutting-edge techniques, ensuring students are equipped with the tools they need to excel in today's competitive marketplace.
The Easton University sales coaching program is characterized by its personalized and interactive learning experience. The curriculum goes beyond generic sales techniques, delving into the psychology of buying and selling, effective communication, negotiation strategies, and relationship building. Through a mix of online courses, live workshops, and one-on-one coaching sessions, participants are guided through a transformative journey that hones their skills and transforms them into sales champions.
One standout feature of Easton University is its emphasis on real-world application. Students are encouraged to apply the knowledge gained in real sales scenarios, allowing them to fine-tune their abilities and witness tangible results. This practical approach sets Easton University apart, focusing on theoretical concepts and their practical implementation in various sales situations.
Moreover, the program fosters a supportive community of learners and professionals. Collaborative discussions, peer feedback, and networking opportunities provide participants with a rich learning environment beyond traditional education's confines.
In conclusion, Easton University's sales coaching program, spearheaded by Matt Easton, is a transformative journey that equips sales professionals with the skills, mindset, and strategies needed to excel in today's dynamic sales landscape. By blending theory with hands-on practice and fostering a sense of community, Easton University empowers individuals to achieve unparalleled success in their sales careers.


2. Miller Heiman
In the realm of sales training, few names evoke as much respect and recognition as Miller Heiman. Revered for its pioneering approach to sales methodologies, Miller Heiman developed a legendary sales process that has transformed countless sales professionals into high-performing experts. The significance of Miller Heiman's contributions is further underscored by its acquisition by Korn Ferry in 2019, a move that solidified its legacy and expanded its reach.
The Miller Heiman Group's journey began with the vision of Robert Miller and Stephen Heiman, who co-founded the company in the late 1970s. Their innovative perspective on sales led to the creation of the iconic Strategic Selling® methodology, which revolutionized the way sales teams approached their craft. This method introduced a systematic and strategic approach to sales, emphasizing the importance of understanding complex buying processes and building strong customer relationships.
Central to Miller Heiman's success was its dedication to research-driven insights. The company invested heavily in studying buyer behavior, market dynamics, and sales effectiveness, resulting in the development of cutting-edge methodologies that were practical and effective. Their renowned sales methodologies, such as Conceptual Selling® and Large Account Management Process℠ (LAMP®), became cornerstones of the sales industry, guiding professionals to achieve consistent and sustainable sales results.
The union of Miller Heiman and Korn Ferry enables a holistic approach to sales training that aligns with the broader strategic goals of organizations. By combining sales excellence with leadership development and talent optimization, the collaboration empowers businesses to create high-performing sales teams that drive sustainable growth.
The acquisition also emphasizes the evolving landscape of sales and the need for adaptable strategies. In a world where buyer behaviors and market dynamics are constantly changing, the Miller Heiman Group's legacy remains as relevant as ever. The integration of Miller Heiman's proven methodologies with Korn Ferry's global insights ensures that sales professionals can navigate the complexities of modern sales environments with confidence and competence.


3. Sandler Training
Sandler Training has long been a trusted name in the realm of sales training, renowned for its unique and practical approach to honing sales skills. With a focus on practical techniques and a commitment to continuous improvement, Sandler Training equips sales professionals with the tools they need to achieve consistent success.
Sandler Training's foundation rests on the principles developed by David H. Sandler, an acclaimed sales expert who recognized the need for a systematic approach to sales that went beyond traditional methods. His revolutionary insights led to the creation of the Sandler Selling System, which emphasizes a collaborative and consultative approach to sales. This methodology encourages sales professionals to understand their client's unique needs and challenges, building relationships based on trust and mutual benefit.
At the heart of the Sandler Selling System is the concept of "pain." Sandler Training teaches salespeople to uncover the pain points and challenges that potential clients are facing, helping them position their products or services as solutions that address these specific issues. This approach goes beyond the surface level of selling and delves into the psychology of buyer motivations, enabling sales professionals to engage in more meaningful and effective conversations.
One notable aspect of Sandler Training is its commitment to ongoing skill development. The training programs are not limited to one-time events but are designed to foster continuous improvement. Through workshops, coaching sessions, and interactive learning experiences, participants can refine their techniques, receive feedback, and adapt their strategies based on real-world scenarios. This emphasis on skill refinement sets Sandler Training apart, as it recognizes that successful sales professionals are those who continuously seek growth and refinement.
A key highlight in Sandler Training's journey is its partnership with HubSpot, a collaboration that combines the strengths of both organizations. HubSpot's sales and marketing automation technology provides valuable insights into buyer behavior, enabling sales professionals to align their strategies with customer preferences and needs. Integrating HubSpot's technology with Sandler Training's proven sales methodologies creates a powerful synergy that equips sales teams with the best of both worlds – cutting-edge technology and time-tested techniques.


4. HubSpot Academy Sales
In the ever-evolving sales landscape, staying ahead of the curve is paramount. HubSpot Academy emerges as a game-changer, offering a self-paced, free, and powerful platform that equips sales professionals with the knowledge and skills needed to excel in today's dynamic business environment. Aspiration Marketing's recent blog post highlights the transformative potential of HubSpot Academy, making it an indispensable resource for those looking to elevate their sales prowess.
HubSpot Academy's self-paced approach ensures that learning fits seamlessly into your busy routine. Whether you're a seasoned sales veteran or just starting your journey, the platform allows you to learn at your own pace without disrupting your existing responsibilities.
What's truly remarkable is that HubSpot Academy brings this high-quality sales education within reach of everyone. The platform's array of courses, resources, and certifications are available at no cost, eliminating financial barriers and making learning accessible to all. As emphasized in the Aspiration Marketing blog post, the opportunity to enhance your sales skills comes without a price tag, making HubSpot Academy an invaluable resource for personal and professional growth.
At the heart of HubSpot Academy's value lies in its content. The platform offers a comprehensive array of courses designed to address specific aspects of modern sales. HubSpot Academy covers a broad spectrum of topics, from foundational principles to advanced techniques, ensuring a holistic understanding of sales strategies. The courses are curated by industry experts, providing authoritative insights that are both relevant and actionable.
Practical application is a core tenet of HubSpot Academy's approach, allowing you to acquire knowledge and develop the sales skills necessary to drive tangible results. Case studies, real-world scenarios, and interactive exercises make the learning experience immersive and rewarding. Whether you're a newcomer to sales or a seasoned pro, the self-paced, free, and robust nature of HubSpot Academy provides unparalleled accessibility and flexibility.
How to Find the Best Program for You?
Navigating the landscape of sales training options requires a tailored approach that aligns with the unique needs and goals of sales professionals and organizations. Let's examine the suitability of each sales training option for different scenarios:
Easton University
Best suited for: Individual sales professionals and entire sales teams looking for a comprehensive and adaptable training solution. With its diverse learning formats and guidance from live sales coach Matt Easton, Easton University caters to a wide range of learners seeking practical skills applicable across industries.


Miller-Heiman
Best suited for: Sales teams aiming to develop a strategic approach focused on understanding buyer behavior and cultivating lasting relationships. Miller-Heiman's methodologies are well-suited for businesses seeking to align their sales processes with customer needs and elevate their consultative selling practices.


Sandler Training
Best Suited For: Sales professionals interested in psychology-based selling and personal development. Sandler Training is ideal for individuals who wish to refine their communication skills, navigate objections with finesse, and systematically master the intricacies of the sales process.


Hubspot Academy
Best Suited For: Sales professionals seeking to excel in the digital age and harness the power of modern sales techniques. HubSpot Academy is a strong fit for those who value customer-centric approaches, inbound sales methodologies, and leveraging technology to build meaningful client relationships.

Each sales training option possesses its unique strengths, making it ideally suited for specific scenarios and goals. Whether it's honing storytelling, mastering strategic frameworks, focusing on psychology-based selling, or adapting to the digital landscape, there is a solution tailored to the diverse needs of sales professionals and organizations. By aligning the right training with individual and collective objectives, sales teams can embark on a journey of growth, skill enhancement, and sales excellence.
Sales Enablement Support
We understand the importance of continuous learning and professional growth for sales professionals. As a certified and accredited HubSpot Platinum Solutions partner, we offer additional help and support for HubSpot onboarding and usage. Our team of experienced marketers and sales professionals is dedicated to providing companies with personalized support in their sales, marketing, and HubSpot efforts.
Whether you need guidance in implementing advanced strategies, developing custom campaigns, or leveraging key HubSpot features, we're here to help. Our expertise spans various sales disciplines, including prospecting, lead nurturing, and closing deals.
By partnering with Aspiration Marketing, you can access personalized consultations, strategic guidance, and hands-on assistance tailored to your needs and goals. We work collaboratively with you to understand your business objectives and develop tailored sales strategies that drive results. With a deep understanding of HubSpot's platform and methodology, we can help you maximize your HubSpot investment.
Sales Training and Coaching FAQs
What is the difference between sales training and sales coaching?
Sales training is a one-time event that provides sales reps with the knowledge and skills they need to sell. Sales coaching, on the other hand, is an ongoing process that helps sales reps apply what they have learned and improve their performance.
What are the different types of sales training and sales coaching programs?
There are many different types of sales training and sales coaching programs available. Some of the most common types include:
In-person training
Online training
One-on-one coaching
Group coaching
Virtual coaching
How long does it take to see results from sales training and sales coaching?
The amount of time it takes to see results from sales training and sales coaching can vary depending on the individual and the program. However, most people start to see results within a few weeks or months.
How can I measure the ROI of sales training and sales coaching?
There are a few different ways to measure sales training and coaching ROI. Metrics to track include the number of deals closed, the amount of revenue generated, and the number of sales reps who are meeting or exceeding their quotas. You should also survey sales reps to get their feedback on the program.
What are some tips for getting the most out of sales training and sales coaching?
Some tips for getting the most out of sales training and sales coaching include:
Be prepared to learn
Be open to feedback
Practice what you learn
Ask questions
Follow up with your coach after the program is completed.