How to Improve My Sales Skills with HubSpot Academy
Improving sales skills is crucial for any professional looking to excel in their career. In a competitive market, staying ahead requires continuous learning and development. That's where HubSpot Academy comes in.
Sales professionals of all levels can gain expert knowledge to enhance their sales skills for free. Whether starting as a beginner or looking to fine-tune your existing skills, HubSpot Academy is the platform for you.
Understanding Common Sales Challenges
Sales professionals encounter a range of challenges in their day-to-day work. By understanding these typical problems, you can proactively address them and improve your sales skills effectively.
Prospecting and Lead Generation: Finding qualified leads and building a robust pipeline is often daunting for sales professionals. Identifying potential customers, nurturing relationships, and converting leads into sales require specific strategies and skills.

Overcoming Objections: Objections are a natural part of the sales process. Sales professionals must handle objections effectively and turn them into opportunities. This skill involves active listening, empathy, and persuasive responses addressing customers' concerns.

Closing Deals: Closing deals is the ultimate goal of every sales professional. However, it can be challenging to navigate the complexities of negotiations, handle objections, and create a sense of urgency. Developing effective closing techniques and understanding customer buying signals are crucial for successful sales.

Sales Presentation and Communication: Sales professionals must deliver compelling presentations that engage their audience and convey the value of their products or services. Effective communication skills, including active listening, clear articulation, and adapting to different communication styles, play a vital role in winning over prospects.

Time Management and Organization: Sales professionals simultaneously juggle multiple tasks, appointments, and deadlines. Prioritizing leads, managing time efficiently, and staying organized are vital skills for maximizing productivity and achieving sales targets.

Building Relationships and Customer Retention: Building strong customer relationships and maintaining long-term loyalty is critical for sustainable sales success. Sales professionals must focus on providing exceptional customer experiences, nurturing relationships beyond the initial sale, and fostering customer loyalty.
By identifying these typical problems, you can prioritize areas for improvement and focus your efforts on enhancing the skills required to overcome these challenges. In addition to overcoming these challenges, it's equally critical for professionals of all kinds–and sales professionals in particular–to devote time to upskilling. So, why does enhancing your skills matter?
The Value of Upskilling Your Sales Capabilities
Here are several reasons why enhancing your sales skills matters and how it can impact your success as a sales professional:
92% of HubSpot Academy graduates report an increase in their sales skills
Increase Revenue: Improved sales skills directly contribute to increased revenue generation. You can convert more leads into paying customers when equipped with practical techniques for prospecting, lead generation, objection handling, and closing deals.

Enhance Customer Satisfaction: A sales professional with refined skills can deliver exceptional customer experiences. You can exceed customer expectations by understanding customer needs, effectively communicating the value of your products or services, and providing tailored solutions.

Grow Your Career: Improved sales skills open doors to new career opportunities and advancement within your organization. Employers value sales professionals who continuously invest in their personal and professional development.

Gain a Competitive Advantage: In a saturated marketplace, superior sales skills give you a competitive edge. You can outperform your competitors by staying updated on the latest sales techniques, understanding customer behaviors, and leveraging innovative sales strategies.

Achieve Personal Fulfillment: Improving your sales skills benefits your professional life and contributes to personal fulfillment. The satisfaction of mastering new techniques, achieving sales targets, and helping customers solve their problems can boost your confidence and job satisfaction.
40% of HubSpot Academy graduates report an increase in their number of closed deals

By investing in yourself through upskilling, you can overcome common sales challenges and set yourself up for greater professional success. HubSpot Academy is a platform where professionals can access valuable resources, gain practical knowledge, and enhance their sales skills even outside of HubSpot's Sales Hub software. Now, let's explore HubSpot Academy, what it is, and how to access its free resources to improve your sales skills.
Introducing HubSpot Academy
HubSpot Academy is a leading online learning platform offering a wealth of educational resources designed to empower sales professionals. With its comprehensive courses, certifications, and industry-recognized training, HubSpot Academy equips sales professionals with the knowledge and skills necessary to excel in today's competitive sales landscape.
One of the critical advantages of HubSpot Academy is that it offers free access to its resources. Sales professionals can access a vast library of educational materials, including video lessons, guides, templates, and quizzes. This makes it an ideal resource for professionals at all stages of their sales careers.
That said, the platform doesn't skimp on quality. HubSpot Academy aims to provide high-quality, accessible education to help individuals and businesses grow. With a strong reputation for delivering valuable content, HubSpot Academy has become a trusted resource in the sales and marketing industry. Its courses are developed by industry experts and thought leaders, ensuring relevance and practicality.
HubSpot Academy provides diverse courses tailored to sales, marketing, and customer service professionals and various certifications that validate your knowledge and expertise. By earning these certifications, you demonstrate your commitment to professional growth and acquire a valuable credential that sets you apart from others in the industry.
Accessing HubSpot Academy
Accessing HubSpot Academy and its wealth of educational resources is a straightforward process. Here's a step-by-step guide to help you get started:
Visit the HubSpot Academy website and click the "Get Started for Free" or "Sign up" button. Fill in your details to create a free account. You can use your existing HubSpot account or create a new one specifically for HubSpot Academy.

Once you've created an account, set up your profile by providing relevant information about yourself and your professional background. This helps personalize your learning experience and allows HubSpot Academy to recommend courses and resources that align with your interests and goals.

Browse through the extensive course catalog offered by HubSpot Academy. You'll find a variety of courses tailored to sales professionals.

Select a course that aligns with your learning objectives and dive into the content. HubSpot Academy courses are designed to be self-paced, allowing you to learn at your convenience. Courses often include video lessons, quizzes, and practical exercises to reinforce learning.

Upon completing a course, you have the opportunity to earn a certification. Certifications demonstrate your proficiency in specific sales areas and can boost your credibility.
Recommended Courses and Certifications
HubSpot Academy offers various courses and certifications to address sales professionals' needs and challenges. Whether you're looking to upskill in sales techniques, prospecting, or closing deals, here are five recommended courses and certifications to help improve your marketing skills:
1. Inbound Sales
Five lessons
22 videos
Five quizzes
3 hours
The Inbound Sales Certification focuses on the inbound sales methodology, which aligns sales and marketing efforts to attract, engage, and delight customers. This certification identifies ideal prospects, conducts effective sales conversations, and nurtures leads. By earning this certification, you'll understand the inbound sales approach and learn how to build relationships with prospects based on trust and value.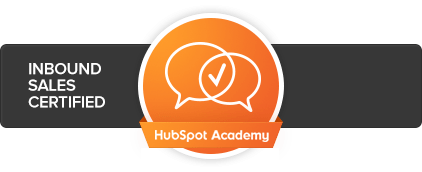 (Want to add this certificate to your resume? Get certified for inbound sales!)
After taking this course, you will learn to:
Answer the question: "How can I attract and engage ideal prospects?"
Develop a targeted prospecting strategy.
Align marketing with sales.
Apply lead nurturing techniques.
Optimize your sales processes.


2. Sales Enablement
12 lessons
40 videos
12 quizzes
5 hours
The Sales Enablement Certification explores the role of sales enablement in supporting sales teams and driving revenue growth. This certification equips you with the knowledge and skills to effectively enable salespeople with the right tools, content, and resources. You'll learn how to align sales and marketing efforts, create impactful sales collateral, and implement a successful sales enablement strategy that accelerates deal closure.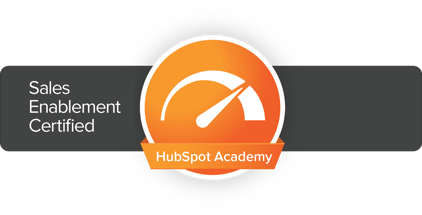 (Want to add this certificate to your resume? Get certified for sales enablement!)
After taking this course, you will learn to:
Answer the question: "How can I enable my sales team to close more deals?"
Develop a comprehensive sales enablement program.
Align marketing with sales.
Apply lead nurturing techniques.
Optimize your sales processes.


3. Sales Management Training
Six lessons
18 videos
Six quizzes
4 hours
The Sales Management Training Certification is designed for sales managers and leaders. It provides insights into building and managing high-performing sales teams. This certification covers hiring and onboarding salespeople, setting goals and quotas, providing adequate coaching and feedback, and analyzing sales performance. This certification will give you the skills to drive sales team productivity, motivation, and success.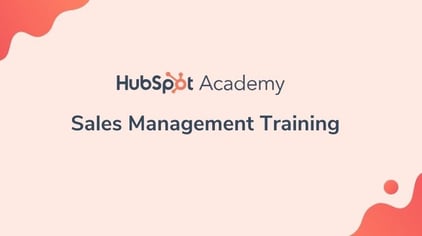 (Want to add this certificate to your resume? Get certified for sales management training!)
After taking this course, you will learn to:
Answer the question: "How can I effectively lead and manage my sales team?"
Develop strategies for hiring and onboarding sales team members
Align marketing with sales
Apply lead nurturing techniques
Optimize your sales processes


Four lessons
21 videos
Three quizzes
2 hours
The HubSpot Sales Software Certification focuses on leveraging the core HubSpot Sales Hub features to optimize your sales process. This certification covers managing and organizing your sales pipeline, using email templates and sequences, and leveraging sales automation. By earning this certification, you'll become proficient in using the HubSpot Sales Hub to streamline your sales activities, improve efficiency, and close deals effectively.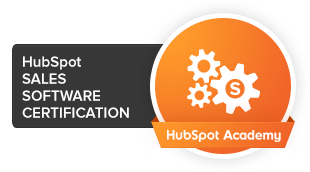 (Want to add this certificate to your resume? Get certified for HubSpot sales software!)
After taking this course, you will learn to:
Answer the question: "How can I leverage HubSpot to optimize my sales processes?"
Develop a structured approach for managing your sales pipeline
Align marketing with sales
Apply lead nurturing techniques
Optimize your sales processes using automation and AI tools


5. Frictionless Sales
Three lessons
12 videos
1.5 hours
The Frictionless Sales Certification offered by HubSpot Academy is designed to help sales professionals enhance their skills in delivering a seamless and frictionless customer buying experience. By earning this certification, sales professionals can gain the knowledge and techniques needed to create a more streamlined and efficient sales process, improving customer satisfaction and increasing sales success.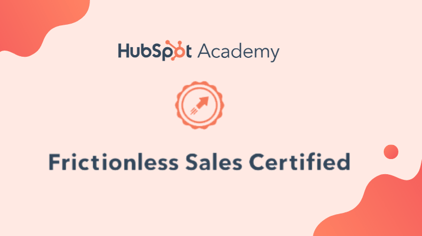 (Want to add this certificate to your resume? Get certified for frictionless sales!)
After taking this course, you will learn to:
Answer the question: "How can I negotiate effectiveness and achieve win-win outcomes in sales?"
Develop strong negotiation skills
Align marketing with sales
Apply lead nurturing techniques
Optimize your sales processes
These certifications and other relevant courses offered by HubSpot Academy provide comprehensive training and practical knowledge for sales professionals. They equip you with the skills needed to excel in different aspects of the sales process, from prospecting and lead generation to closing deals and managing sales teams. Earning these certifications demonstrates your commitment to professional growth, helps you gain credibility, and enhances your career prospects.
In addition to these certifications, HubSpot Academy offers various courses covering various sales topics, including objection handling, consultative selling, sales forecasting, and more. Explore the course catalog to find additional resources that align with your specific learning objectives and areas for improvement.
Partnering for Additional Help
We understand the importance of continuous learning and professional growth for sales professionals. As a certified and accredited HubSpot Platinum Solutions partner, we offer additional help and support for HubSpot onboarding and usage. Our team of HubSpot Certified Trainers, experienced marketers and sales professionals is dedicated to providing companies with personalized support in their sales, marketing, and HubSpot efforts.
Whether you need guidance in implementing advanced strategies, developing custom campaigns, or leveraging key HubSpot features, we're here to help. Our expertise spans various sales disciplines, including prospecting, lead nurturing, and closing deals.
By partnering with Aspiration Marketing, you can access personalized consultations, strategic guidance, and hands-on assistance tailored to your needs and goals. With our Sales Enablement consultants and access to world-class Sales Training and Coaching Resources, we work collaboratively with you to understand your business objectives and develop tailored sales strategies that drive results.
With a deep understanding of HubSpot's platform and methodology, we can help you maximize your HubSpot investment.
Ready to chat about your sales needs? We're here to support you!