Which One is Best? How to Choose a Blogging Platform? [Video]
Are you launching a website and looking to start a blog simultaneously? This post is for you. Your business's blog can be contained within the company website, or it can be hosted somewhere else. Maybe you want to keep the blog more personal to you, the CMO, or the marketing lead and link it to the company website as you decide what you want it to be.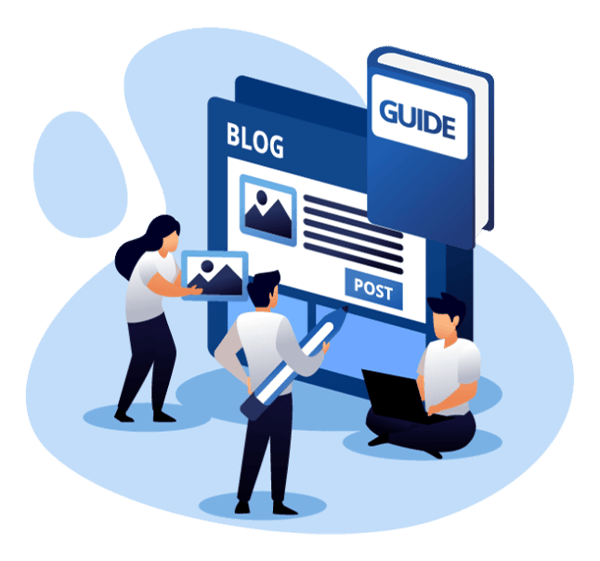 Many smaller companies prefer a complete website solution, seeing that as simplifying their world. Popular blogging choices include WordPress and HubSpot. Descriptions of their offer, pros and cons, and ease of use will be addressed below. Medium or LinkedIn provides some of the best third-party platform options if you prefer a more personal blog. They will also be addressed as we go. Let's dive in and see what you can do to take your blogging efforts to the next level:


WordPress
Before further talking about WordPress, be aware this is all about WordPress.org. Not to be confused with WordPress.com, which does not offer all the functionality or flexibility of the original, WordPress.org.
This is the most popular blogging software in the world. It is said to power a full third of all the websites on the internet. It is an open-source platform that allows you to build your website or blog in minutes.
You can expand your platform and add features like an online store or forums. There are thousands of themes to use in designing your blog/website, and you get access to over 50,000 plugins. These are the applications that expand what you can do with WordPress. Many of those plugins are SEO-specific, allowing you to further the functionality of your blog in that regard.
The functionality that allows you to create tags, categories, and URLs that will be SEO-friendly is built in.
One of the negatives often associated with WordPress is that a learning curve is involved if you manage this alone. And you have to take care of backups and security (both of which your host should provide).
HubSpot
HubSpot is a marketer and developer of software for inbound marketing and sales. However, that description does not do the company or its platform justice. The aim is to provide tools for social media marketing, content management, web analytics, and search engine optimization, all via the platform and additional services. Hubspot describes itself as an all-in-one inbound marketing solution. Everything related to your business's marketing is available in one place, whether as a built-in or an integration available via the extensive ecosystem.
As an all-in-one growth platform, HubSpot Marketing Hub helps companies grow by being better able to attract visitors, engaging leads, and working to enable you to delight customers. The platform encompasses marketing, sales, and support. All the pieces use the same database, so everyone in your organization works off the same system of record. The smooth handoff between marketing, sales, and support leads to a better customer experience.
For a business with a strong content marketing focus HubSpot, out of the box, offers one of the most robust ecosystems in this sphere. It has CRM, CMS, social media marketing, and analytics by default. And if that's not enough, additional integrations with other industry-leading solutions like Salesforce fill in any gaps.
In short, if the focus of your blog is content marketing, use HubSpot. And if you are looking for more information on the differences between HubSpot and WordPress, this is a thorough comparison. The good news is that you can start with free versions and work up to premier marketing automation solutions.

LinkedIn Pulse
Any LinkedIn member can create and publish their content using Pulse. This platform also allows you to track the demographics of your readers. You can see their industries, job titles, and locations. This can help build your reputation online, increase your credibility, and reach a large built-in audience. Many things you want to accomplish when blogging for business.
Once you publish a post, it becomes part of your profile and appears in your Posts section. Your followers and connections receive notifications of your new content. Any members who don't follow you but fit your industry or share connections can also receive an update about your post, which may convert them into followers.
You can connect with your target audience, write and publish useful content to engage customers and establish yourself as an industry thought leader. Pulse tells users of recommended content based on their connections, interests, and industries.
LinkedIn is, first and foremost, a social networking platform for C-suite and mid-level to more senior types, so it brings you an immediate audience and has SEO pull.



Medium
Medium is an easy-to-use blogging platform that has limited social networking features. It has become a community of writers, bloggers, journalists, and experts. It works like a social networking site in that you start by creating an account, setting up your preferences, interests, and so on, after which you can immediately start publishing.
Medium lets you have a blog separate from your company site, but you can link back and forth or to a page on the website.
There is no setup required and no coding skills needed. You immediately have access to an online community of people with similar interests. And you get to focus on your writing. There's no need to design a website.
On the negative side, very limited features for designing or building your brand exist. Medium owns your audience, so your followers go if you cease your blog.
That said, this platform has other positive aspects: the built-in audience, the additional SEO pull of being on a worldwide blogging platform, and the ability to link your Medium blog back to your company website.
So while we can't tell you what to do or which blogging platform perfectly meets your needs, hopefully, reading through this will help you figure out what platform or combination of platforms will work best for you and your business.