5 Ways Google's SGE Will Affect Your Content Strategy
Google is redefining how we experience the search process. What used to be a simple match-up of keywords has become much more focused on the realms of user intent in an attempt to cater to what browsers are truly seeking.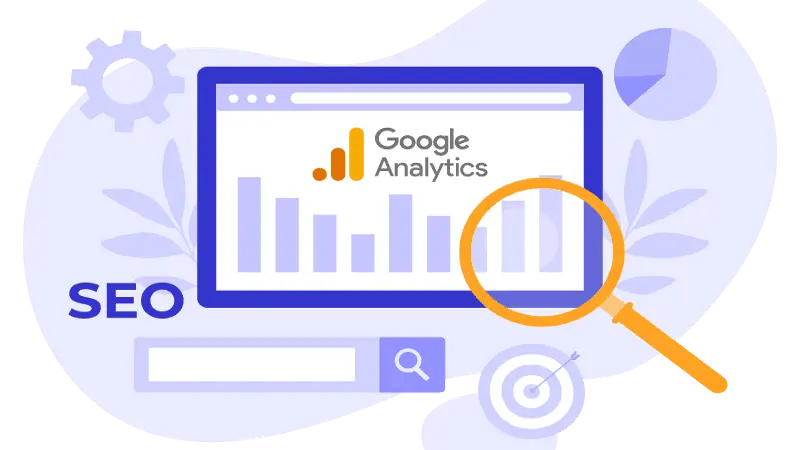 On the back of AI advancements, Google is pioneering the first natural, interactive search process, otherwise known as the Search Generative Experience (SGE). Not only will we be able to access accurate answers to our queries in seconds, but Google's SGE hopes to create a more conversational browsing experience packed full of rich, personalized insights to discover in just a few clicks.
The question is, what does this mean for content marketers and site owners in 2023? While the Google Search update may benefit its users, those hoping to make it to the top of the SERPS have some work to do if they want to rank highly under SGE.
With this in mind, we've put together a guide on the newest SGE updates and how you can expect your content strategy to change to adapt to a generative future.


What Is Google's Search Generative Experience (SGE)?
According to Google, "SGE is an early step in transforming the Search experience with generative AI. When using SGE, people will notice their search results page with familiar web results, organized in a new way to help them get more from a single search."
In other words, Google plans to use artificial intelligence to help analyze search requests in more depth for an answer that is more accurate than ever. Instead of presenting an answer based on one source, Google's SGE algorithm will consult the most up-to-date statistics, multiple websites, and helpful articles before formulating a new result personalized to the user.
In the words of experts from Google:
"With SGE, people will be able to:
Ask entirely new types of questions that you never thought Search could answer
Quickly get the lay of the land on a topic, with links to relevant results to explore further
Ask follow-up questions naturally in a new conversational mode

And get more done easily, like generating creative ideas and drafts right in Search"
Google aims to enhance search queries to answer questions without skipping from link to link. Take this Taylor Swift Concert search, for example. Instead of simply providing text-based search links, Google has formulated an AI-generated answer containing information sourced from a number of web results, images and even links to delve further.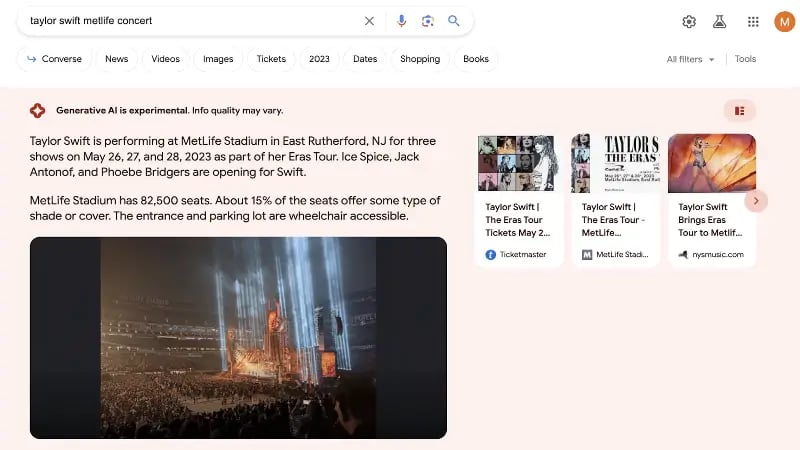 This saves the browser time and creates a visually appealing and personalized search experience for each user.
The question is, can we trust the accuracy of the content displayed?
"We hold SGE to an even higher standard when it comes to generating responses about certain queries where information quality is critically important," said Google in their recent I/O conference. "On Search, we refer to these as "Your Money or Your Life" (YMYL) topics – such as finance, health, or civic information – areas where people want an even greater degree of confidence in the results. Just as we do on Search, for YMYL topics, SGE places even more emphasis on producing informative responses that are corroborated by reliable sources."

"We've also trained the model to include disclaimers in its output, where appropriate. For example, on health-related queries where we do show a response, the disclaimer emphasizes that people should not rely on the information for medical advice, and they should work with medical professionals for individualized care."
How Will Google's SGE Affect Your Content Strategy?
Google's new SGE means that the search engine actively aims to understand a user's query on a deeper level. This means it's time to say goodbye to simple keyword optimization and hello to content that informs, engages, and resonates with potential target searchers.
The content you produce as a brand in 2024 must be intent-rich and keyword-rich.
To do this, your content strategy should focus on understanding the journey of your target searchers and, most importantly, how to answer the questions they ask.
Here are five ways your content strategy could evolve in the wake of Google's Search Generative Experience.


1. Optimizing For Featured Snippets
If you want to appear at the top of the SERPS, your content must be optimized to appear as a featured snippet.
Your site content should be written in clear, simple language and include a call to action in just the first few lines.

As Google's SGE generates an answer based on several sources, you want to make your content easy to crawl to be included as a source right at the top.
This includes adding keywords, conversational language, and, most importantly, a simplistic answer to the search query you're ranking for.


2. A Focus on User Experience
Did you know that over 80% of users are less likely to return to a site after a bad user experience?
Google's SGE focuses on providing the best experience for their browsers, so it's essential that your content is optimized to provide a streamlined journey on-site.
This includes creating accessible content for several devices, prioritizing faster loading times, and creating a consistent layout within your content strategy.


You Might Also Like This Post: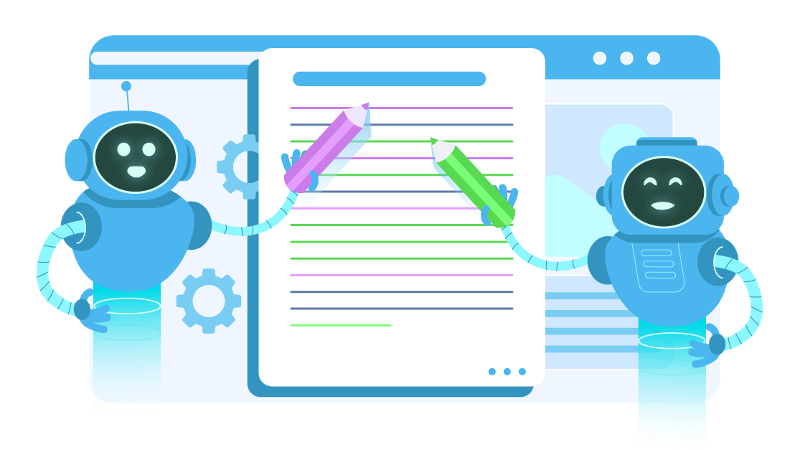 3. Diversify Your Content
Google's SGE puts pressure on content marketers to diversify their online content. This includes enhancing blog posts with infographics and videos for the best chance of appearing within an SGE search.
Diversifying your content formats suggests to Google that you can cater to a broader audience, therefore increasing your chances of ranking higher during a search result.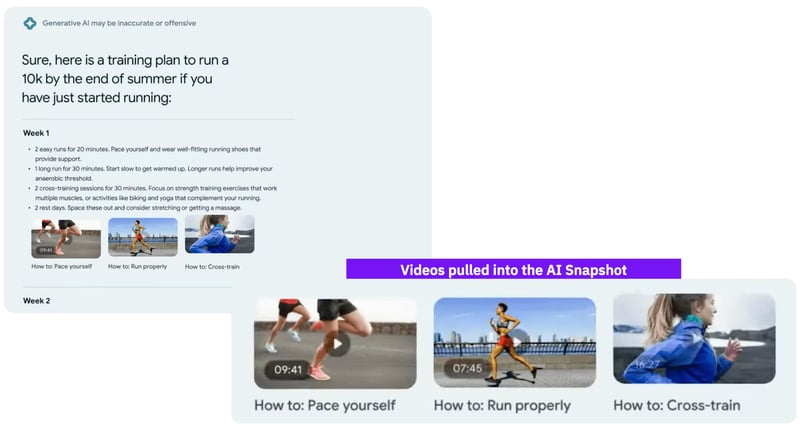 One platform to utilize in this instance is YouTube. Embedding your YouTube content onto your site landing pages and within your blog posts could put you with a better chance of appearing on the SGE 'hype reel', in which visual elements are tagged onto a generative AI search result.


4. Beware of AI
Google's SGE update centers around generative AI. While generative search helps align personalized content with user intent, it's essential to be cautious moving forward.
While Google actively uses AI to produce personalized search results, it'll still rank your content negatively if it identifies AI-generated content.
However, according to Forbes, 73% of top content marketers still use generative language bots like ChatGPT to enhance their content strategy.
If you plan on using artificial intelligence to enhance your content production, ensure that you're using AI detectors to review your content for plagiarism and computer-processed language regularly.


5. Keep Content Up To Date
Last but not least, make sure your content is up to date. This means you should be refreshing your stats, backlinks, and your tone of voice to adhere to new trends and a fast-paced online environment.
Google's SGE prioritizes the content with the most relevant information. Therefore, if your content needs a refresh, now is the time.
What Should We Expect From Google's SGE In The Future?
Google's SGE was first released in May 2023 and has raked in positive reviews from Google users since its journey started.
"We launched our generative AI-powered Search experience (SGE) more than three months ago, and we're encouraged that the early feedback has been positive," says Rany Ng, VP of Product Management at Google Search.

Since the initial rollout, we've continuously made improvements to make the experience even more helpful. In fact, we recently announced updates including more images and videos in overviews, improvements to how links are displayed and more.
Moving forward, we will likely see an enhanced Google searching experience driven by visual elements.
As content marketers make the move to shift their strategies in favor of SGE, could we see a future of website creation like never before? Only time will tell.