Should You Manage Launching a Website Yourself or Hire an Agency?
Are you in the process of developing a website for your brand or are you thinking of redesigning the current layout and design of your site? If so, you might be wondering whether or not you should go forward with a website redesign on your own or if you should hire an agency to help.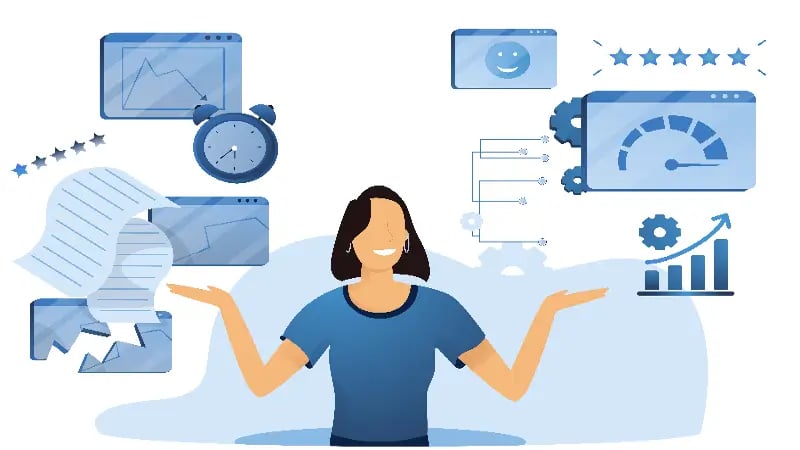 Once you are comfortable with the most popular methods of building and maintaining websites, you can choose a path that works for you and the type of website or online presence you intend to create. Understanding your options when building a website can guide you in finding a solution that is most fitting for your project needs and budget.


1. Choosing to Build and Maintain a Website on Your Own
Building and maintaining your website may seem intimidating if you are unsure where to begin and have no programming experience. Still, it is possible with many different DIY website builder platforms today. Some of the most popular website builders for those with little to no experience building websites include HubSpot Starter, Wix, Squarespace, and Weebly.
Using these DIY website builders can help you quickly build a simple website using drag-and-drop functions and the ability to easily upload and import graphics, logos, product photos, and even video media.


Advantages of Building and Maintaining Your Website
Cost: The biggest advantage of building and maintaining a website on your own is the ability to do so significantly cheaper than when working with a professional web designer or agency.

Complete control: When you build and maintain a website from scratch using your web servers, you can remain free from design restrictions or third-party control.

Easily update your website: The more familiar you become with updating your website, the easier it will be to maintain your website and make changes on a whim without a hassle.
Cons of Building and Maintaining Your Website
Time-consuming: Building and maintaining a website requires more than a few minutes and, in most cases, more than a few hours. Maintaining your website requires commitment and dedication each day, week, or month.

You are responsible: Is your content displayed improperly? Have you noticed a rude comment you want to remove from your site? Do you need to update your logo? Is a link outdated on your homepage? Any issues are yours when you build and maintain your website.

Security vulnerabilities: Any time you build and launch a new website, it is important to consider potential security vulnerabilities. When you build a website on your own and without the assistance of a DIY website builder or a managed agency, you risk exposing your website visitors to potential vulnerabilities.


2. Hiring a Web Designer to Assist With Building Your Website While Allowing You to Maintain It
Another option to keep in mind when building a new website is to do so with the help of a website designer while opting to maintain the website on your own. When you work directly with a web designer while also maintaining control of your website's updates, there are plenty of benefits and a few drawbacks to remember.
Advantages of Hiring a Web Designer
Professional and experienced: Professional web designers are well-versed in today's web design and coding standards. They also understand the importance of designing around content in a manner that is most appealing to a target audience.

Modern design: Professional web designers are also well-versed in using and applying modern design, even when building websites.


Drawbacks of Hiring a Professional Web Designer
As with any option, there are also a few drawbacks of hiring a professional web designer while opting to update and maintain your website yourself, such as:
Requiring ongoing updates: If you choose to work with a website developer to build your website, you may require updates over time, which will cost more without your development skills.

Cost: Hiring a web designer will still cost you more than working with DIY website builders, although DIY website builders are not the right choice for everyone and all websites.

Post-launch problems: Any issues you experience after your website has been developed and launched will require the assistance of an additional website developer for more time and money.


3. Hiring an Agency to Build and Maintain Your Website
Hiring an agency is one solution to consider if you are searching for a more hands-off approach to building and maintaining a website that can provide Pay Per Click or PPC solutions. Hiring an agency to build and maintain your website can help streamline your website management efforts while providing peace of mind knowing that your online presence is always active and updated.


Advantages of Hiring an Agency to Build and Maintain Your Website
Hiring an agency to build and maintain your website has many advantages, such as:
Spend time focusing on other facets of your business: When you have an agency by your side to build and maintain your website, you can spend more time focusing on other areas of your business that might require your attention. Focus on sales, inventory, marketing, and customer service instead of building your website while working with an agency.

Peace of mind: If peace of mind is essential to you, working alongside an experienced agency can go a long way. With an agency, you can rest easy knowing that your website is managed by an entire team of professionals.

Consistent updates: Always update your website when working with a web agency.

Security: Web development agencies understand the importance of web security and protecting against vulnerabilities online today. When you work with an agency, you can do so knowing that your website is updated, as protected, secured, and as encrypted as possible, regardless of the type of data or information being shared or sent on your website.


Cons of Hiring an Agency to Build and Maintain Your Website
Choosing to hire an agency to build and maintain your website may have a few drawbacks, including:
Cost: Depending on your budget, working with an agency to build and maintain your website may not be possible. However, you may not receive the same level of service otherwise.

Lack of control: If you are looking for a way to maintain control of the backend of your website or if you prefer to make updates to your website independently, a managed solution from an agency may not be the right choice for your business or brand.

More testing: In some cases, an agency may require more testing before it is willing to launch updates to a website live to the public. For some, this can be frustrating--especially if you need instantaneous updates to your website.
Familiarizing yourself with the different methods available and establishing the metrics to track for building and maintaining a website is extremely useful whenever you launch an online project, whether creating a website for the first time or being interested in a complete website redesign.