Aspiration Marketing is Awarded HubSpot Onboarding Accreditation
Aspiration Marketing proudly announces a most recent milestone: earning the prestigious HubSpot Onboarding Accreditation. This accreditation is a Hubspot credential regarded as a commitment to excellence and expertise in implementing the HubSpot platform.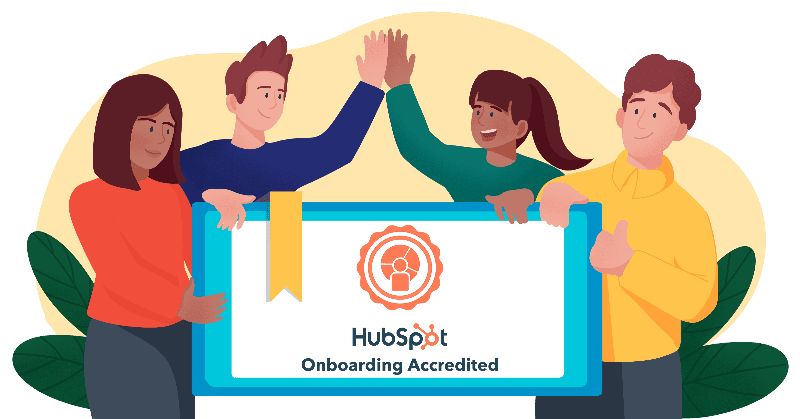 By earning this accreditation, solution partners showcase their understanding of the HubSpot platform and its ability to implement HubSpot solutions for clients. The accreditation reflects an agency's dedication to providing exceptional marketing solutions that drive results and empower businesses to thrive in today's competitive market.
With the HubSpot Onboarding Accreditation, companies can enhance their ability to streamline marketing efforts, optimize lead generation, and foster strong customer relationships. As such, they can leverage their accreditation to continue delivering top-notch marketing services and helping businesses unlock their full potential through strategic and effective utilization of the HubSpot platform.
What is HubSpot Onboarding?
HubSpot, renowned marketing and sales platform, has revolutionized how businesses attract, engage, and delight customers. At the core of this transformative platform is HubSpot Onboarding, a crucial process that ensures a seamless implementation and utilization of HubSpot's robust features.
HubSpot Onboarding is designed to help businesses maximize the platform's benefits immediately. It involves a comprehensive and strategic approach to setting up and configuring HubSpot's tools and functionalities to align with a company's unique marketing objectives and workflows. Through HubSpot Onboarding, businesses can effectively leverage features such as CRM solutions, email marketing, social media management, lead nurturing, and analytics.
The purpose of HubSpot Onboarding is to empower businesses to harness the full potential of HubSpot and achieve their marketing goals efficiently. It offers companies the guidance, training, and support needed to navigate and utilize the platform's capabilities successfully. By providing a structured implementation process, HubSpot Onboarding ensures businesses can make the most of HubSpot's powerful tools and features right from the outset, saving time and driving better results.
The benefits of HubSpot Onboarding are far-reaching. It helps businesses streamline their marketing efforts, enhance lead generation and nurturing processes, improve customer segmentation and targeting, and effectively measure and analyze campaign performance. With HubSpot Onboarding, businesses can establish a solid foundation for their marketing strategies, unlock new growth opportunities, and deliver exceptional customer experiences.
The HubSpot Accreditation Process
The attainment of the HubSpot Onboarding Accreditation is the culmination of a dedicated journey toward excellence in marketing implementation. Earning the HubSpot Onboarding Accreditation required meticulous efforts and a deep understanding of the platform. Companies must embark on a rigorous process to meet the stringent standards set by HubSpot. This involved extensive training, practical experience, and a comprehensive understanding of the HubSpot ecosystem.
What is an Accreditation?
"HubSpot accreditations are for solutions partner organizations that support the success of HubSpot customers at the highest levels of quality, services, and strategic insight."
To obtain a HubSpot accreditation, organizations must demonstrate the expertise, capacity, and practical experience needed to service customers with complex technical and business needs. Compared to HubSpot certifications, accreditations require rigorous prerequisites and practical application.
The HubSpot Onboarding Accreditation is an emblem of proven experience successfully onboarding new customers on HubSpot Pro and Enterprise Suite products.
Prerequisites fulfilled:
✓ Verify that 3+ certified users have each prerequisite certification, selected from a team of no more than five people.
✓ 2x certifications awarded across a team of up to five people
✓ Be an approved HubSpot Solutions Partner in good standing with HubSpot
✓ Meet minimum specific tier requirements (Platinum)
Team members must undergo training programs and workshops provided by HubSpot to hone their skills in various elements of HubSpot Onboarding, including CRM setup, lead nurturing workflows, marketing automation, content management, and analytics.
HubSpot partners are to implement an internal review process to ensure compliance with HubSpot's best practices, evaluating their processes against the accreditation standards. They must incorporate feedback from HubSpot experts and continuously refine their strategies to deliver high-quality service to their clients.
Throughout the accreditation process, companies should prioritize collaboration and knowledge sharing. Team members are to actively participate in HubSpot's partner community, engaging with fellow professionals, sharing insights, and staying up to date with the latest trends and developments in the industry. This collaborative approach fosters a culture of continuous learning and improvement within the agency.
A commitment to client success characterizes the journey to accreditation. Agencies must prove the implementation of HubSpot Onboarding for numerous clients, leveraging their knowledge of the platform to develop tailored strategies that align with each client's unique goals and objectives.
By earning the HubSpot Onboarding Accreditation, HubSpot partners solidify their position as a trusted authority in implementing the HubSpot platform. The accreditation is a testament to an agency's dedication to excellence, innovation, and the never-ending pursuit of marketing mastery.
Moving forward, HubSpot Onboarding Accreditated partners are poised to leverage their knowledge of HubSpot Onboarding to provide even greater value to clients. This demonstrates an ongoing commitment to staying ahead of the curve, continuously evolving strategies, and embracing emerging trends to deliver cutting-edge marketing solutions that drive tangible business outcomes.
Thanks, team. Thanks, HubSpot.


Are you looking for support in guidance in your HubSpot efforts? Let our experts help you! Find out if your business is a good fit for HubSpot Solutions. Discuss what configuration of hubs is right for you. Become comfortable with the solution you have and how to get the most out of your investment.