17 Simple Ways to Immediately Improve Your Facebook Page
Generating leads and customers from your startup's Facebook page requires creating your page with a comprehensive strategy that will get you noticed. For example, you can't just choose a picture; you have to pick one that has the right dimensions, is high-resolution, and represents your brand.
Here are some tips to help make sure the page you create is engaging and takes full advantage of all Facebook marketing can offer to attract more social media followers eventually.
1. Update your page template.
When using Facebook Social Media for B2B, pick the template that has default buttons and tabs best aligned with your business type and your goals. Fully utilize the included tabs. You can customize these tabs later to support more specific aspects of your business, like services offered or a custom app.
2. Have a recognizable profile picture.
This should be your logo. It will show up in search results, at the top of your Facebook page, and as the thumbnail that's next to your posts in feeds. Be sure to confirm that you've met the picture dimensions currently required by Facebook, and be sure you've taken mobile dimensions into consideration as you plan your profile picture.
3. Make sure your cover photo is engaging.
This photo takes up the most real estate above the fold on your page, so ensure it is of excellent quality and engages your visitors. Here too, remember to check on current guidelines for size requirements. Refresh regularly to promote what are currently the most critical aspects of your business: anything from products, services, offers, or career opportunities. And be sure to align with your current CTAs.
You Might Also Like This Post: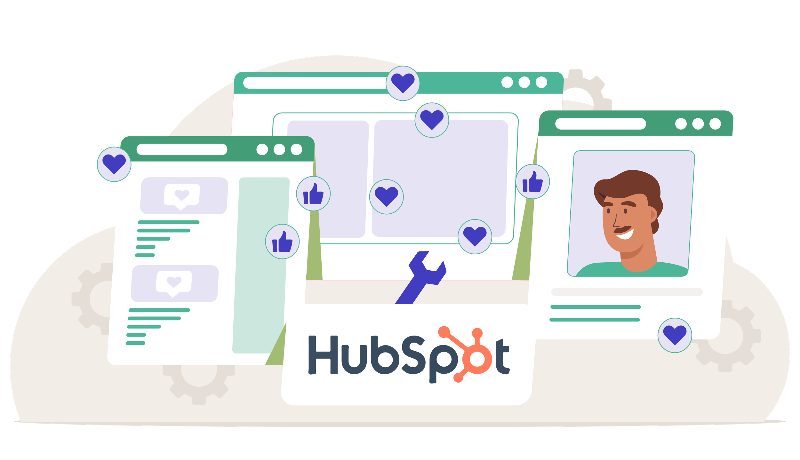 4. Follow Facebook's guidelines, specifically for the cover photo.
For your page to exist, you need to follow Facebook's guidelines. A couple of things to remember: your cover can't be deceptive, misleading, or infringe on any copyrights.


5. Stay visual with your cover.
The old 20% text rule no longer applies, but be sure to keep any text on the cover photo concise and on point.


6. Remember your branding.
Match the focal point and colors of your Facebook page to your brand. Confusing people will make them leave your page. Your social media presence is an extension of your brand and should convey the brand personality to visitors from the moment they arrive on your page. Cover all your bases by checking your social media accounts against our branding checklist.


7. Include a link in the cover photo description.
That way, when people click on your image, the link will display. The link should align with your page CTA.
8. Get the most out of your call-to-action (CTA) button.
Your options for the on-page CTA button have expanded. Every choice can be customized with a URL or some content. The best choice can drive more traffic to your website or to a bit of Facebook content you want to promote. Update the CTA button based on current campaigns and offers. Keep it aligned with your marketing objectives and your published content.


9. Optimize the "About" section and its preview.
Use the preview section on the left side of your page to tell visitors what your page and your brand are about. Be descriptive! This copy will be pulled from the Short Description you wrote for the full About tab. Optimize what best aligns with your brand: a general description, mission, company statistics, milestones, awards, hosted events, or brand story.


10. Post photos and videos to your Timeline.
Visual content is 40 times more likely to be shared on social media than other types of content. Live videos keep visitors' interest 3X longer than ones that are not live. Give your visitors an insider's look at what you do behind the scenes.


11. Important posts should be pinned to the top of your page.
Use the ability to keep a particular post literally on top of your timeline to promote things like new offers, events, or product announcements.


12. Effectively utilize Messenger.
This Facebook tool helps you develop customer relationships by enabling users to contact or message you through your Facebook page or the stand-alone mobile app. You can create pre-set greetings and automated responses that support you during off-hours so you feel accessible to users anytime they have feedback or inquiries.


13. Use images.
Include images with your text when posting anywhere on your Facebook page to increase visitor impressions and engagement.


14. Share images of great quotes.
People want to be uplifted, so they appreciate the inclusion of motivational, educational, and inspirational images of short quotes that are relevant to your brand's story. These quotes add a new tone to your brand that keeps people coming back to check for new similar postings. Be sure your alt text lines up with the image and quote so the algorithm can categorize it and put it in the relevant news feeds.


15. Post status updates on your timeline.
Liven up the content you share to make your fans excited. A couple of ideas: tell the first part of a joke and let the community finish it; tell a riddle; or pull out a fact, statistic, or tip from a blog post as a teaser.


16. Have complete meta descriptions for all blog posts.
This is your chance to sell your visitors what you offer—informative, valuable content. If you aren't careful when you compose the meta description for your blog posts, when you post them on Facebook, Facebook may just pull in the first text it finds, which is not the user experience you want. You want a meta description that's compelling enough to get people to click, and it should be no more than 155 characters long.


17. Ace the competition.
There are more than a billion Facebook users. There's a commensurate amount of information out there and innumerable Pages competing for their visits. Pay careful attention to your business/brand page, stay consistent, post valuable content, and always respond to any comments. You'll get all the attention you want. But you still have to refresh and update regularly.