SEO for Your Practice Area Pages
When you are beginning to think about online marketing for your law firm, you'll want to consider a wide range of internet marketing strategies, from regular blogging to content creation for potential new clients. Many lawyers who are leaving larger firms to start their own smaller and mid-size firms will need to consider ways that technology can assist in marketing their business. As for law firm marketing, there is not one specific way of marketing or type of marketing that will work for every firm. However, it's important for law firms that are considering a marketing strategy to think through the type of readers they're seeking, and how they want their web presence to bring in clients, potential employees, or other people who may be clicking on a home website, landing pages, or a blog.
When it comes to helping potential clients or other interested readers to find your website and the pages within it, you need to think about search engine optimization (SEO). While you'll want to consider SEO on nearly everything you develop as part of your online marketing strategy, we want to specifically discuss the links among SEO, landing pages, and practice area pages for a law firm.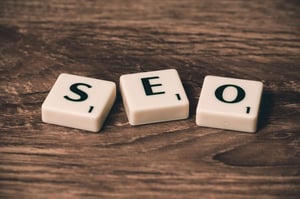 What is SEO and Why Is It Important to Consider?
If you've never done any work creating content for websites, you may not be familiar with the term search engine optimization, or SEO for short. Or, maybe you've done a little bit of work and know that SEO is a way of making sure that certain online content is optimized in such a way that people who are looking for it will find it, and perhaps you've even read about using keywords or key phrases to attract readers. These elements are part of SEO, but as Hubspot explains, they're certainly not the only part of SEO. And before we say more about what SEO means in 2020, it's important to keep in mind that methods for search engine optimization are not fixed. To be sure, what works now certainly isn't what worked in the early 2000s, and it likely won't be what people are doing a decade from now. Algorithms change, but the goal remains the same.
Okay, so if SEO is fluid and changes with technological innovations and internet user practices, is it even worth learning more about how to do it? The answer to that question is yes—although methods for SEO have and will continue to shift over time, the aims of SEO generally remain the same. Search engine optimization simply means using certain practices to help make your website and any internet pages findable and visible to your target reader. In other words, you should think about who you want to target with your website and pages within it. Is it a potential family law client who is searching for a divorce lawyer? Is it a person who is planning to start a small business and needs assistance with business entity formation? Or is it a lawyer who currently practices at a large firm and is thinking about transitioning into a role at a smaller or midsize firm? For each piece of material you make public, you should be thinking about the target reader and how SEO can help that reader find you.
Ultimately, a primary goal of SEO is for whichever page you are optimizing to rank highly in internet searches. What does that mean? For example, when a person types in search terms on Google or Safari, she'll get a list of possible sites to click on, and those sites appear in a particular order. Most internet browsers will click on the first or second link, and they may even scroll down to the bottom of the page. However, many people won't click through subsequent pages. Accordingly, you want to do everything you can to have your firm page be that first or second click. And even if you can't rank that highly yet, you want to do all that you can to be "found" on that first page of search results.
Find more information about SEO and other good habits on our Law Firm Marketing page.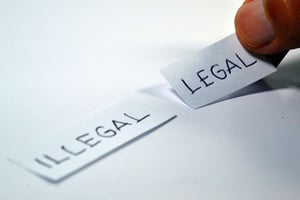 Is There a Difference Between Landing Pages and Practice Area Pages?
So now you know what SEO is and how it can be used to bring internet traffic to your law firm's website and the detailed content you are creating. We want to discuss SEO on your landing pages and/or practice area pages, but first we want to consider whether there is a difference between landing pages and practice area pages.
If you begin searching for information about how to build a law firm website, you'll likely encounter information about landing pages and practice area pages. You might even find information that sounds like it's referring to both landing pages and practice area pages. We're here to help explain that, for most law firms, practice area pages are landing pages. The term "landing page" is one that refers to a site designed to generate leads. It's a term that is not specific to law firm marketing, but rather is designed as a page on which an internet user will "land" after running a search and clicking on a link, and then the landing page will seek information from the user through a contact form or similar item. Any kind of business can create a landing page. Depending upon the size of your law firm, your website home page will likely be a landing page, but individual practice area pages will also likely be landing pages. Landing pages are not defined by their content, but rather by what they're designed to do. Practice area pages will usually be tailored to specific legal content, but they'll also likely be designed to generate leads
Now that you understand the relationship between landing pages and practice area pages, what can you do to optimize your practice area pages for internet searches?
Tips for Practice Page SEO
You'll want to focus on SEO to at least some extent when you're developing your practice area pages for your firm's website. The following are some tips to consider in order to ensure that internet searches bring up your firm's links and thereby generate business for your firm:
Think carefully about your "buyer" (the person who will be searching for the practice area pages on which you want them to land), and what kind of information that buyer is seeking. In other words, what are your "buyer personas" and what keywords and phrases might they use to find your practice area pages?
Consider keyword and key phrase searches for your buyer personas, and incorporate those keywords and phrases into your practice area pages.
Work with a website designer to ensure that the technical elements of your practice area pages are optimized, include the code. By working with a website designer, you can make sure that the architecture of your website will result in search engines "crawling" your site (or discovering your specific practice area pages). If your practice area pages are not visible to search engines, then search engines cannot crawl those practice area pages and ultimately cannot index or rank them. Once a search crawls your practice area pages, then those search engines will store the information from those sites. This latter process is known as indexing. Finally, search engines will decide, based on the index, which websites best respond to a specific internet search, and then it will rank or order websites in response to searches.
Learn more about mobile SEO, and make sure you've optimized your practice area pages for both desktop or laptop usage, and for searches on a mobile device.
Understand the difference between helpful links and unhelpful links for SEO purposes. You'll want to have different types of links, and you'll want them to go to reputable sites. On practice area pages, you can link to your own firm's contact page or blog, but you should also consider providing links to legitimate sources.
Remember, nothing you put on the internet is set in stone. You should remember to be flexible, recognizing that you can always make revisions.