How to Start a Legal Blog
Starting a blog for your law firm can play an essential role in helping you to develop your business and to expand its reach in your community. In the 21st century, technological innovations, including the Internet and various social media platforms, have replaced older modes of communication. Law firms are not reaching clients through phone books or word-of-mouth as much as they are reaching clients through internet searches. Starting a legal blog for your law firm can help you to attract potential clients and to build a reputation.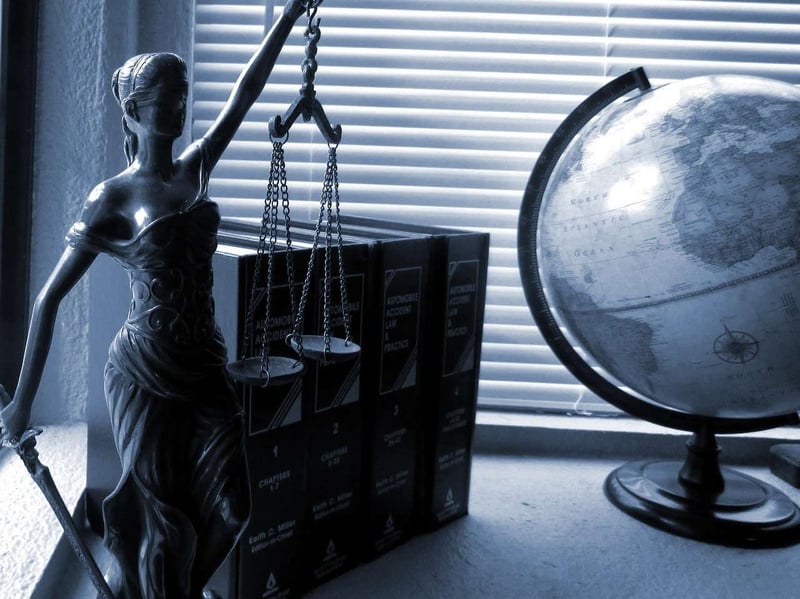 Not all law firm blogs receive equal attention from Google searches, and not all legal content reaches or attracts potential clients in quite the same way.
Why do Legal Blogs Matter?
Over 1/3 of potential clients start their attorney search online. To attract new clients, you must have a solid online presence. A legal blog is a great way to do this, as it can help you establish yourself as an expert in your field and attract visitors to your website.

65% of law firms spend most of their marketing budget on online marketing. Online marketing is an effective way to reach potential clients. A legal blog can be a valuable part of your online marketing strategy, as it can help you attract visitors to your website, generate leads, and build your brand.

The average lawyer blog gets about 1,000 visitors per month. Even a small legal blog can impact your law firm's bottom line. Your legal blog can help you attract new clients and grow your business if you can consistently produce high-quality content.

70% of lawyers who blog say that it has helped them to attract new clients. Blogging is an effective way to generate leads for your law firm. If you're not blogging, you're missing out on a valuable opportunity to grow your business.

The average legal blog post takes about 2 hours to write. This means that blogging doesn't have to be a considerable time commitment. Even if you can only write 4-8 blog posts per month, you'll still be able to see results.


Consider the following steps when starting a blog for your law firm. Some steps speak to the technical aspects of starting a blog, while others consider the type of content you want to develop to attract clients.
To learn more, look at our Guide to Law Firm Marketing.


Register Your Domain Name
A basic and essential first step for any law firm blog is registering a legal blog's domain name. Before you do so, it's essential to understand why you need a domain name. A domain name is a unique address for your law firm's blog. It's the web address that any user will enter into the browser bar to search for your legal blog, and it's the web address that will show up in that browser address bar when someone clicks on the homepage for your blog. For example, a domain name might be something like: MyLawBlog.com. You might be asking yourself: isn't this my website? Knowing the difference between a domain name and a website is important. The domain name is the internet address for your website, while your website is the content people can read (i.e., your blogs).
Next, you'll need to consider whether you want a separate domain name for your blog or whether you will want a subdomain within your law firm's website. A separate domain name would be something like the example above: MyLawBlog.com. A subdomain or subfolder within your law firm's website is slightly different. If your law firm already has the domain name SmithLawFirm.com, then a subdomain for your blog would be something like blog.SmithLawFirm.com, while a subfolder would have an address such as SmithLawFirm.com/blog.
There are benefits and limitations to both approaches. Both can have backlinks to your other blog posts and can link to your law firm's content. Sometimes, a subdomain or subfolder can be better for search engine optimization (SEO). Still, the American Bar Association (ABA) or Canadian Bar Association (CBA) and local ethics rules for marketing or advertising may limit blogs posted on subdomains or subfolders instead of those posted on stand-alone domains.


Set Up Web Hosting for Your Law Firm's Blog
After registering your domain name, you must set up web hosting for your legal blog. If you already have a website for your law firm, you may know a bit about a web host or a web hosting service provider. In brief, a web hosting service provider is a business that houses your website and allows it to be viewable to readers on the internet. A web hosting service provider gives your website a "home" of sorts on the internet. Without a web hosting service, it can be difficult for potential clients to search for your website or to locate any of the blogs you will be posting. Accordingly, your blog may not reach its intended audience without a web hosting service.
In sum, a web hosting service provides the technology that allows the content you create to find the readers you imagine for your blog posts. You can choose from a wide variety of web hosting service providers. Some web hosting services require you to have purchased a domain name in advance, while others allow you to buy a domain name from the web hosting service. As discussed above, you'll want to think carefully about whether a separate domain name is best for your law blog, as opposed to a subdomain or subfolder connected to your law firm's website. For many firms, making the decision to start a blog can be a catalyst for overhauling your law firm's website and working with a better web hosting service provider.


Know the ABA, CBA, and Local Rules for Blogging Ethics
We want to move beyond technical matters for creating a law blog to developing content. The American Bar Association (ABA), the Canadian Bar Association (CBA), and other national organizations for lawyers have ethics rules and requirements for advertising or marketing, and many of these rules apply to law blogs. In addition, the state or province where you are licensed to practice law likely has its own set of ethics rules about marketing and advertising.
You do not want to run afoul of the ethics rules that limit what you can put in a law blog. Most of these rules relate to promises you might make to potential clients about outcomes, revealing information about past cases without obtaining consent, or advertising expertise in an area of the law without requisite certification.
Develop a Roadmap for Your Posts
Certainly, you can simply begin writing a legal blog with content for your firm once you have the technical aspects in place, from registering a domain name to setting up web hosting for the blog. Yet the best law firm blogs—as with any business blog—begin with a clear framework. When you prepare for a negotiation or a trial, you know how important it is to have an overarching narrative with key points you want to convey to your audience. The same is true for your law firm's blog. As such, you'll want to think through a roadmap for the content you want to create before you develop it. As you establish a roadmap, remember that nothing on a blog is set in stone. Unlike print publications, you can make revisions to improve the content.
Know why you are starting a blog for your firm: When you are in the early stages of starting a law blog and are beginning to think about the type of content you want to create, you should keep the "why" in mind—why are you blogging? Your blog topics should speak to that "why" in distinct ways, and you should think about different types of blogs that can help you reach your goals. For example, some blogs may be "evergreen" posts that are not time-specific or newsworthy but answer potential client questions that your readers may continue to have for many months and years. Conversely, you may consider blogging about newsworthy legal issues that could draw clients interested in joining a new class action claim, for example, to your firm.

Consider your reader: Always keep your reader in mind. If you are blogging for potential clients, you want to think about the persona of that client and what type of information that potential client is seeking. You can also take advantage of certain "readability" tools, for example, provided by your web hosting service, to ensure that your content is suited for your reader.

Think about your voice and tone: As you consider your reader, ensure your voice and tone have that potential client in mind. Most likely, a potential client without any background in the law does not want to read legalese. Rather, most potential clients will want to know that you have the requisite knowledge to assist them while also being able to explain legal issues and answers to legal inquiries in a straightforward way.


Creating a Blog Calendar
You should create a blog posting calendar in which you think about the specific content of your upcoming blogs and schedule them to post. As mentioned above, you'll want a roadmap that helps you target your ideal reader. In so doing, you'll want to plan out a series of blog posts that answer your reader's questions, inform them of specific legal issues they may be seeking, and ultimately clarify why your firm is in an excellent position to assist them.
As you develop the roadmap for your blog posts, you should integrate your posting calendar. As with any good piece of legal writing, you'll want to think about the order of the blog posts and how they relate. Do not schedule your blogs to post all at once, but instead, consider a calendar in which 2-3 blogs post each week.


Write and Publish the First Blog Post
The final step in starting a blog for your law firm is writing and publishing your first post. If you do not see immediate results from your law blogs, you should not necessarily worry. Blogging is a long-term investment, and it can take months (and sometimes years) before your content begins to generate the type of interest you want, and in the end, the investment in time and energy will be worth it. Many marketing firms offer services to law firms seeking to expand their internet presence and can discuss your options for starting your law blog.
For more information about blogging, check out our Law Firm Marketing page.