How to Export LinkedIn Contacts with Email
Are you searching for a method to export your LinkedIn Contacts and their email addresses? Whether you're in sales and are prospecting on LinkedIn, a recruiter, someone who regularly organizes your connections, or looking to become a trusted voice on LinkedIn, it's crucial to understand how to make the most of it.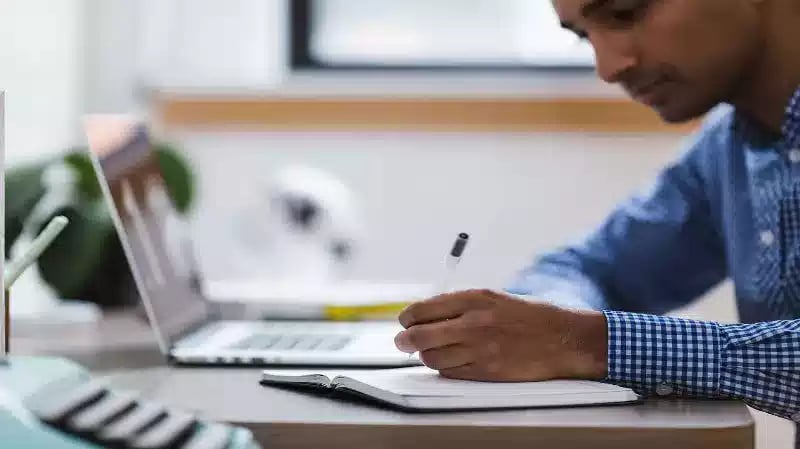 If not, it's a pretty simple process:
Downloading Data from LinkedIn:
1. Click the 'Me' dropdown menu in the upper right-hand side of your LinkedIn navigation bar.
2. Click 'Settings & Privacy.'
3. Click the 'Data Privacy' tab.
4. Scroll down to 'Get a copy of your data', which is under the 'How LinkedIn uses your data' section.
5. Click 'Get a copy of your data.'
6. Select the data (in this case, 'Connections') you want to export. Click 'Export Your Data.'
7. Click the 'download it with this link' prompt in your notification email.
8. Click 'Download archive.'
9. Open your .CSV file to access your data.
All in all, it's a pretty intuitive process. Except, there's a catch. When you go to open your spreadsheet, you'll notice that something very crucial is missing; email addresses. Talk about a glaring omission. But, there is a method to the madness.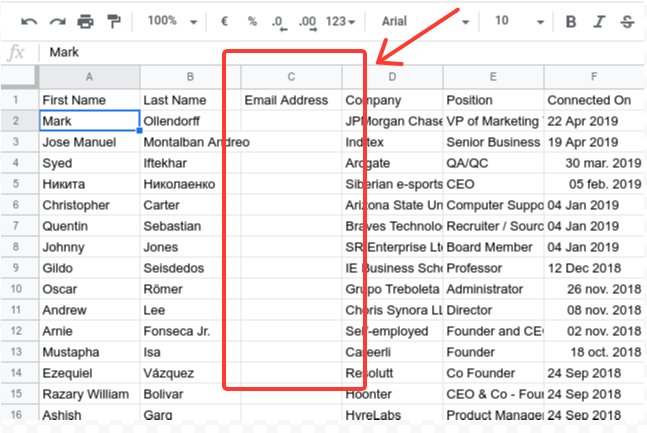 Before 2018, you could pull all sorts of information from LinkedIn for offline use without problems. But, to curtail any spam attempts and to maintain privacy, LinkedIn quietly added a setting where users could elect not to share their info readily. Now, every user has the strongest privacy setting enabled by default, which maintains their privacy, but makes it harder for everyone else. So unless someone goes in and changes their privacy settings to allow their direct, 1st-degree connections to download an address, you're out of luck.
You Might Also Like This Post: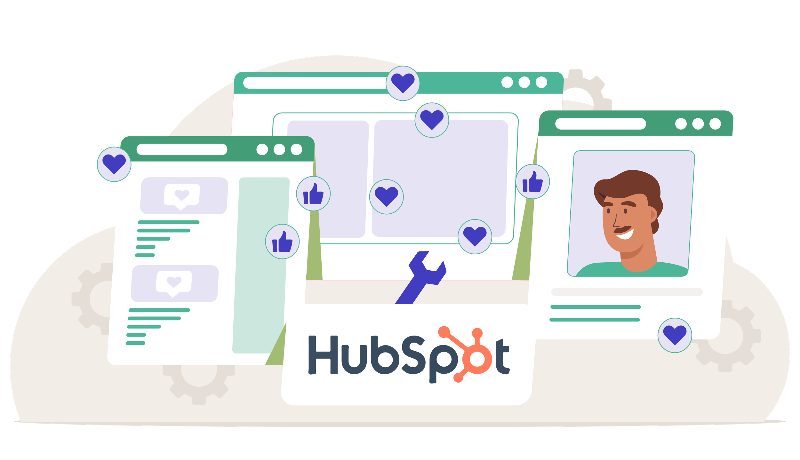 Thankfully, there are 3rd party solutions to this. Not all are equal, and most are just variations on the same theme. Also, LinkedIn is not a fan of these tools, as it contravenes their attempts at privacy and further prohibits automation. Hence, none of them offer a practical solution.


Option 1: Use SalesQL
This external tool is perfect for recruiters or those that use LinkedIn for generating sales leads, and it also seems the easiest to use, but there are a few strings attached. Mainly, there's only so much you can do with the free version. To truly unlock everything they offer, you'll need to open your wallet and subscribe. It is, however, a popular choice.
Here's how it works:
Step One: Download and install the SalesQL extension in Chrome.
Step Two: Click on the SalesQL icon, open the menu, and click "Download Connections." Fig. 1
Step Three: Click on "ADD CONNECTIONS" and set the number of contacts you want to download. By default, it's going to a maximum of 100 credits for the month, which works out to 100 connections or so. Fig. 2

Fig. 1: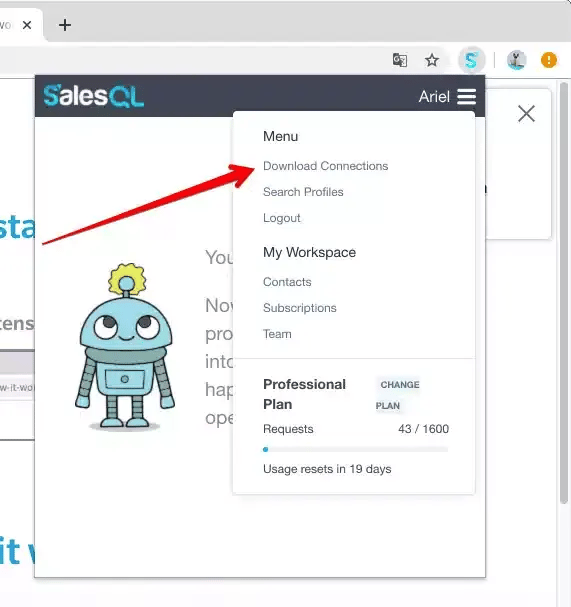 Fig. 2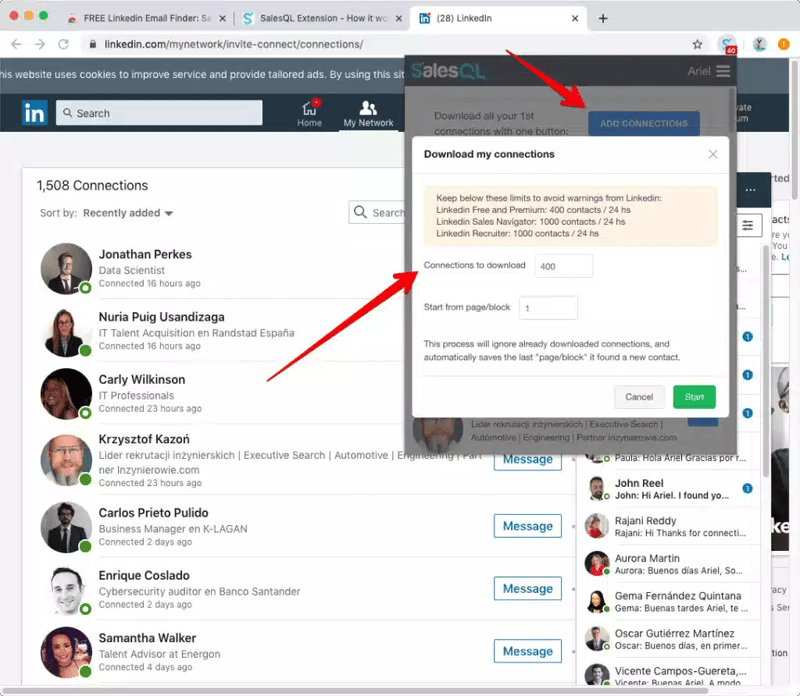 Then let it work its magic. This extension will extract personal and business emails and phone numbers from your direct connections. The significant part is that it will extract email from almost any LinkedIn contact (1st, 2nd, and 3rd+ connections.)
According to the SalesQL experts, it's best to limit how many downloads you do in a 24-hour period, depending on your LinkedIn subscription, as their software does a scan of every profile you extract. You don't want to have any issues with LinkedIn. Again, this is only after you subscribe due to the default limit.
Now, everything will end up in your SalesQL dashboard.
Now, to the reason you came here, exporting those emails. Unfortunately, this is as far as possible with the free version. To do more, subscribe to one of SalesQL's three plans, which offer various features.
All of them, however, do offer the option to export your connections data to a CSV or Excel file, and all the required information will be there.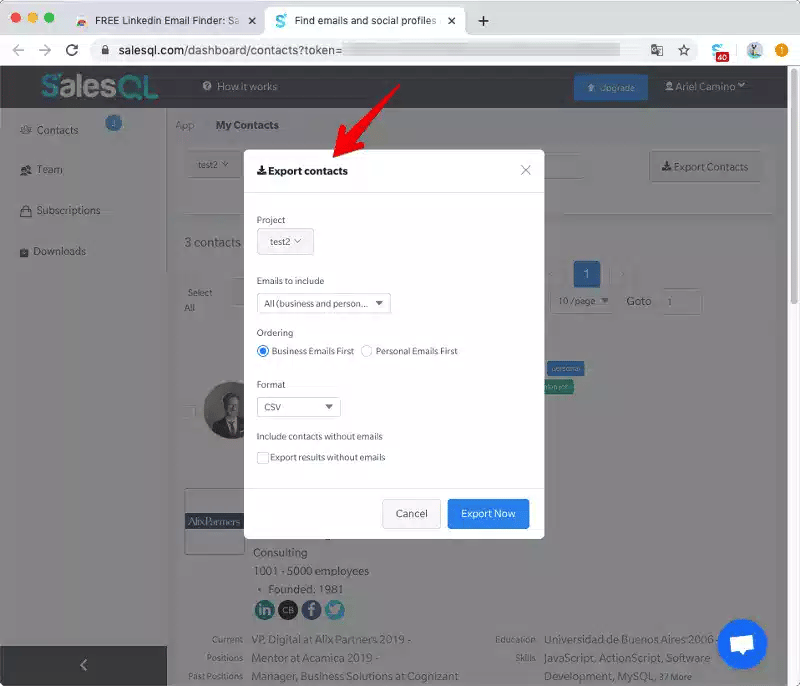 Option 2: Use SignalHire
Like SalesQL, SignalHire offers a Chrome extension and is positioned more as a hiring and lead-generation tool. Also, like the former, it's got useful tools that are regretfully behind a subscription model. Also, there doesn't seem to be a bulk download option in the free version, only a profile-by-profile exploration. This tool is better if you're looking to chase after someone or something specific rather than downloading all your contacts and wanting all the different email addresses and phone numbers associated with them.

Once you've downloaded the extension, then it's a matter of deciding where you're going to use it. This extension works across LinkedIn, as well as other social platforms such as Facebook, GitHub and Twitter, to find both personal and professional emails.
Since we're talking about Linkedin, it's just a matter of opening up your contacts, finding the profile you're interested in, and clicking on the extension. It will then pull up any and every verified email associated with that individual, as well as their phone numbers. (Fig. 3) You can also export it to an external CRM such as Salesforce or Hubspot, which is great if you populate your pipeline with pertinent info. (Fig. 4)
Fig. 3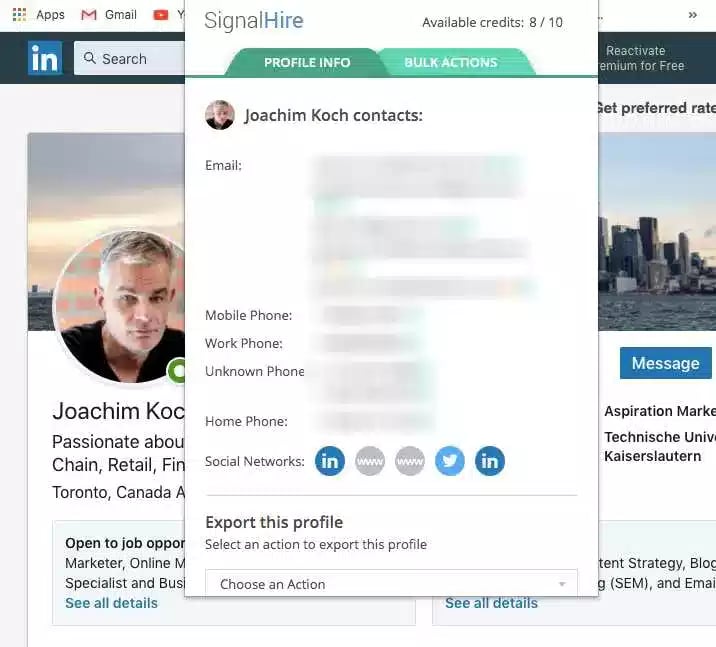 Fig. 4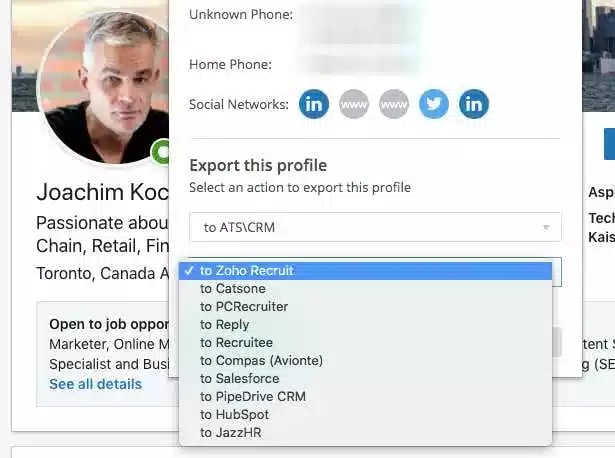 Sadly, there's not a lot you can do with the free version, but if you decide to subscribe, you do get unlimited access, a bulk finder, and a data migration service. You can learn more on their website.
Option 3: Dux-Soup
In addition to allowing you to download emails, Dux-Soup is automation software that can make it easier to identify potential prospects. It takes away much of the legwork involved so that you can focus on growth and the deal-closing stage. What makes this one worth the money for many is that it can handle, like most robots, many mundane tasks and frees up much of your time. It's kind of like a virtual LinkedIn assistant.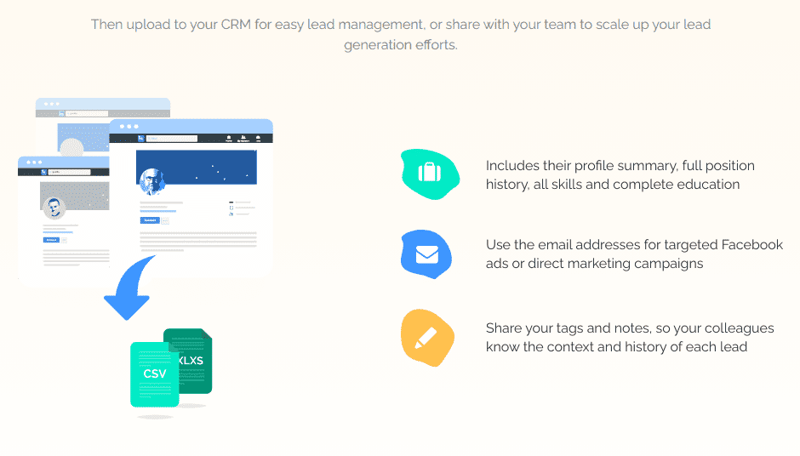 Dux-Soup offers three different plans; a Starter version that offers a basic prospect finder and supports your existing Business and Sales Navigator accounts, a Professional version that includes the ability to download CSV/XLXS files into your CRM and tag profiles with custom labels, and a Turbo version that includes all of the above, as well as a whole host of automation features, as well as Zapier/Hubspot integrations.
Currently, Dux-Soup only offers a Chrome Plug-in that integrates seamlessly with your profile.
Option 4: Everybody else
As I mentioned above, most of the other tools to uncover the email addresses of your LinkedIn contacts are similar enough that they can be grouped. These work best as lead generators rather than as archival tools.
Most of these offer Chrome/Firefox extensions and work under the same principle of offering a small monthly stipend of credits/inquiries/etc. for free, but have more to offer behind a subscription. These include:
In looking at this handful (and plenty more out there), they all essentially offer a similar outcome, with different tools along the way. What you're looking for will determine which LinkedIn tactics and services resonate best with you, how to export LinkedIn contacts with email, and other ways to maximize LinkedIn's value. Nota bene, Aspiration Marketing explicitly encourages you to follow the terms and conditions of each of the highlighted solutions providers.