5 Tips to Level Up Your Referral Marketing Game
We've delved into social media, email, and blogging on this blog to understand how these components can enhance your sales and marketing strategy. But word of mouth is one crucial (and often overlooked) element of a cohesive, propulsive marketing strategy.
By that, we mean referral marketing, which may sound almost archaic in today's uber-digital, connected world, but the act of a recommendation from one person to another about a company, product, or service still holds water in terms of stimulating driving conversions, and long-term growth.
Business Solution highlighted several startling statistics regarding the power of referral marketing, especially considering how prevalent this overall marketing strategy is in today's business landscape. For example, people pay 2X more attention to a friend's recommendation than a more traditional marketing piece like a radio ad or a commercial.
Now that we have your attention, how about the fact that referred customers are less likely to cease relationships with your company, which makes them more loyal to your brand. Think of it this way: when a friend recommends a restaurant, and you enjoy said restaurant, the likelihood that you return to it, again and again increases massively.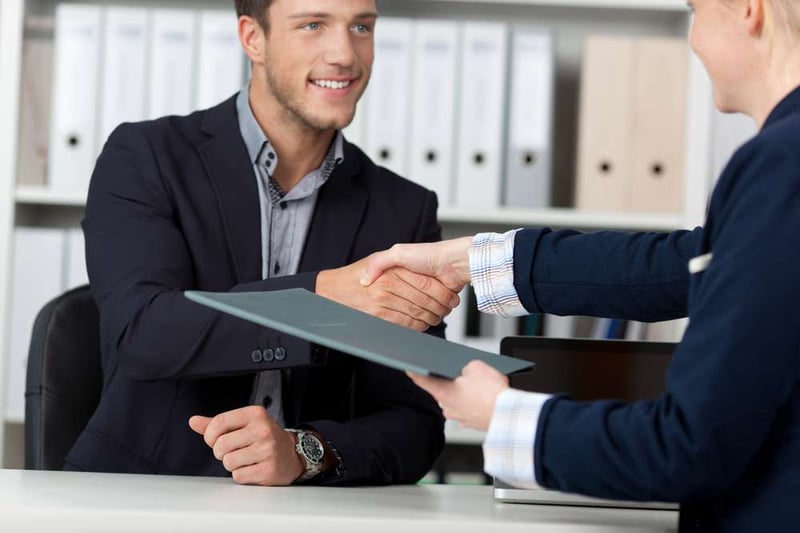 So, given these insights, how should you approach referral marketing in the 21st century? How can you leverage referral marketing while incorporating modern tools and strategies within your sales and marketing architecture? With this in mind, let's look at five tips to level up your referral marketing game and how this can significantly impact how you position your products and services and how those products and services are perceived.
Make customer service a focal point.
Thinking back to our restaurant example from a moment ago: People, of course, expect the food at a restaurant to be of a certain level of quality, but even if the chef has an off night, a positive experience in terms of customer service can often make up for gaps in the quality of the meal. I don't know about you, but I'm more apt to give a café a second chance if the food wasn't quite up to snuff, but the customer service is exceptional.
This is how much a positive service experience matters to customers and why emphasizing exceptional customer service relative to your referral marketing is perhaps the most crucial principle or best practice of referral marketing.
Whether a customer comes to you via your website, blog, chatbot, or social media profile, making this potential customer feel at home is paramount. They need to be treated in a personalized, one-on-one manner that not only impacts the likelihood of converting them from a lead to a sale but also imprints a positive experience that is more apt to be discussed and transmitted across this customer's personal and professional network.
What's important with customer service (and referral marketing in general) is that elements of sales and marketing strategy from what may seem like a bygone era still matter, still work, and still need to be a focal point of your overall business operations.
Social media is your friend.
What's the water cooler of today's world? Or, what's the modern equivalent of the town square, or a place where people gather to discuss, share ideas, and trade anecdotes? Regarding referral marketing and the potency of word of mouth, leveraging social media is perhaps the greatest tool in your toolbox, especially given the low cost to enter relative to the ROI your company can experience.
Social media's power allows you to communicate directly and in a seemingly intimate or targeted way with your desired audience. Using your social media channels to promote or educate your audience about your referral program helps you reach customers already spending so much time.
Naysayers may argue that using social media to help spread the word about some kind of referral program may simply be white noise, given the saturation of the social media landscape, or that customers might feel your referral content is too 'spammy.' But this is where creating specific, unique, or even local-centric referral content can help cut through the noise and help your message find its audience.


Leverage local
While not every company has the ability or latitude to level a local angle, those that do, should not shy away from emphasizing local offers and featuring best-fit local customer testimonials as part of their referral marketing program.
You often see it, even if you don't realize it. Whether it's an ad on a bus bench with a testimonial from a significant player in your local area regarding their relationship with a company or solution, or perhaps it's a coupon from your local pizza place for $5 off if a friend orders a pie within a given timeframe or window, leaning into the local aspect of your referral marketing and making your local customers valued and critical may be something of a nebulous idea for companies to get their heads around, but one that can pay significant dividends if leveraged correctly.


Take part in local activities.
Imagine you're at the finish line for a 5K to help a local charity or organization. You've finished the race in record time, and you're looking through the race's program to find the nearest water station. You'll likely see a page of sponsors, local companies, and organizations who helped coordinate and facilitate the race. Now, because you're sweaty and winded, you may not realize this is an effective, sneaky aspect of referral marketing that works on two levels:
Taking part in local activities
Being active within your community
Not only will this make your company more visible and approachable to new customers, but aligning with a particular cause or movement close to the hearts of potential customers will keep your company at front-of-mind when they need to avail themselves of a product, service, or solution you provide.
For companies that lack a local presence, you may feel like this principle of referral marketing may not apply, but take a moment to think about how so many causes or events occur in a virtual space. A virtual 5K where participants complete a race independently and then gather in a chatroom afterward? Or what about the sheer number of Go Fund Me campaigns for various causes? These are instances where referral marketing can offer significant value in terms of referral marketing for companies that can't facilitate an actual local angle.


Don't sleep on customer testimonials.
We recently published a long-form article on the importance and value of customer testimonials, which should not be overlooked as part of your referral marketing strategy. Referral marketing is often seen as customers offering up recommendations or spreading the good word without being specifically asked, but working proactively to source, create, and position positive customer testimonials is something companies should not be embarrassed to do and should actively work to facilitate.
When it comes to customer testimonials, there are several essential pillars or core principles to consider, such as asking the right questions for the right customers; being aware of various buyer personas and stages of the buyer's journey; and focusing on the tangible impacts your company, product, or solution offers. But if you're cognoscente of these elements, you'll find customer testimonials can be a powerful part of your referral marketing programs and strategies.