19 Ways to Get Free Advertising for Your Startup
There are a mind-boggling number of ways to advertise your startup. Many are free. Many are not. Some are quite costly. Even if the free methods aren't always the best way to advertise your business, they can still be incredible tools if you take the time to figure out how to make them work for you. And the free part means your budget doesn't have to take a hit when you experiment with these advertising methods.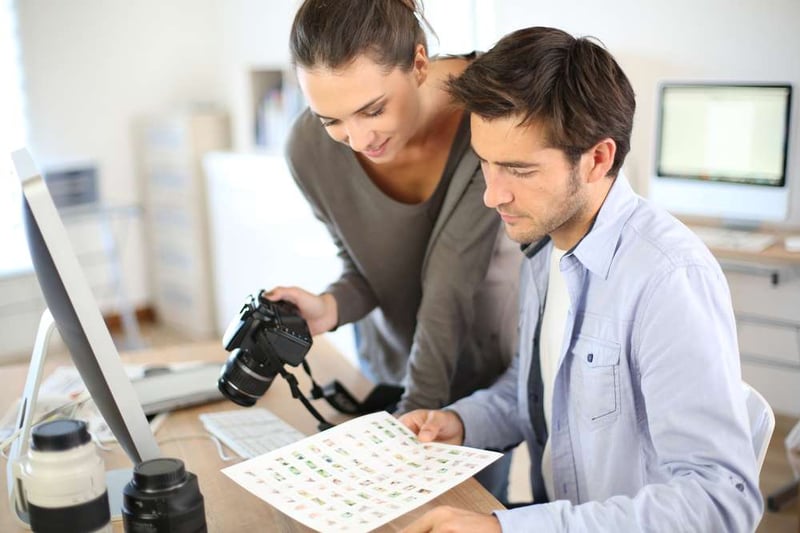 Remember that finding ways to advertise your startup should be an enjoyable process. If you put your best foot forward and have a good time doing it, your customers will have a good time right along with you.
Not all of these ideas are cost-free, but most are. Get creative and get your free advertising in front of people to start building your audience.
1. Distribute rewards for social media shares.
Word-of-mouth endorsements are the most effective form of advertising. Provide a discount to anyone who shares your brand on social media. You're rewarding their customer loyalty in exchange for a boost to your brand.


2. Optimize for local search with Google's My Business (GMB).
Create a Gmail account for your business and then register for Google My Business. This enables you to manage your presence on Google Search and Google Maps. Using this tool can help boost your ranking in local search results.
Enter the name of your business, set a delivery area for your target audience, and fill out your business's profile. Give Google all the information requested to enable the best search optimization.
Verify your business so Google knows it's legit. You can include email, snail mail, or phone verification. Download the GMB app for your phone to monitor how your business is doing. Don't forget to use SEO best practices to further boost your standing in search results.


3. Use your email signature for promotion
Your email signature can include your website; note a recent win, promote a contest or event; or mention a new blog post.


4. Provide exciting and valuable content on your blog.
Your goal is to establish yourself as a thought leader in your industry/niche by providing your audience the best content and posting to your blog regularly. Over time this builds a steady readership and drives people to your site. Be sure your posts are helpful, insightful, share industry news, and even entertain in a relevant way.


5. Contribute guest posts on other blogs.
By guest posting, you benefit from connecting to that blog's audience and continue establishing yourself as a thought leader in your industry. Remember to link back to your website from within your post, as backlinks boost your site's authority. Guest posts with backlinks can improve your search engine ranking.


6. Set up a contest of swag giveaway
A giveaway or contest incentivizes new viewers to check out and subscribe to your social media channels or website. Handing out branded (inexpensive) products is an excellent way to increase your brand's visibility.


7. Generate YouTube videos.
Being engaging and informative, YouTube videos are one of the most efficient ways to get your brand in front of your target audience. Be entertaining enough, and your viewers will seek out your website.


8. Post interactive content.
Putting quizzes and surveys on your website, blog, or social media platforms is fun and informative. Encourage users to share their results on social media and further expand your brand's reach.


9. Take your audience behind the scenes.
Give the audience a greater sense of what goes into making your product by posting an interview with a staff member, a tour of your facility, or a montage of your participation in a trade show or industry event. This is an excellent way to interact with (potential) customers. You're also showing them your brand's personality and point of view.


10. Use live streaming to put a face to your brand's name.
Consider how influential CEOs like Steve Jobs, Mark Zuckerberg, or Elon Musk have linked their personalities to their brands. Customers feel like they know them, and that's a significant part of the loyalty their brands enjoy. Use streaming to humanize your business further.


11. Audiences like photos and videos.
You can always spread awareness with images of your products and team but don't forget social media's capacity to create video promotions. You can use Instagram Stories or Facebook Live to publish tutorials on using your products or provide an expert to address commonly asked questions. Boost shareability with hashtags, create engaging captions, and encourage viewers to react with comments, likes, and shares. Remember to respond to all comments.


12. Share on Snapchat.
Leverage Snapchat's temporary nature, like a flash sale, because instant opportunities generate urgency. Promote events, share behind-the-scenes content, or give followers access to special deals or coupons. Keep in mind that knowing your target market is crucial here (and in the case of any social media marketing!). Don't spend your time on Snapchat if that's not where your consumer base spends it.


13. Pique interest by using Pinterest.
Pinterest is like a digital version of a curated magazine. Looking at Pinterest boards helps you identify trends your customers are following so you can adapt your products to fit in with or surpass the latest and greatest. Pinning to your board can introduce new customers, drive traffic to your website, and provide the free advertising you want.


14. Be a participant in Twitter chats.
These are moderated conversations on a specified topic. Users join at a set date and time and respond with a designated hashtag. This is another opportunity to hear what people are discussing, what they're interested in, and what they're concerned with or have questions about. It's another opportunity to get your name and brand out there.


15. Expand your network using LinkedIn groups.
Participating in LinkedIn's groups is a great way to find like-minded individuals and other entrepreneurs who can advise on developing your startup. It can also access a targeted group interested in your product, service, or industry. LinkedIn generates a list of groups you may be interested in based on your profile and social interactions.


16. Publish content on LinkedIn.
As a platform to connect with professionals, LinkedIn is an excellent place to share business-related content. Their platform allows you to demonstrate your expertise within your industry. Your connections and other members will engage with and share your posts, which equals more free advertising for your startup.


17. Ask delighted customers to give an online review.
Regularly seek testimonials and reviews of your products and services from current customers. Post them with permission for potential customers to read. Potential customers trust personal recommendations over other advertising when they search for products and services. Of course, if you receive comments about issues or questions, always respond personally and quickly.


18. Do something good for your community.
You can partner with a local charity to do good for others while increasing brand awareness. Launch a campaign making donations based on the number of shares a specified message gets on social media or ask customers to donate a dollar when they purchase. You can use your resources to boost awareness of social issues. You can give back and also increase awareness of your brand.


19. Send email newsletters.
You establish your brand as helpful and informative when you share quality content with leads and potential consumers. You can use a newsletter to promote content, share industry news, and build deeper relationships with potential and existing customers. Want to make sure your email newsletter is the best it can be? Use our free guide below!