Hey Startups! Do These Three Things on Social Media
In the few short years since it burst on the scene, social media has become an integral part of life in the 21st century. If you want your startup to thrive truly, it's imperative to have a presence in this realm, but that opens up a whole line of questioning based on the single underlying question—Why? Further questions like "what channel should we be on?" and "How active do we need to be?" follow shortly after.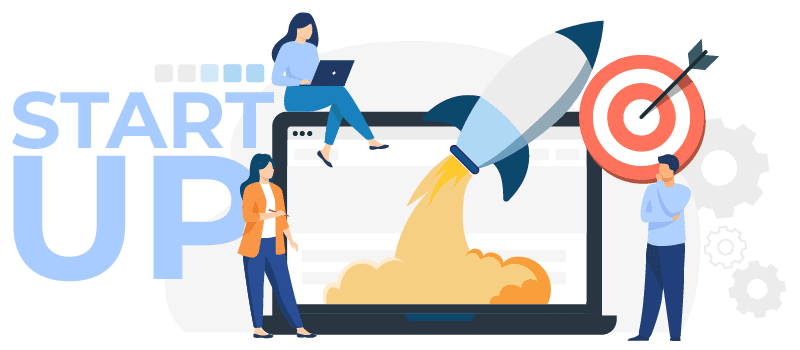 We will answer these and many other questions about getting your startup started on social media. We will look at the confluence of startup culture, social media, and millennial culture as a whole and how they can all work together to seamlessly increase your reach and help you passively market to your ideal audience. But first, a quick caveat.
There's a LOT already written on how to use social media for marketing, and the last thing we want to do is duplicate efforts. Instead, we're going to focus on three things. These are three social media activities that you should do everything in your power to enable your startup to accomplish to get your social media presence up and start the conversions rolling in.
Note: social media marketing, like nearly everything else in the world of a startup, is subjective. That's why the items on our list don't tell you what to do. Rather they focus on telling you how to do whatever you decide.
#1: Do Your Research
You've invested heavily in your startup, reading everything there is to read about being an entrepreneur, securing funding, and bringing your widget to market. Did you also do any reading on marketing? Because if you did, you'd know that research forms the basis of every successful marketing campaign and, by extension, any successful product launch. Not to be overly meta, but there are three areas to focus your marketing research on:
Your Audience: Before doing anything on social media, other than securing your branded account, you need to know everything there is to know about your target audience. Have you created buyer personas? Great, start with those, then expand on them. Ultimately, you should know more about your potential buyers than they know about themselves. Where do they hang out online? What social media apps do they have on their phones? Which ones do they avoid? Purchasing trends? How about app trends? Are they loyal to their favorite platform or switching allegiance every six months?

Social media trends: Speaking of trending channels, try to attend (or send the head of marketing if you have one of those) a social media conference. This is the best way to quickly get the pulse of the industry and see which platforms are growing, among which audiences that growth is occurring, and likewise, which are on the wane. Find out if there's an emerging newcomer among your target demographic, then while you're at it, find out their #2-5 preferred channels too.
Your competition: Yep, it's time to do social media stalking. Of your competitor companies, that is. Finding out what their presence looks, feels, and sounds like is key to entering the arena on equal footing. Read their blog posts' comments (not something we generally recommend). See what people are saying to their faces and behind their backs. See what content does well and what falls flat. Then use all this collected wisdom to tailor your content and presence to one-up them at their own game.


#2: Focus Your Efforts
Once you know your audience front-to-back and upside-down, you'll have a handle on what platforms they're spending their time on. Focus your efforts and budget on these channels and only these. If nobody you care about reaching is on Snapchat, you shouldn't be either.
Stay active! We can't stress this enough: establishing your presence on a channel like Facebook is necessary but insufficient. People expect regular posts and updates; if you don't deliver, they'll walk, abandoning you for your competition.
To assist with this stage, use the SMART goal rubric to establish your own set of KPIs for social media. Then follow up, measuring and assessing each platform you're on to be sure it's living up to your expectations or if there's something else you need to do to make it perform for you. Then, importantly, adjust your activities accordingly.


#3: Automate
Marketing automation tools are truly game-changing. Especially in a hectic startup environment, they can differentiate between a successful campaign and a failed product launch. By scheduling your posts a day, a week, or even a month in advance, you free yourself (or your marketing team) to put their energy into social listening, responding thoughtfully to comments, sharing other relevant posts with your followers, etc. In other words, all those human-driven intuitive tasks are at the core of their roles.
The alternative is these team members spend their time worrying about being at their desks at exactly 2:30 to get that update out. Or worse, if you're marketing globally, they have to get up in the middle of the night so that updates can be timed for morning coffee breaks halfway around the world. Nobody benefits from that.
Marketing automation solutions can even integrate with your CMS and include modules that let you automate your email newsletter distribution. Follow-up emails for new leads? Yep, you can automate then, too. As we said, game-changing.
Social media marketing is a broad, deep topic. It's also something that's here to stay, at least for the foreseeable future, so it behooves you to establish your presence early on in the life of your startup if you plan on marketing to anyone. Whatever your demographic, chances are that a substantial portion of them spend time on one social platform or another. By researching, focusing your efforts, and automating where possible, you can ensure these people know all about your awesome new widget and can start the conversion process even before launch.